Discount insurance quotes
Easy application process
Get an online quote
In-page navigation
---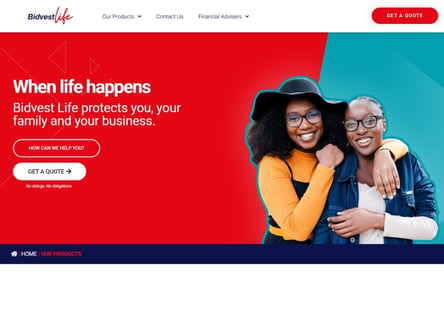 Author FMI. Screenshot of FMI website.


[Accessed February 7, 2023]
About FMI
For the last 22 years, FMI in South Africa has offered a range of insurance products that go beyond industry norms and seek to incorporate an all-inclusive attitude when it comes to identifying those that need insurance.
Focusing on income protection insurance, FMI has created a space where not only professionals but also self-employed individuals can receive a cover with FMI individuals. A belief that all South Africans should be able to protect their income no matter what industry they belong to, FMI has introduced cover for previously un-insurable occupations and allowed for up to 250 additional occupations to receive cover within the South African market.
Income protection plans
FMI developed two versions of the FMI Individual Comprehensive cover and Event Based cover. In 2015, FMI introduced Event Based cover to accommodate occupations that couldn't previously qualify for comprehensive injury and illness cover. With FMI Individual, one's occupation will determine which cover they qualify for.
The difference can be seen in how the benefits work when it comes to paying an injury, illness or disability claim.
The critical illness and life cover benefits are the same across both versions. Furthermore, FMI Individual allows one to increase or decrease their cover in the future without hassle.
FMI's Individual Income Protection in South Africa offers cover for three categories of risk described as disability cover, critical illness cover, and life cover.
FMI Services
For each category, there are income benefits and lump sum benefits.
Income benefits
Disability Cover- This cover is offered on a short-term or long-term basis and replaces 100% of one's monthly income in the event of any injury or illness.
Critical Illness Cover- This cover replaces 130% of one's income, which allows for extra monthly expenses that result from coping with a critical illness.
Life Cover- This cover pays one's dependents in the event of death.
Lump-sum benefits
Disability Cover- This cover provides for once-off expenses associated with adjusting to and living with a disability.
Critical Illness Cover- This cover provides for extra expenses that come with treating a critical illness.
Life Cover- This cover will settle one's debts and provides for any immediate expenses that any loved ones may face, such as estate duty or funeral-related costs.
Income protection insurance benefits
While lump sum payouts can cover large payments and debts, the running of a house and lifestyle requires finances in the form of a monthly income. FMI's income protection insurance plan removes the risk of lump-sum payouts by offering the following benefits:
One does not need to estimate the lump sum amount that is needed to provide a future income.
One does not need to be concerned with investing a large amount of money and calculating the tax implications of investment returns.
One does not need to be concerned about the impact of inflation or running out of money before the time of death.
One is less tempted to spend large amounts of money on luxurious items that are not necessary and only place one in future financial strain.
Income benefit premiums are more cost-effective than purchasing insurance for the lump sum equivalent.
FMI – Income Protection Insurance
Product

Income Protection Insurance
Disability cover

FMI will pay up to 100% of your income that you were making if you become permanently disabled.

Critical illness cover

With critical illness cover you can receive up to 130% of your monthly income to cover medical expenses and your monthly bills.
Benefits of FMI
Claiming is easy - They don't have long waiting process when it comes to claiming and it is also an easy process. They have staff that assist you with everything you need and they also help you decide on how much of your cover you need to claim.
It is all online - They have an easy online portal where you can manage your account and see all of your information such as plans and premiums.
Affordable - they offer comprehensive plans at affordable rates.
---
Protect your income with FMI.
FMI offers many reasons to select them when signing up for Income Protection Insurance in South Africa.
Some of which can be seen as :
A combination of monthly income and lump sum benefits for Disability, Critical Illness and life cover. This means that one can tailor their cover to suit unique circumstances.
One can choose an income benefit to replace 100% of their monthly income for all 3 risk events.
Income benefits are a better way to protect your income.
One can increase their cover in the future even if matters of health have changed or if one has claimed before without any medicals.
FMI covers the widest range of occupations, which provides the opportunity for not only professionals or those who earn a steady income to protect their income, but self-employed individuals too.
One is not restricted to the traditional retirement ages, meaning that FMI Individual offers some of the oldest entry ages in the market and temporary income protection up to the age of 75.
As for claims, FMI has developed products and processes to speed up claim payouts with the introduction of FMI's Defined Event claims criteria, which guarantees claim payments for up to 200 specified events.
Get income protection insurance
To get income protection cover in South Africa with FMI, one can visit fmi.co.za and select the "Get covered" option. From here, all one needs to do is complete the necessary fields of information and select "SUBMIT". Soon after this, an FMI financial advisor will be in contact to further offer assistance and guidance in the application process. Furthermore, one can contact FMI on 086 010 119 to talk to an agent at Customer Service, or alternatively email clientcare@fmi.co.za for more details.
Customer Reviews & Testimonials
"
October 2020
FMI is the way to go I'm young and still growing so they don't expect me to pay a houses prices for income cover.
Kagisho O
— Ekurhuleni —
Hassle free premiums and covers lost money and theft .
Nicollette P
— P.E —
FMI Contact
Contact Number
E-Mail
Website
Physical Address
1st Floor, FMI House 2 Heleza Boulevard Sibaya

Durban

Kwazulu Natal

4320

South Africa
---
Postal Address
Postnet Suite 91 Private Bag X01 Umhlanga Rocks , Durban, 4320, South Africa