Free insurance quote
Effortless online application
Corporate solutions available
In-page navigation
---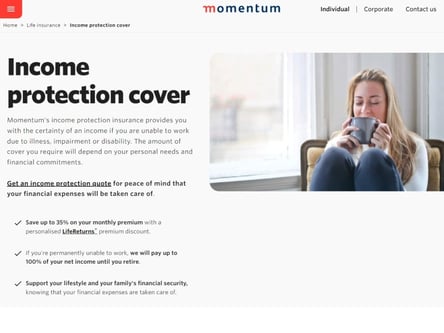 Author Momentum. Screenshot of Momentum website.


[Accessed February 7, 2023]
About Momentum
Achieve your financial goals and dreams by partnering up with a financial services provider that not only offers modern, flexible products and services but does so with compassion and positivity.
Momentum has been up and running for over 50 years and has continued to improve and grow through the years by focusing on innovation and customer excellence.
Propelling you to great heights
Their aim is to help propel South African forward so that they can achieve their financial aspirations with ease and grace. Its vision is to partner with customers as a preferred provider of comprehensive financial and insurance solutions.
Driven by accountability, diversity, and excellence
As part of its commitment to ongoing growth, Momentum has set out its values in an attempt to define the road ahead and make both internal and external stakeholders know exactly who they are and what they stand for. Momentum takes accountability for its actions and honours its obligations to employees, shareholders, and customers. As a level-1 BBBEE contributor, they walk the talk and have continued to push for
workplace diversity and inclusion.
Momentum also values excellence and strives to provide only the best whether it's in their products and services, customer services, corporate social initiatives, or stakeholder performance. They place innovation and integrity at the heart of all that they do and believe that all their successes are a result of teamwork – something they value highly.
More value and increased affordability
Whether you're looking for an affordable medical aid plan or want to set up a salary protection plan to suit your income level and commitments, Momentum is ready to deliver only the best. They do this by treating you as an individual and helping you set up and maintain a range of risk management products that truly suit your unique needs and life goals.
Momentum Services
Get tailored income protection ranging from R2,000 to R150,000 at an affordable monthly premium that's set based on your unique risk profile.
Income protection explained
We all use our salaries to cover our home and car loans, our car and medical insurance, as well as everyday necessities like groceries and petrol. So what would happen if we lost our income for whatever reason?
While some people may have an emergency fund in place or some form of cash reserves, this may not be sufficient for a longer time period and may also cause you to lose out on hitting your savings and retirement plan goals. Income protection is an insurance product that will cover you in the event that your income is disrupted as a result of illness, disability, or retrenchment.
Momentum's Myriad Income protector benefit
Momentum's Myriad complete income protector benefit will provide you with up to 100% of your monthly salary for up to a period of 24 months if you're unable to work as a result of an injury or illness.
If you are permanently unable to get back to work, Momentum will pay out up to 100% of your salary until you reach retirement. All payouts are completely tax-free and you can adjust your cover as and when needed as your circumstances change.
Retirement age and your cover
You can remain fully covered for as long as you maintain the insurance premium payments or until you retire which can be at age 55, 60, 65, or 70 years of age.
Adjusting your Income protection plan
Depending on which plan you choose, your cover amount could increase on an annual basis or remain at a fixed amount that you select at the inception of the insurance policy. You can also make adjustments as per your changing needs and goals by contacting Momentum.
Momentum – Income Protection Insurance
Product

Income Protection Insurance
Monthly Income

Income protection cover offers you an income in the event of a dread disease or a disability that keeps you from working.

Your debts will be paid off

If you pass away without using your income protection it will not be wasted. Your policy will pay out a lump sum in the event of your death and your family will be able to use this amount to pay off any outstanding debts that you may have such as a credit card or vehicle loan.
Benefits of Momentum
They take pride in taking care of you - At Momentum, they make it their first priority to make sure you and your family are taken care of. That's why they offer a wide variety of comprehensive insurance covers that protect you and your loved ones.
Emergency assistance - They like to give their clients peace of mind knowing that they have access to anytime roadside and home assistance. As well as legal and medical emergency assistance when you need it. They provide their clients with a panic button that they can use in case of an emergency.
Affordable medical aid - Their medical aid cover offers day-to-day and hospital benefits with premiums that allow you to cover your entire family.
---
Get an Income protection quote online today.
You can quickly and easily get an income protection quote online on the Momentum website and find out how much your monthly premiums will be.
All you need to provide them with is your age, gender, level of education and occupation, income figure, and smoking status and you can get an instant income protection insurance quote! Not sure if this is the right type of cover for you? Contact Momentum telephonically to speak to a consultant.
How your premiums will be calculated
Your premiums will be calculated based on your personal risk profile which will be established by a momentum consultant and will take into account your gender and age as well as your health and smoker status.
The 30-day grace period
The income protection plans offered by Momentum all have a 30-day grace period during which time you can catch up on a missed premium without having your insurance plan cancelled.
Income protection or professionals
Whether you're an attorney, accountant, doctor, or accountant, Momentum can provide you with an income protection insurance plan that meets your specific needs as a high-net-worth individual. Professionals can obtain a maximum income protection amount of R200,000.
Additional benefits to add
Do you need additional cover? You can add permanent disability cover, an income enhancer benefit and a complete family protector benefit to your Myriad complete income protector benefit too.
Important payout notes
Income protection will only payout if you're unable to perform your work duties and this payout will be made available as soon as all the relevant and required documents and information has been provided.
Alternative services offered by Momentum
Momentum also offers a range of flexible life insurance policies that include their Essential, Extended, and Comprehensive plans. These offer a mix of life cover, disability cover, critical illness cover, and income protection cover (the Comprehensive plan offers all four).
You can also join Momentum Multiply Premier and enjoy discounts and rewards for living well. You can get up to 60% off on your life cover premiums, discounts from Mango, Dischem, and Virgin Active. Rewards are based on your Healthy Heart Score and fitness. In addition to their well-known medical aid plans, Momentum also offers car and home insurance as well as a range of savings and investment solutions that will help you achieve your financial and life goals.
Customer Reviews & Testimonials
"
December 2020
Great company in general very friendly service and helpful staff.
Yolandi F
— Plett —
February 2021
So my dad told me about income insurance and I realized it was the best thing he ever taught in life a very wise decision especially if you only have one income.
Franklin S
— Mossel Bay —
August 2021
Me and my husband joined last year and a couple of months there was a robbery and they took both of our salaries and momentum made sure we had nothing to stress about.
Marinda E
— Namibia —
Momentum Contact
Contact Number
E-Mail
Website
Physical Address
268 West Avenue, Centurion,

Johannesburg

Gauteng

0157

South Africa