Leader in insurance
Competitive premiums
Quick claims process
In-page navigation
---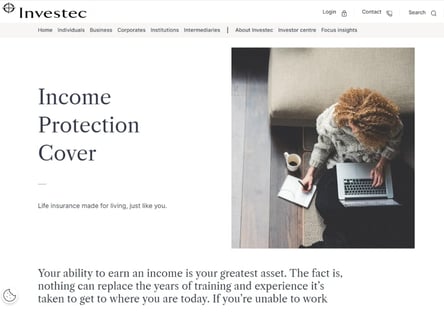 Author Investec. Screenshot of Investec website.


[Accessed February 7, 2023]
About Investec
Investec is a specialized wealth management and private banking services provider that serves private individuals, businesses, corporations, and institutions across the country.
As an individual you can partner up with Investec and access the most innovative and expert banking, investing, savings, borrowing, and risk management products and services in the country.
As a business, you can make use of their highly tailored banking, finance, investment, and foreign exchange products to meet your business objectives over the long term.
Investec's unique approach to staying on top
Investec believes that what gives them a competitive edge is their people. This is why they put a great deal of effort and resources into developing the skills and competencies of their people – so that they can grow and ultimately use growth to drive Investec forward. This development isn't seen as a once-off project and is not limited to courses and programs – it is a policy that remains open and flexible and is seen as an ongoing journey.
Powerful values and unmatched commitment
When it comes to values, Investec is certainly ahead of the pack with a strong commitment to powerful and unique values which go over and above inclusion and diversity.
A rich history of incredible growth
Investec began its incredible journey to the powerful, innovative company that it is today back in 1974 when it opened its doors as a small finance company. Six years later they were granted a banking license and began to expand their products and services to the corporate world.
Another six years later they acquired Metboard and further expanded their service offerings to include portfolio management, a unit trust, and a mortgage bond scheme. In 1990 they went on to acquire I. Kuper & Company (Pty) Ltd expanded its reach into the property management market.
A year later they formed an alliance with Fedsure Holdings Limited and then acquired Allied Trust bank Limited the following year. This pattern of acquiring various companies continued over the years until Investec eventually bought a London-based company and expanded into the UK.
By 1997 they had established offices in Australia, Hong Kong, Botswana, and Namibia. This trend continued year on year and ensured that Investec grew its operations, client base, and influence in its industry.
Investec Services
Get salary protection cover that offers up to 75% of your net income after tax or up to 100% if you opt to take out temporary income TopUp Cover (or in the case of permanent disability).
Salary protection explained
As a high-income individual, it's safe to say that your monthly salary is your biggest asset – ensuring you're able to pay your bills, look after your loved ones, save for retirement and other milestones, as well as build generational wealth. Salary protections, also called income protection cover, allow you to secure your salary for an affordable monthly premium.
This means that if you become ill or unable to work, you will still receive an income that will allow you not only to maintain your lifestyle but also to remain on the path to achieving your financial goals.
Choose a solution that works for you
You can choose to take out life insurance and add salary protection to your portfolio as well as any mix of Investec's risk management solutions. You can also take out salary protection cover as a standalone product – ensuring that should you become ill or disabled, you'll still have the income you've become so used to coming in.
TopUp cover 100% Salary protection
Since salary protection only covers 75% of your net income, Investec offers you the chance to get 100% cover by taking out their optional TopUp Cover. If you're temporarily disabled or unable to work, you will receive 100% of your net income after tax because of this added benefit. In the event of permanent disability, your 75% cover will automatically be upgraded to 100% cover.
Solutions for the self-employed
If you're self-employed you can opt to take out business overheads which will act as a safety net for both you and your business if you become ill and unable to work. This cover will pay out a set amount for either 12 or 24 months in the event that you're temporarily unable to work.
Investec – Income Protection Insurance
Product

Income Protection Insurance
Up to 75% of your monthly income

With an income protection policy from Investec, you will be able to claim up to 75% of you loss of earnings should you find yourself without a job for any reason.

Temporary income top up cover

If you would like to ensure that you receive your full monthly salary from you insurance then you can add the top up cover to your policy.
Benefits of Investec
Get it all in one place - It makes sense to get all your insurance, banking and investments from one service provider. It saves you money and hours of your time. They have made it convenient for their clients so that they can access all their accounts and policies in one place
Self-employed - Investec offers salary protection for those who are self employed as well.
Affordable and easy claims - Not only do they have unbeatable prices but they also make it easy for you to claim when you need to.
---
Getting the right Income protection cover for you.
As one of the country's most innovative, forward-thinking, and influential companies, Investec has the right products and services to help you achieve your goals and make your dreams a reality.
They have grown to be the leading wealth management, investment, and specialist banking institutions in the country and are ideally positioned to serve your needs – and the needs of your business. If you're looking to expand your horizons and finally reach all of your financial and life goals, there's no better way to do it than to partner up with Investec.
Purchase Income protection online
You can purchase an income protection plan online via Investec's website or app. Both these methods are the quickest and simplest means to get the cover that you need but you can also chat to a consultant over the phone.
Qualify to apply for Salary protection
In order to qualify for salary protection, you must be an Investec Private Banking client and be below the age of 60 when making your application.
Premiums and payouts
Your premiums will be based on your age and will increase on an annual basis. When it comes to payouts, this will be determined based on strict medical criteria and also on your ability to perform your occupational duties.
Your first payout will be made either 30 or 90 days based on which deferment period you choose. It's also important to review your salary protection policy every now and then, to ensure it is in line with your current income level and is sufficient to back you up fully should you ever need it.
Additional related Investec products
In addition to their generous life cover options, Investec also offers mortgage protection cover, disability cover, and critical illness cover – products that you can add to your portfolio or take out as standalone cover.
Get more information or speak to a consultant
Investec has made it incredibly simple for you to find out more information about their range of products and services. You can download product brochures, browse highlights, and even speak to a consultant to get the information you need to make the best decision for you.
Customer Reviews & Testimonials
"
April 2020
As a young investor I always advise people invest in income protection cover, its probably the best choice for big or small investors.
Inga T
— Queens Town —
September 2021
No waiting time to get a quote they phone you immediately and very helpful.
Linda X
— Franschhoek —
Investec Contact
Contact Number
E-Mail
Website
Physical Address
100 Grayston Drive, Sandown, Sandton,

Johannesburg

Gauteng

2196

South Africa
Opening Hours
Monday

08:00 – 17:00

Tuesday

08:00 – 17:00

Wednesday

08:00 – 17:00

Thursday

08:00 – 17:00

Friday

08:00 – 17:00

Saturday

– Closed

Sunday

– Closed