Unmatched insurance quote
Insurance for HIV positive clients
Immediate cover
In-page navigation
---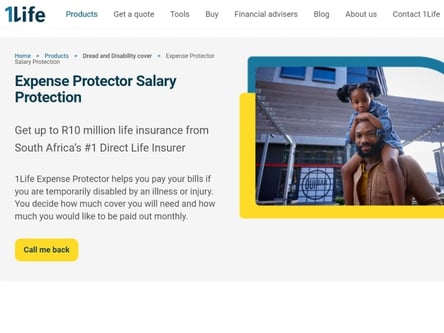 Author 1Life. Screenshot of 1Life website.


[Accessed February 7, 2023]
About 1Life
For more than 15 years, 1Life has been developing itself in the insurance industry and serving South Africans with affordable, and flexible market-leading products and services.
From South Africa's most loved life insurance products to personal loans and financial advice from some of the country's most experienced consultants, 1Life is ready to deliver exceptional products and services to meet you where you are and help you achieve your goals.
Dedication to financial education
1Life is dedicated to helping South Africans increase their financial knowledge and skills in order to make better financial decisions and reach their financial goals.
An innovative lender leading the way
1Life was the first South African insurer to sell life cover online and launch a USSD service to allow customers to manage their policies. They're proud of their long list of firsts which places them ahead of their competitors and helps them maintain their competitive edge. 1Life is owned by Telesure Investment Holdings which also owns a handful of some of South Africa's most well-known and loved insurance companies such as 1st for Women and Dialdirect.
More information, and financial advice
You can access information and world-renowned financial advice and information through 1Life and its expert advisors and consultants. They also provide a great deal of information via their website and blog.
1Life blog: A range of articles and blog posts that provides information about health, home finances, insurance, and their range of products and services and how they can service you.
Financial needs analysis: Complete a three-step form and find out how much insurance will suit your specific needs as well as how much you'll pay for it.
Insurance calculator: Add some basic personal details and find out how much life, disability, and dread-disease cover you need.
Last Will and Testament: You can download a free Last Will and Testament that you can edit and use as you like.
General information: You can also find out more about 1Life and their range of products and services on their website and more specifically amongst their many FAQ sections.
1Life Services
1Life is well known for its range of life insurance products that offer exceptional value at an affordable premium with no invasive medical tests or exams but, some of their lesser-known products like their salary protection cover deserves more hype.
1Life's expense protector Salary protection
The salary protection plan offered by 1Life is one of the most flexible in the market in that you can choose not only how much cover you want but also whether you want it paid out as a lump sum or as a monthly pay-out.
You can take this policy out as a standalone product so you don't need life or any other type of cover with 1Life to apply.
How Salary protection works
This is a type of insurance that covers you in the event that you become disabled or ill and are unable to work and therefore unable to draw in your usual monthly salary. Once you claim you'll get the lump sum or monthly payout that will enable you to continue paying your bills and get through a difficult time.
With a salary protection plan, you do not have to go through a 6 or 12-month waiting period as is the case with life insurance but you will need to select a deferment period which is a period of time that will have to pass between the time of a disabling event and when you receive your payout.
Income protection will cost you
Your premiums will depend on how much cover you need as well as your personal risk profile which will be determined based on your age, level of education and occupation, overall health, and gender. This is also where the financial needs analysis can help you.
You can also enjoy guaranteed fixed premiums for a period of 12 months from the date of inception of your policy. If your premiums increase you will be provided with a notice.
In addition, you can choose to opt for a 5% increase in your payout when you take out the policy. This will provide an additional pay-out boost which will make a massive difference if the unthinkable were to happen.
1Life – Income Protection Insurance
Product

Income Protection Insurance
No waiting period

With the 1Life income protection plan you will be paid out from the moment you can no longer work and earn an income.

Fixed premiums for a year

For the first year that you take out your income protection cover at 1Life you are guaranteed to pay a fixed amount with no increases.
Benefits of 1Life
A wide variety of added benefits - such as a panic button, crime victim assistance and home safe chauffeur service, 24-hour legal advice, an additional financial handling course, estate planning and debt counselling services. 1Life is always available to make your life better.
Disability insurance - this protects you from losing everything when you end up with a disability through an accident or life-changing event. This cover pays out immediately when you claim so you can still live a comfortable life they also pay the cost to help you adjust your life to your new disability.
---
Buy your 1Life Income protector cover online in minutes.
You can get a salary protection quote as well as buy the policy completely online via the 1Life website or app in just a few minutes.
If you prefer to first get a complete analysis of your financial and insurance needs you can either make use of their online financial needs analysis tool or speak to a 1Life financial advisor who will put one together for you.
Select your desired level of cover
You can choose to take out income protection that will payout 25%, 50%, 75%, or 100% of your current salary which is your cover amount. Salary protection will pay out your desired amount until you start working again.
Qualify to apply
You need to be between the ages of 18 and 59 to be able to purchase a 1Life expense protector policy. While there is no waiting period for the cover to become active and you do not need a medical exam, you will be asked to take an HIV test which will be free of charge.
When cover expires
In the event that you pass away the cover will automatically dissolve and benefits will not accrue to your estate or beneficiaries. Cover will completely terminate upon your death.
Alternative 1Life products and services
In addition to their famous life insurance policies and the salary protection that we've discussed above in detail, 1Life also offers funeral cover, dread disease, and disability cover as well as a range of investment solutions and personal loans.
You can get an insurance quote for any of 1Life's insurance products quickly and easily online and, if satisfied, purchase either life or funeral cover online. If you need a bit more information or assistance you can fill in their call-me-back form and a financial advisor will get back to you in no time.
Customer Reviews & Testimonials
"
October 2021
1life is a company that is invested in giving you the best of their ability and they really deliver on their promises # loyalcustomerforyears
Alicia L
— Bloemfontein —
April 2020
Their income protection plan is made for those who work hard and want to make sure they secure what they working for.
Zandile K
— Tswane —
March 2021
Awesome and affordable income insurance, combine with your other premiums and you safe big!
Kristen H
— Kimberley —
1Life Contact
Contact Number
E-Mail
Website
Physical Address
Auto and General Park 1 Telesure Lane Riverglen Dainfern

Johannesburg

Gauteng

2191

South Africa
---
Postal Address
PO Box 11250 , Johannesburg , 2000, South Africa
Opening Hours
Monday

07:00 – 18:00

Tuesday

07:00 – 18:00

Wednesday

07:00 – 18:00

Thursday

07:00 – 18:00

Friday

07:00 – 18:00

Saturday

07:00 – 14:00

Sunday

– Closed