Simple insurance quotes
Discount monthly premiums
Instant cover
In-page navigation
---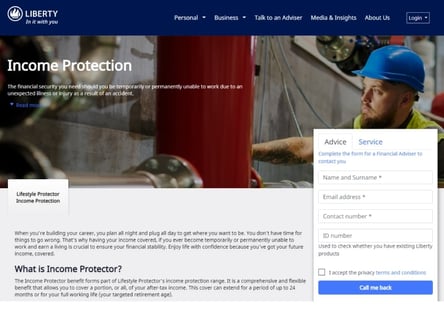 Author Liberty. Screenshot of Liberty website.


[Accessed February 7, 2023]
About Liberty
Liberty was established back in 1957 when the strong belief by founder Sir Donald Gordon that all people deserve the chance to build generational wealth and achieve their financial goals prompted him to start the company.
Today they not only have over 3 million customers but they have a presence in 18 countries and have diligently donated more than R480 million toward educational initiatives.
Guiding you toward financial freedom
At the core of Liberty's business is the desire to help people achieve the financial freedom that they deserve. They do this by helping people analyze their current situation, set goals, and determine the right mix of investment, savings, and insurance products to help them reach those goals.
Corporate social investment with heart
Liberty feels that its corporate social investment resources are best utilized by investing in educational programs which focus on maths, science, and literacy. This is achieved by supporting programs focusing on primary, secondary, and tertiary education and supporting various mathematics programs. Liberty is also big on volunteerism and encourages its employees to take part in a variety of community initiatives that are close to their hearts.
Liberty financial advisors
Liberty's financial advisors are among the most professional, experienced, and talented individuals in their field. They will go out of their way to assist you in properly analysing your needs and finding the right solutions to help you get to where you want to be.
Invest with Liberty
Whether you want to save for retirement, invest your income to ensure you reach your financial goals, or you want to find out more about offshore investment options, Liberty has just the right solution for you.
What makes Liberty great is that they offer such a wide range of investment options that anyone from the novice just getting started to a veteran investor and long-term client will find a product to suit their needs.
Liberty Services
Liberty offers a range of short and long-term insurance products as well as some of the most solid investment and savings options available today.
Among their life cover, disability, and critical illness cover is also the salary or income protection cover that allows you to get cover of up to 100% of your salary.
How Income protection can act as a safety net
If your main source of income is your salary – whether you've just started your career or have reached most of your career goals already, losing this income could prove devastating. Not only will you be unable to pay your bills and look after your loved ones but your entire investment and retirement strategy may be thrown off course.
To avoid such a devastating scenario, you can take out Liberty income protection cover that will pay out a percentage of your salary (after-tax) in the event that you cannot work due to illness or disability. Illnesses can include neurological or heart conditions, stroke, cancer, and more.
How much cover you can secure
The level of cover will be determined as a set percentage of your monthly salary up to R50,000 or more depending on your specific needs and financial circumstances. All calculations are based on your after-tax income and payouts can be extended to 24 months.
Options for self-employed individuals
Salary protection is also available to self-employed people and is also referred to as business overhead cover since it will cover these costs in addition to your salary. Whether you're looking for salary protection or need a solution designed for a business owner, Liberty can provide you with a tailored solution that will give you peace of mind and really back you up when you need it most.
Liberty – Income Protection Insurance
Product

Income Protection Insurance
Value adds

They have a number of benefits that you can add to your list of benefits on your income protection plan. You can choose to add 100% salary rate pay outs or premium waivers.

It's all up to you

Liberty offers you the option to tailor-make your policy to suit your needs.
Benefits of Liberty
Funeral cover - Their funeral plus plan gives you full coverage for you or your loved ones. They offer comprehensive funeral cover which includes transport and even air time to help with arrangements.
Medical cover - They have 4 package you can choose from. These include gap cover, medical insurance, a medical premium waiver and the amazing medical scheme cover.
Get it now - You have online access anytime to their premiums they offer so just fill in the form on the website and they will contact you.
---
Speak to a Liberty consultant to secure your Income protection cover
The best way to get a quote or apply for income protection cover is by speaking to a Liberty consultant or your preferred broker.
Prior to recommending salary protection, your broker or financial advisor will analyze your finances and determine your needs. This will also make it easier for you to determine the amount of cover that is right for you as well as identify any additional insurance products that you need.
Buy Income protection cover online
Liberty also offers you the option of purchasing an income protection plan of up to R50,000 online as a standalone product without the assistance of a financial advisor or broker.
The entire process from reading through some basic terms and conditions up to checking out is completed in seven quick and easy steps. There are also no medical exams or blood tests required. All you need to do is complete a simple application. You're also free to complete the contact form available on all pages of Liberty's website and a financial advisor will hear back to you.
All the information that you provide Liberty with during this application process will be securely stored and will not be shared with third parties. You can rest assured that your information is completely safe.
Alternative products offered by Liberty
Critical illness cover: Cover of up to R2 million which pays out if you're diagnosed with a serious illness.
Disability cover: If you become permanently disabled this cover pays out up to R3 million as a tax-free lump sum.
Life insurance: Offers you up to R10 million cover that pays out to your chosen beneficiaries or your estate in the event of your passing.
Short-term insurance products: These include home, car, personal liability, and portable possessions insurance for items such as bicycles and cameras.
Funeral cover: Offers you up to R100,000 funeral cover at an affordable monthly premium with the option to add your spouse, children, and extended family members.
Business products and services
In addition to the wide range of products and services geared toward the needs of individuals, Liberty also has an extensive range of investment and risk mitigation products geared towards businesses.
From their highly coveted stable growth fund to their flexible annuity options that meet your business or company where it is you know that you're in good hands when you choose Liberty as your growth and investment partner.
Customer Reviews & Testimonials
"
November 2021
This is an insurance company that truly gives you the freedom to make your own decisions and gives you only what you need.
Marry H
— Pretoria —
October 2020
I just love how Liberty takes care of their clients because they really care.
Bertha M
— Rustenburg —
April 2020
Low prices with the coverage you need if you don't have income protection coverage yet don't think twice join today!
Mondre S
— Brakpan —
Liberty Contact
Contact Number
E-Mail
Website
Physical Address
5th Floor, Menlyn Corner, 87 Frikkie De Beer St, Menlyn,

Pretoria

Gauteng

0181

South Africa
Opening Hours
Monday

08:00 – 16:30

Tuesday

08:00 – 16:30

Wednesday

08:00 – 16:30

Thursday

08:00 – 16:30

Friday

08:00 – 16:30

Saturday

– Closed

Sunday

– Closed