Get an instant insurance quote
Choose best life cover
Compare different policies
In-page navigation
---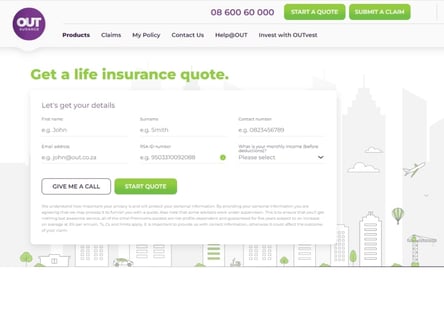 Author OUTsurance. Screenshot of OUTsurance website.


[Accessed February 6, 2023]
About OUTsurance
OUTsurance was established in 1998, and since then, has taken the South African market to another level in providing insurance.
Not only are they the first name one thinks of when it comes to life cover or auto insurance, but their reputation for impeccable service delivery speaks volumes for their service. The passion and dedication shine through within the OUTsurance team as they aim to provide a platform to invest in one's future financial needs.
So much more with the OUTbonus rewards
What makes their products more unique than ever, is their OUTbonus rewards program. OUTsurance gives their clients cashback, rewarding them for paying their instalments, which highlights the fact that their company culture is nothing but above the norm.
An ethical approach to insurance
Happy OUTsurance teams provide a positive and energized service to their clients. They pride themselves on their ethical work approach, offering quality service to all clients. OUTsurance is incomparable in the insurance industry and their unique way of conducting business is what has earned them their way to the top.
Life insurance experts ready to assist
OUTsurance Life insurance is what all South Africans can count on. Statistics have shown that hundreds of South Africans have endured some kind of disability each year. This is an alarming situation to handle when one is not covered for this kind of unfortunate event.
All OUTsurance consultants have the qualifications and the expertise to help their members understand their life insurance policy and advise individuals on which option would best suit them.
OUTsurance Services
At the end of the day, each individual needs to make the final choice to secure their family's future.
Life insurance will benefit members and their families long term, with life cover payout structures in place that will cover the family, should they be left behind in the event of the life insurance policyholder's death.
On one's passing, financial obligations can become stressful when not adequately prepared for them. Through life insurance with OUTsurance, they will ensure that one's family does not fall into any financial constraints.
Life insurance worth talking about
OUTsurance is a well-known name in South Africa and one often hears their name daily through adverts, social media, and word of mouth. This is because OUTsurance has earned a reputation worth talking about when it comes to providing quality insurance products to suit the needs of all South Africans at an affordable price.
Life insurance for future needs
Somehow, most people think that they will live forever. The harsh reality is that nobody will live forever. Accidental death or disability can happen in the blink of an eye to anyone at any stage of life.
By thinking of the people that will be left behind, one can play a proactive role in securing the financial outcome of such a disaster by choosing to sign up with OUTsurance life cover.
OUTsurance – Life insurance
Product

Life insurance
Get a quote

Financial advisors who are all FAIS compliant are available to help you tailor make your policy to your needs. Not only do they do their best to take your individual needs into consideration but they also build a product to suit your budget.

Value adds

Add death, disability or critical illness cover to your policy with out paying any extra

Guaranteed Premiums

With Outsurance your premiums are guaranteed for 5 years
Benefits of OUTsurance
Insure cars, buildings and contents - you deserve to be able to replace your valuables if the unthinkable may happen to your home, car or all those things you have out and about with you, be it your laptop or cellphone. With this comprehensive insurance you can rest assured that it will be covered.
Business insurance - do you work out in the sun or in an office? It does not matter what your business is, Outsurance will cover it.
Pet Insurance - the furry babies in your family are also important and they can be covered with their own insurance.
OUTvest offers you the opportunity to invest in a revolutionary product digitally. They also offer you advice to make sure you are making the best decisions.
---
You can rely on OUTsurance for all your insurance needs.
With the world being as fast-paced as it is, very few individuals have the time to stand in a queue, wait for an appointment, or take time off work.
This issue is accommodated for all eager life insurance applicants, as applying for OUTsurance life insurance is a simple and easy process. OUTsurance provides access to all of their services through its online website, which allows clients to save time when seeking a quote for car, accident, medical, health or life insurance.
Get a Life insurance quote online
Individuals can easily follow the online "quote me" section on the OUTsurance website and get a customized life insurance quotation that best suits their needs. From here, an OUTsurance consultant will contact the individual with all the information that they require to take one's life cover application further.
The process is fast, secure and once the relevant data and personal information has been gathered, OUTsurance can put together a life insurance policy that fits each member perfectly.
Life insurance dedicated to customer satisfaction
The OUTsurance customer satisfaction rate is 99% because they are always ready to address the requirements or questions of their valued customers. Making customer satisfaction a top priority means that OUTsurance service delivery is the top priority and their number one attribute.
Customer Reviews & Testimonials
"
May 2021
Amazing life insurance with a great OUTbonus rewards program! Thank you OUTsurance!
Thulani V.
— Johannesburg —
June 2021
Exceptional value for money and great value-added benefits.
Rudy L.
— Pretoria —
September 2021
More than I could ever have expected to get from a life insurance policy. Thank you for the easy application process.
Bongani R.
— Pretoria —
OUTsurance Contact
Contact Number
E-Mail
Website
Physical Address
1241 Embankment Rd, Zwartkop

Centurion

Gauteng

0157

South Africa
---
Postal Address
PO Box 8443, Centurion, 0046, South Africa
Opening Hours
Monday

08:00 – 18:00

Tuesday

08:00 – 18:00

Wednesday

08:00 – 18:00

Thursday

08:00 – 18:00

Friday

08:00 – 18:00

Saturday

08:00 – 13:00

Sunday

– Closed