Online Life insurance
Affordable life cover premiums
No hidden costs
In-page navigation
---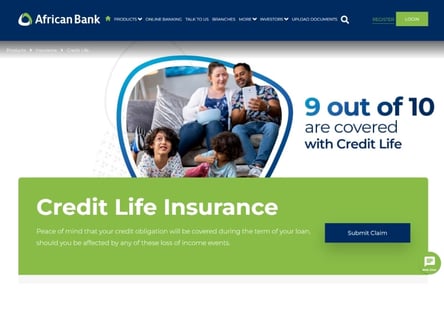 Author African Bank. Screenshot of African Bank website.


[Accessed February 6, 2023]
About African Bank
African Bank Limited is known in South Africa as one of the most innovative and popular banking institutions in the country.
What makes them stand out from the rest, is their ability to offer clients insurance solution options as well as financial services.
African Bank took initiative after years in business and decided to come up with a solution to incorporate a full-service model for clients, to give them a solution that provides a range of products all under one company.
Their success has been overwhelming as a result of their ability to offer an incredible selection of insurance options including funeral and life cover to suit every client's needs.
An innovative Life insurance option
African Bank makes every solution possible for clients and goes the extra mile to ensure all their needs are taken care of. From ongoing innovation to create new and effective ways to make life easier and more sustainable for their clients, African Bank prioritizes each member equally.
African Bank Limited in South Africa offers clients a life insurance cover unmatched in the industry. They know life can be expensive and in the current day, a two-income household can just cover the bare necessities of daily life.
African Bank Services
Having protection in place to ensure one doesn't come out short in the future, can be a wise choice.
Should life take a turn, and result in one being a victim of disability or death, how will one's family be financially supported? With life insurance, these questions will not be necessary.
Members will be covered in the event of:
Death
Permanent Disability
Temporary Disability
Retrenchment
Compulsory unpaid leave
Important to note is that terms and conditions apply for all of the above-mentioned criteria, which will be stipulated in the member's policy. Furthermore, African Bank life insurance in South Africa will provide pay-outs to family members or policyholders to assist them with the financial burdens which follow these unexpected situations.
One can get a life insurance quote or enquire with an African Bank expert consultant today and get the best life insurance policy in South Africa.
African Bank – Life insurance
Product

Life insurance
What is Credit Life Insurance

Credit life insurance is an insurance policy that will cover any outstanding loan amounts that you have. This could be credit card debt, store accounts, home loans or car finance. This gives you peace of mind that your family will not have to suffer with this debt.

Employed Customers

Full time employed customers are covered for retrenchment and death

Self Employed or Pension Customers

Self employed and pension customers are covered for death
Benefits of African Bank
Banking - African Bank offers comprehensive banking solutions including various banking accounts for saving and transacting
Loans - many loan options available as well as a free credit report if needed.
Investments - Fixed and notice investments as well as a tax-free investment
Funeral cover - you don't need to have an African Bank bank account to apply for funeral cover with them. The application can be done completely online. You can get cover for as little as R22 a month.
Webchat allows you to chat with a consultant while on the website with any questions you may have or request a call back from a skilled advisor.
---
African Bank Limited offer clients a full range of insurance and financial solutions.
Life insurance covers members in full with a lump sum payment in the event of death and pays a portion or percentage of the cover to the policyholder in the event of any other unforeseen circumstance.
A simple online Life insurance process
African Bank has made the application and quotes process simple for those looking for life insurance in South Africa. Everything can be processed online through simple steps and one can obtain an insurance quote online.
The African Bank team is helpful and their experienced consultants are available to answer any questions, give advice and assist with every process at 0861 888 786/011 564 6827 or via fax at (011) 207 4774.
Convenient Life insurance premium payments
Paying for life insurance is available through a multitude of options. African Bank wants to make life easier for its life insurance members, which is why they offer the following payment options:
Life insurance members can choose to pay premiums through a direct debit order, which African Bank will set up to ensure the monthly instalment goes off the member's bank account on the same date each month.
Members can choose to pay online or through their mobile phone via EFT and African Bank will provide members with the banking details in their life insurance
Insurance and financial solutions for all
African Bank offers clients in South Africa a life insurance cover that takes care of all their financial needs when they are gone. By using their experience and knowledge within the industry, African Bank can provide support by attending to all questions, providing solutions, and offering a vast range of insurance products.
Life insurance that includes income and disability cover
The African Bank life insurance policy covers members not only in the event of their death but also at times when they are no longer able to earn an income due to unforeseen circumstances.
Cover loans and credit with Life insurance
New life insurance members, who are already pre-existing African Bank clients, can make use of their life insurance policy even more by qualifying for a loan taken out with African Bank to be paid in full in the event of their death.
Customer Reviews & Testimonials
"
May 2021
The best life insurance company I have ever come across. I am so happy to have myself and my loved ones covered.
Peter F.
— Pretoria —
June 2021
Thank you African Bank for the great customer service and answering my questions when needed in a quick turnaround time.
Mangaliso N.
— Cape Town —
August 2021
A life insurance policy that offers more than ever expected and the most simple application process.
Lukhanyo E.
— Johannesburg —
African Bank Contact
Contact Number
E-Mail
Website
Physical Address
33 Lechen Rd, Shop No 33 Lifestyle Shopping Centre Cnr Old JHB and Lechen Rd, Brakfontein 399-Jr,Centurion

Johannesburg

Gauteng

0047

South Africa
---
Postal Address
Private Bag x170 Midrand, Johannesburg, 1685, South Africa
Opening Hours
Monday

08:30 – 17:00

Tuesday

08:30 – 17:00

Wednesday

08:30 – 17:00

Thursday

08:30 – 17:00

Friday

08:30 – 17:00

Saturday

08:00 – 12:00

Sunday

– Closed