Quick insurance application
Completely online life cover
Affordable insurance premiums
In-page navigation
---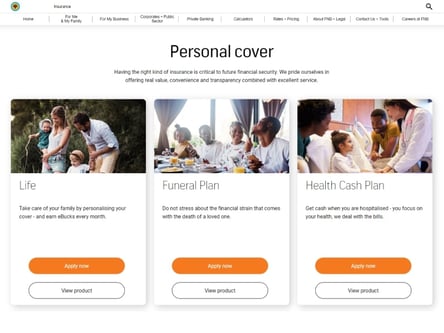 Author FNB. Screenshot of FNB website.


[Accessed February 6, 2023]
About FNB
As the second-largest bank in South Africa, FNB has climbed up the ranks by delivering the most innovative and in-demand products and services.
From their eBucks offerings to their PayPal and MoneyGram services they simply offer better products and services than their competitors. Their innovative creativity has extended into the world of insurance and you can now have almost all your financial planning needs to be taken care of under one roof.
Insurance service offers from FNB
While most South Africans know FNB as one of the leading banks in the country, they offer many lesser-known products and services, including life cover. Not only will your life insurance policy be among the best and most secure on the market but it will also be flexible and affordable. What more could you ask for?
A value-based company
FNB is led by a strong ethos and community-based core values like respect, pride, and Ubuntu. When making decisions on a high level or regarding everyday matters for individual clients, they make it personal and their values shine through.
Protecting the environment
FNB is one of the most environmentally conscious and aware FSPs in the country. With multiple environmental policies and initiatives, they go above and beyond the minimum requirements to help minimize their impact and protect the environment.
The FNB Fund is also another incredible initiative aiming to deliver resources to their areas of focus which include education, early childhood development, hospice, and community care that focuses on the needs of vulnerable and disadvantaged children.
FNB Services
FNB offers clients life insurance that will give them peace of mind and take care of their loved ones when they're no longer able to.
They understand that no two people are the same, which is why their insurance policy is always tailored to meet the needs of the client specifically. The life cover payout from your policy can be used by your beneficiaries to pay your debts, cover your children's education and help them get by. Your estate may also be liable for Taxes and your plan can cover this too.
Funeral cover and Spend Protect Benefits
FNB also includes a funeral cover of R30,000 to help your family cover all the costs of a burial or a cremation. From purchasing a burial plot to hiring a venue and catering service, a little goes a long way during times of crisis.
Spend Protect Benefit is another add-on that pays your beneficiaries a set amount based on your average monthly qualifying spend with FNB. This amount is determined based on multiples of your card swipes and loan repayments but is limited to 10% of your life cover amount.
Account type and payout
Gold accounts: x 1
Premier: x 2
Private Clients & RMB Private Bank: x 3
Another great benefit of having an FNB life insurance policy is that they'll actively search the home affairs database to find out if any policies need to be paid out. If you're ready to apply for life insurance that's suited to your individual financial needs, pays out quickly, and offers a range of beneficial add-ons like funeral cover and the Spend Protect Benefit discussed above, FNB has the perfect offers for you.
FNB – Life insurance
Product

Life insurance
Proactive approach

FNB searches the home affairs system to match ID numbers to their policy holders so that they can pay out claims faster

Value Added

Your comprehensive life cover from FNB includes R30 000 in funeral cover as well as Spend Protect that pays out within 24 hours.

Apply online

The application for cover to protect your family is done completely online.
Benefits of FNB
Insure - FNB offers critical illness, permanent disability and income protection insurance
Banking - FNB is one of the leading banking institutions in South Africa. This institution is able to offer you options for loans, savings and investments as well as cutting edge foreign exchange solutions as the official partner to Pay Pal.
For Business - FNB has been helping small, medium and big business for years. With their expertise and tailor made business solutions they can help any business grow to its full potential.
Digital FNB - FNB offers you completely digital solutions with its innovative app and online banking. Most application and transactions can be done from the palm of your hand or the comfort of your home.
---
Apply for FNB life insurance in a quick and easy process
If you're an FNB/RMB private client, you qualify to take out life insurance with them.
To apply you can contact your private banker, call FNB directly or simply apply for an insurance quote online via the FNB app. Want a callback? Visit the FNB website and fill in their simple call me back form and an FNB consultant will get in touch with you.
FNB have gone out of their way to ensure that your life cover takes care of everything from your debts with the bank to your funeral expenses. When applying for cover your consultant will advise you on the optimal cover amount and may suggest add-ons that will suit your specific needs.
Remember that when it comes to life insurance, you need to do the math and determine exactly the right level of cover for you. Don't simply opt for any amount offered, make sure you take the time to do the math whether on your own or with the help of your financial planner.
Additional insurance offers from FNB
Critical illness cover – offers a lump sum payment that can be used for anything from medical bills to lifestyle changes and will pay out between 10% and 100% (depending on the severity of the critical illness) of your cover amount if you're diagnosed with a critical illness like cancer or heart disease.
Permanent disability – if you can no longer work at your job or another reasonable job, you'll receive a lump sum pay-out ranging from 25% to 100% of your coverage (based on the severity and type of disability).
Income protection – if you become disabled or cannot continue to work, you'll receive partial or full monthly income benefits to cover you. If you're diagnosed with a terminal illness this cover will pay out double your monthly income for up to 6 months.
Dynamic life – offers you cover for your bond that is adjusted on a monthly basis as you pay your home loan. Covers you for death, illness, and critical illness diagnosis.
Customer Reviews & Testimonials
"
October 2021
A lot of phones call but a very friendly voice behind the calls and excellent service and fast coverage. Highly recommended.
Loratho T
— E.L —
February 2021
Full coverage for such low prices wow FNB you really exceeded my expectations!!! Thank you for everything!!!
Melody H
— Sandton —
FNB Contact
Contact Number
E-Mail
Website
Physical Address
Simmonds St

Johannesburg

Gauteng

2001

South Africa
Opening Hours
Monday

09:00 – 15:30

Tuesday

09:00 – 15:30

Wednesday

09:00 – 15:30

Thursday

09:00 – 15:30

Friday

09:00 – 15:30

Saturday

09:00 – 11:00

Sunday

– Closed