Life insurance online
Free life cover quote
No hidden costs
In-page navigation
---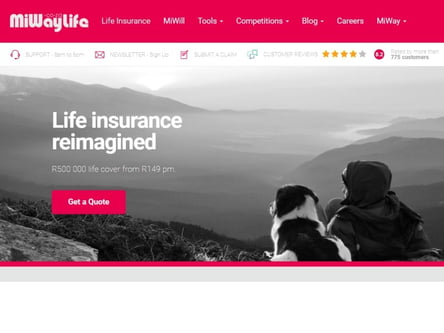 Author MiWay. Screenshot of MiWay website.


[Accessed February 6, 2023]
About MiWay
MiWay takes a look at life from a client's perspective and works on creating insurance services and products to adapt to what members need and want.
By being accountable for their service offerings, they don't just promise good service, but also apply their services through their values as an insurance company.
The MiWay team has a vibrant attitude and love for what they do. They are rewarded through results in what is achieved through the complete satisfaction of their clients.
Furthermore, they have a diverse culture of very talented employees across the board at MiWay, and each member provides important knowledge and experience which makes up their firm.
MiWay Life insurance & more
MiWay life insurance covers the policyholder and their family in times of financial need, in the event of a serious illness, disability, or death. MiWay life insurance will provide cover as well as benefits to ensure everyone is taken care of.
Through transparent insurance services, MiWay provides options to cover their life insurance members and loved ones by providing financial support when it is needed the most.
Life insurance that thinks ahead
The best choice one can make for their family and themselves is to think of the future. What happens next in life is not always predictable and by thinking ahead, members can have life insurance solutions that are proactive and easy to obtain.
MiWay Services
The MiWay insurance company cares about South Africans, which is why their products are specially designed with them in mind.
The 4-in-1 policy provides funeral cover, life cover, and the option of covering extended family members.
They have included provisional living benefits should a MiWay member become terminally ill, which is a portion of the life insurance that will help one financially until they pass away. The balance of the life insurance is paid out upon the policyholder's death. To get life cover today, you can call MiWay and get a hassle-free life insurance quote.
MiWay Life Insurance
MiWayLife offers life insurance which is a beneficial and financial saving grace that one simply cannot live without.
Online application & quote
With no invasive medical examinations, no paperwork, and no lengthy waiting period to get an appointment or insurance quote, MiWay truly accommodates individuals looking for life cover in South Africa.
They offer a quick and effortless application and quote process to all potential MiWay members and all applications are processed online, through their efficiently designed innovative online platforms.
MiWay – Life insurance
Product

Life insurance
How much will it cost?

Get a life insurance policy of up to R500 000 for only R149pm

How to get a quote

Get a quote in minutes completely online

4-in-1 Policy

MiWay offers a 4-in1 policy with one monthly payment. This includes comprehensive life insurance, accelerated funeral cover, terminal illness accelerator and funeral cover for your family members
Benefits of MiWay
Apply for a Will - Your death will be a very difficult time for you family. A comprehensive will can help your family deal with your death. Having a will in place can help your family. It allows your family to have access to the funds that you have left them as an estate may take a long time to settle without a will. A will ensures that your wishes are carried out as you wanted. You are allowed the opportunity to make decisions to assist your family. A will may prevent any disagreements between family members as all your wishes will be clear.
MiWay Website Benefits - the website offers you the opportunity to calculate your BMI (Body Mass Index) to make sure you are the healthiest that you can be. It also offers a life insurance calculator so that you can find out how much a life insurance policy may cost you.
---
MiWayLife insurance cover – Thinking ahead
Those looking for more reasons to sign up with the best life insurance company in South Africa can have benefits.
The following are the benefits:
MiWayLife provides their clients with the flexibility to change and amend their life insurance policy whenever they like, to keep it updated at all times.
Their application process is quick, simple, and easy to complete, with the whole process taking no longer than 10 minutes.
They not only cover the policyholder in the event of death but also provide a portion of the policy paid out to the respective member in the case of disability or critical illness.
Their applications don't require any medical examinations or blood tests.
Life insurance comes with an all-inclusive funeral policy, so members don't have to spend any extra money on getting the funeral they deserve.
MiWay life insurance is easy, simple, and practical, with no hidden fine print.
Policyholders can cover up to 21 members on their life insurance policy.
Members can cover their immediate family members as well as nieces, nephews, parents, and in-laws under their life cover
Life insurance claims made easy
If a beneficiary needs to claim for the policyholder's death or disability, MiWayLife has made the entire process as simple as the rest of its procedures.
They may require documentation to be attached to the life insurance claim, such as a death certificate or letter stating that the respective member can no longer work due to disability or serious illness.
For Life insurance claims in the event of death, one needs to:
Complete the MiWayLife claim form available on the website, by clicking on the form and downloading it.
Attach a certified copy of the Death Certificate to the completed claim form.
Attach a completed DHA-1663 form to the claim.
Attach a certified copy of the ID of the main member of the policy.
Attach three latest bank statements of the policyholder and or beneficiary.
Customer Reviews & Testimonials
"
January 2021
The best life insurance company that allows members to cover more family members than anywhere else!
Sanet O.
— Cape Town —
March 2021
A smooth life insurance claims process is accommodated by friendly and compassionate staff.
Gail R.
— Pretoria —
August 2021
Thank you MiWayLife for the quick online application platform. I am so happy to have my life insurance policy up and running so quickly!
Noxol P.
— Durban —
MiWay Contact
Contact Number
E-Mail
Website
Physical Address
2nd Floor, Hill On Empire, Parktown

Johannesburg

Gauteng

2193

South Africa
---
Postal Address
Postnet suite 409 Private Bag X30500, Houghton, 2041, South Africa
Opening Hours
Monday

08:00 – 18:00

Tuesday

08:00 – 18:00

Wednesday

08:00 – 18:00

Thursday

08:00 – 18:00

Friday

08:00 – 18:00

Saturday

09:00 – 13:00

Sunday

– Closed