Affordable life insurance
Quick life cover
Covered for up to R10M
In-page navigation
---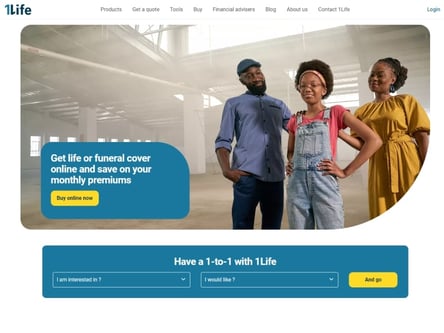 Author 1Life. Screenshot of 1Life website.


[Accessed February 6, 2023]
About 1Life
1Life is one of South Africa's most loved insurance providers.
They offer high-value life cover products that are tailored to meet your individual needs. In addition to their market-leading insurance plans, they strive to deliver real value to their customers. Whether it's through their excellent customer service, their simple and clear policy guides, or their financial education and debt management courses – they're ready to serve you and your family.
Get covered fast
Not only is applying for cover quick and simple with nothing more than an HIV saliva swab required but 1Life is known for its quick and simple claims process. Beneficiaries will simply need to contact 1Life who will get a consultant to help them through the process. Funeral cover will be paid within 24 hours so your family will be ready to cover all their expenses when they need it the most.
Anyone who is a primary breadwinner or has dependents that rely on them should have some form of life cover in place. This is true whether you have children or are responsible for your parents and grandparents.
With up to R10 million worth of life cover, you can rest assured that your family will be well taken care of if you pass away. Depending on the package you select you may also have a funeral benefit of up to R50,000, and grocery and memorial benefits.
1Life Services
1Life offers a selection of four life insurance products designed to meet the needs of all South Africans.
Whether you prefer a straightforward life insurance policy with no frills or a more involved policy that takes your healthy lifestyle into account, 1Life has a package for you. Life insurance covers you, the policyholder for a set amount that will be paid out to your listed beneficiaries in the event that you pass away. This will be paid in one lump sum which your family can use to cover your debts as well as their own day-to-day living expenses.
Access massive premium discounts
With 1Life you don't need to worry about complicated waiting periods and you can enjoy an 8% discount on your premiums simply by applying for cover via their website. Alternatively, you can contact them via telephone to apply for cover with the assistance of one of their friendly consultants.
Your premiums will be calculated based on:
The amount of cover you're looking for
Your age
Your general health
Your level of education and occupation
Lifestyle choices and where you live
When applying for a quote you'll need to answer some basic questions regarding the above among others which will help 1Life determine your coverage needs and premiums.
1Life – Life insurance
Product

Life insurance
SA's #1 direct life insurer

Get your comprehensive life insurances from South Africa's number one direct life insurer. They cut out the middle man to make sure they are offering you the best possible price.

Choose from 4 life cover products

1Life offers 4 different life cover products Pure Life Cover, Pulse Life Cover, Pulse Lite Life Cover, Pure Life Plus Cover. Each of these offers benefits and prices to suit your individual needs
Benefits of 1Life
Funeral Plans - 1Life offers funeral cover that can be settled within just 3 minutes with all the correct information supplied
Finance - 1Life offers investment and personal loans to its clients
Tools - there are a number of useful tools available on the website. You can calculate how much your life cover will cost, down load a free will template, do a financial needs analysis as well as find a lab or pharmacy near you. Find all the convenient functions in one place.
Buying - buying your life cover or funeral cover could not be easier. It can all be done online with no messy paper work.
---
1Life offers a wide range of insurance plans
In addition to 1Life's four life insurance packages, they also offer funeral cover, dread disease cover, and disability insurance.
Their 1Life Expense Protector offering will cover all your bills in the event that you're unwell, injured, or disabled and cannot cover your expenses.
Finally, 1Life also offers a personal loan of up to R150,000 with repayment terms ranging from 12 to 60 months at low-interest rates. The repayments will be fixed and you get customer protection insurance.
Decide how much coverage is right for you
A good question to ask is, "what would happen to my loved ones if I was no longer around?" How much money would they need to get by? To pay off your debts? Continue their education? These are all things that your life insurance policy will cover.
If you're ready to secure your family's financial future, get in touch with 1Life or visit their website and apply for a quote online that will help you decide how much life cover you need and can afford.
Pure Life Cover
You get up to R10 million worth of life cover that comes with no waiting periods, fixed premiums for a 12-month period, and funeral cover of R50,000 – without a medical exam. All you need to do is comply with their HIV testing policy.
1Life Pulse Lite
Life cover as per the above Pure Life Cover package that also offers an extra R250,000 life cover for up to a year when you make use of the VeoSens Health Tracking App which connects to a Samsung Galaxy watch. The app (via the watch) is used to monitor your health. This is done by taking into account how active you are, your sleep patterns, and your cardiovascular health.
Pulse Life Cover
In addition to the value offered by the 1Life Pulse Lite, this package offers an optional benefit of up to an R80,000 bonus cover and a Samsung Galaxy Smart Watch to help you track your health journey progress.
Pure Life Plus Cover
This package allows you to combine Pure Life Cover with funeral cover in South Africa that will cover up to 16 family members. This offer allows you to save 28% on your premiums as well as an R5,000 memorial benefit and R6,000 grocery benefit.
Keep in mind that all 1Life's policies have certain limitations, exclusions, and policies that are important for you to take note of. For example, there is a 6-month waiting period for natural death. This means that a claim will be rejected if you pass away from natural causes in 6 months or less since you took out the life cover.
Customer Reviews & Testimonials
"
June 2020
Thank you for your services now I don't have to worry about my children when I'm not here anymore. I know they will be okay thanks to 1Life!
Nthombi S
— Nelspruit —
March 2020
Great customer services very helpful when in doubt, thank you 1Life for reassuring me and my family that we made the right decision joining your company.
Roxanne V
— Randburg —
May 2020
No hassle and no mountains of paper work, you made everything convenient and easy, I will recommend to the family to join your company as well good prices and good help.
Joseph N
— Brakpan —
1Life Contact
Contact Number
E-Mail
Website
Physical Address
Auto and General Park 1 Telesure Lane Riverglen Dainfern

Johannesburg

Gauteng

2191

South Africa
---
Postal Address
PO Box 11250 , Johannesburg, 2000, South Africa
Opening Hours
Monday

07:00 – 18:00

Tuesday

07:00 – 18:00

Wednesday

07:00 – 18:00

Thursday

07:00 – 18:00

Friday

07:00 – 18:00

Saturday

07:00 – 14:00

Sunday

– Closed