Compare Life Insurance
Quick and easy online claims
Life cover up to R10 million
In-page navigation
---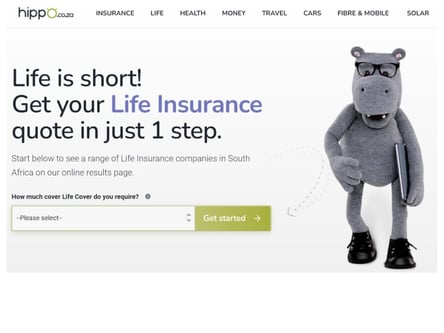 Author Hippo. Screenshot of Hippo website.


[Accessed February 6, 2023]
About Hippo
A third of the country hasn't taken out life insurance, and often it's because they don't know who to contact, or are just too busy to look into the subject.
Hippo was established over 10 years ago, with the determination to make insurance a lot easier for people around the country. As the pioneer in the comparison website market in South Africa, Hippo is highly recommended for its innovation and searching capabilities, when clients are looking for everything from life cover to medical aid, and car insurance.
The turnaround times at Hippo are highly competitive and their ability to source the best insurance offers online throughout the country for their clients is often unbeatable.
Quality Life insurance in South Africa
The staff at Hippo pride themselves in their service delivery for all customers, and as a free service to clients, one can get the perfect all-around life insurance solutions at one's fingertips.
When looking for life insurance within one's budget, they have an unquestionable solution, comparing all leading insurance providers at the best prices.
Hippo Services
Hippo is a free site that is open to all South Africans.
They handle all of their clients' information with the utmost discretion and get them the best possible price, value-added services, and everything else that they are looking for in life cover and other insurance policies.
Life insurance registration online
To use this service, Hippo life insurance members can register through the online portal, and complete their profile details online. Members can then create their login details, and their profiles will be available to use whenever they please.
User-friendly Life insurance search
Using an online search comparison site will alleviate the waste of time and make the search quicker and more efficient for individuals. They can search for life insurance, car insurance, medical aid, and financial products such as personal loans and vehicle finance from their office or home at any time of the day or night. It is a user-friendly service and comes at no added cost.
Hippo – Life insurance
Product

Life insurance
Life insurance in just one step!

Simply go to the website and choose how much life cover you require for your family and Hippo will search its partners for the best deal to suit your needs

Who can get cover

Insure yourself or you and your partner. You can add your children to your policy and even those over 50 have options for life cover.

Life insurance for your loans

You can also get life insurance for you credit cards home loans and other debts so as not to leave your family with these burdens upon your death.

Value Add

Add a funeral plan to your life policy to assist your family
Benefits of Hippo
Financial assistance - did you know that Hippo offers you the help you need most with their financial assistance offerings in the form of debt counselling and more.
Cars, cars, cars - not only can Hippo help you to source the best car insurance but they can help you to get quotes on vehicle finance, care and tracking. They can even help you to sell your car.
Medical aids - compare quotes form the country's top medical aids
Mobile and fiber - you can even compare mobile and fiber options for your home and business and choose the most affordable option for you.
Why choose Hippo? They search and compare prices of thousands of insurance companies throughout the country, and give you a list of companies that fit your tailored search. You can then get in touch with the options that you prefer.
---
Hippo, just a click away from the perfect life insurance option!
There is a life insurance cover for everyone, and Hippo will help find it.
They have assisted thousands of clients in South Africa in their search to get covered over the years.
Hippo employs the most educated and techno-savvy IT specialists to conduct and implement technology solutions to their comparison website, in order for new members to get a life insurance solution to meet their requirements.
Their comparison site takes away the stress of trying to compare prices and alleviates the frustration of dealing with more insurance companies than one can handle. Let Hippo take the stress out of the search and let them find the best life insurance in South Africa.
Peace of mind provided by Life insurance
Having life cover to protect loved ones should the unfortunate happen, will ensure one's family is taken care of financially. Life assurance and insurance options are just a click away with the Hippo comparison site which offers a world of options and solutions to one's insurance needs.
Furthermore, Hippo aims to find the right price and the right benefits that one is looking for when wanting the best out of the life insurance cover selected. Having the peace of mind knowing that this life insurance security is in place can be a valuable asset in one's life, and is offered with low monthly premiums that everyone can afford in order to get covered.
Best Life insurance profile match
One will need to answer a few questions on the search platform for Hippo to get the exact service that one is looking for. To get the best cover options, it is important to be specific in the search criteria. Once the search is complete, one can send off their profile, and let Hippo do the rest.
From here, Hippo will search and compare prices of thousands of insurance companies throughout the country, and give individuals a list of companies that fit their search profile. Eager life insurance members can then take the next steps to get in touch with Hippo to discuss the revised options that they prefer.
Influencing Life insurance factors to consider
When searching for the life insurance, or funeral cover company that best fits one's life, one must note the influencing factors that can play a part in the premiums of one's policy. These factors can be seen as follows:
Age
Health habits
Lifestyle
If one takes part in death-defying sports.
If one smokes a high number of cigarettes daily.
If one is overweight.
If one is already at the age of 50 years.
Customer Reviews & Testimonials
"
October 2021
Thank you, Hippo.co.za for making my life insurance search effortless!
Claudine B.
— Johannesburg —
August 2021
The most tech-savvy and efficient insurance service I have ever experienced!
Luniko P.
— Cape Town —
June 2021
Hippo.co.za found me the best life insurance policy with the best benefits I could have ever asked for! Thank you!
Liesel R.
— Pretoria —
Hippo Contact
Contact Number
E-Mail
Website
Physical Address
Auto & General Park, 1 Telesure Lane, Riverglen

Midrand

Gauteng

2191

South Africa
---
Postal Address
PO Box 11 250, Johannesburg, 2000, South Africa
Opening Hours
Monday

08:00 – 19:00

Tuesday

08:00 – 19:00

Wednesday

08:00 – 19:00

Thursday

08:00 – 19:00

Friday

08:00 – 17:00

Saturday

08:00 – 13:00

Sunday

– Closed