Online life cover
Request call back
Long term life insurance
In-page navigation
---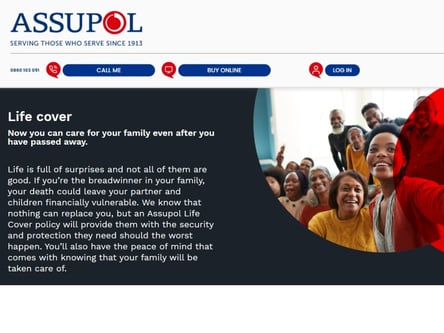 Author Assupol. Screenshot of Assupol website.


[Accessed February 6, 2023]
About Assupol
Assupol is an insurance and financial services provider that has been serving the country for more than 100 years.
Originally founded to provide the South African police force with industry-specific life insurance policies, Assupol now serves all South Africans and has expanded into new markets as well as mitigating financial risk and reaching goals. Assupol Life Ltd offers a range of insurance and financial products that are designed to help you achieve your financial goals and mitigate financial risks for you and your family.
Whether you're looking to take out a life insurance policy with a reputable provider, start saving with a Tax-free savings policy, or get your retirement plan together, choosing Assupol will get you where you want to go. From their 100% cashback benefits to their customer service excellence, when you partner up with them, you can be certain that you're in good hands.
Empowering and supporting communities
Assupol believes in giving back to the communities in which they operate and have made it their mission to bring about lasting change by focusing on initiatives related to job creation, health, and education. From helping empower women by assisting Basadi Skills Development in purchasing new sewing machines to purchasing and distributing over 1,000 pairs of school shoes, they've certainly made a difference in the lives of many vulnerable people.
Assupol's Community Trust
In line with the government's goal to ensure that all children have access to early childhood development by 2030, the Assupol Community Trust has invested close to R28 million into this worthy cause.
Staying informed and continuing to learn
If you want to enjoy thoughtful blog posts related to finance and leadership or just want to stay on top of the latest news, Assupol's blog is a great resource. Their interesting blog is updated regularly and can be relied on to keep you up to date on what's new, and the progress that Assupol has made with its various CSI initiatives.
Assupol Services
Assupol offers four distinctive life cover policies which offer up to R10 million cover and the option to add disability and critical illness cover at an additional premium.
Only the Progress Legacy Plan requires an HIV test. The Progress 4Sure and Accident Plans require no HIV test and no medical questions to be answered.
Progress Legacy Plan
This plan offers up to R10 million cover, and includes funeral cover for you and your spouse if desired, a complimentary increase in the value of your Carefree Life Retirement Annuity if available, and the option to take out additional cover disability and critical illness cover or an education benefit for your children.
Offering a maximum benefit of R1.2 million, funeral cover of up to R20,000 and optional funeral cover for your spouse, automatic Loyalty Reward inclusion, an increase in the value of your Carefree Life Retirement Annuity if you have a Progress Legacy Plan, as well as the option to take out additional cover as required.
Progress 4Sure Plan
From just R90 a month you can get life cover of up to R300,000 with funeral cover for you and your spouse of up to R10,000, and a choice to increase your cover after a certain time period. This option also includes the 4Sure Loyalty Reward which offers you 10% of your premiums back if you don't claim for 10 years.
The Progress Accident Plan
This is a form of life insurance that only pays out in the event that the policyholder passes away as a result of an accident. It offers a maximum cover amount of R1 million and has no waiting periods.
Assupol – Life insurance
Product

Life insurance
A Table of Choices

Assupol's website has all the information you need in one easy to understand table. In the table you can see exactly how much each option will cost you and exactly what the requirements as well as the benefits are for each option available to you.

3 Easy ways to get in touch

You can phone them directly on 0860 103 091, request a call back on the website or buy directly from them while you are on the website.
Benefits of Assupol
Funeral Cover for Pension Grant Recipients - Assupol understands that you would like to make sure that your family is not left with a heavy financial burden upon your death. They have formulated this special cover that exact reason. They believe that all income groups should be able to afford peace of mind.
Group Schemes - Assupol provides the opportunity for small business owners to cover their employees with competitive rates for group funeral plans.
Savings plans are available through Assupol. They can even assist you with a tax free savings plan to assist on that rainy day when required.
Retirement - they also have four different retirement solutions available for you to choose from.
---
Assupol Life Insurance Policy – 100% Online
One of the great things about this insurer is that they've embraced the move to online policy purchasing which means that you can get life cover online in minutes.
Need a little more help? If you'd prefer to have a professional help assess your risks, needs, and budget, you can request a call-back via their website or contact their call centre.
The life cover use will be different from one family to the next but life insurance payouts are usually used to cover debts, living expenses, education, and other financial needs for your spouse, children, parents, or other beneficiaries.
The importance of underwriting
Underwriting is the process by which an insurer will try to ascertain your level of health by requesting an HIV test as well as asking you a series of health-related questions such as whether or not you smoke.
These questions and the blood test result will simply ensure that you're given an appropriate premium based on your individual risk level. The healthier you are, the lower your premiums will be.
Optional add-ons to consider
Critical illness and disability cover will pay out a lump sum if you're disabled or are diagnosed with a critical illness.
Funeral cover for you, your spouse, children, and extended family members.
A premium waiver benefit that will keep your family covered after you're gone at no cost to them.
A premium waiver benefit that allows you and your family to continue to be covered for up to six months if you're retrenched.
Add the 4Life Cashback benefit that will pay out every 15 years if no claim has been made.
The Education benefit will provide for the education of your children after you're gone.
A loan repayment benefit (also commonly known as credit life insurance) that will pay your debt if you pass away.
A seamless claims process
Assupol has gone out of its way to make sure that the claims process is as quick, easy, and convenient as possible. Whether you need help via their call centre, in-branch, or via their Chatbot, you can rest assured that all matters will be handled with professionalism, speed, and compassion.
Funeral cover from Assupol
You can also apply for funeral cover online as a standalone product if you'd like to make sure you and your family will be able to afford a dignified funeral. You can get cover ranging from R5,000 to R100,000 with premiums that will be adjusted according to your age group.
Customer Reviews & Testimonials
"
January 2021
The relief I have knowing my family are covered by Assupol life is the best in the world if anything happens to me or my wife my kids wont suffer thank you too all the staff at Assupol its a grea...
Themba T
— P.E —
April 2020
For years my family have been using Assupol life, generation after generation, have been covered through Assupol and what i can say is that they really keep they word and they don't keep you wait...
Antibhela P
— Transkei —
Assupol Contact
Contact Number
E-Mail
Website
Physical Address
Summit Place Office Park Building 6 221 Garstfontein Road Menlyn

Pretoria

Gauteng

0181

South Africa
---
Postal Address
PO Box 35900 Menlo Park, Pretoria, 0102, South Africa
Opening Hours
Monday

07:30 – 16:00

Tuesday

07:30 – 16:00

Wednesday

07:30 – 16:00

Thursday

07:30 – 16:00

Friday

– Closed

Saturday

– Closed

Sunday

– Closed