Fast insurance quotes
Life insurance up to R1 million
Cover for HIV positive clients
In-page navigation
---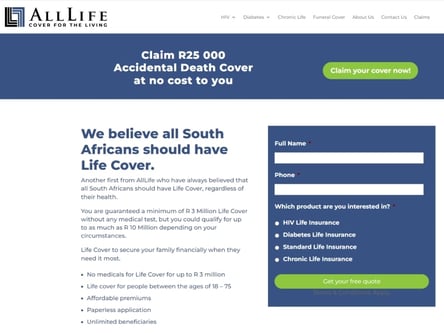 Author All Life. Screenshot of All Life website.


[Accessed February 6, 2023]
About All Life
All Life provides life cover to individuals no matter what their situation may be.
Unlike competitors, they take all health issues out of the equation, and still offer clients life insurance options to suit their needs.
Innovative Life cover for all budgets
All Life sees an opportunity to cover the lives of their members, as well as protect the family members of those insured. This is accomplished with options such as life and disability cover to suit the budgets of many different households.
They use innovation to create the best policies, which are affordable and offer a different approach to life cover.
Life cover that says 'Yes'
Where other providers may close their doors to individuals for being uninsurable, All Life will accept applications of all individuals* and move forward into looking after one's financial future.
Their main aim is to provide a product and service to South Africans, to make sure they don't get left in financial ruin should something happen to themselves or a family member.
All Life Services
All Life agents have ample experience in the industry to offer a vast range of life insurance services and are highly confident about their life insurance products offered.
'All-inclusive' Life insurance in SA
In South Africa, one is aware of the vast number of people in the country living with HIV. This has unfortunately turned many individuals away on a declined basis from many life insurance companies.
Now, at All Life, individuals living with HIV can get life insurance and all the benefits of securing their financial future for their families in the event of death or disability.
A comprehensive range of Life insurance plans
All Life offers clients a comprehensive range of insurance cover options as well as financial solutions for every stage and aspect of their life. One of the most popular services is the All Life insurance cover.
Unbeatable advantages of ALL Life Insurance
All Life does not expect its members to wait when it comes to securing their financial wellbeing, which is why members are covered from their very first installment. All Life offers Advantage Whole Life which is a life insurance option over an unlimited period and their Adherence Programme option assists members with their wellbeing and health.
All Life – Life insurance
Product

Life insurance
price

You can get up to R10 million for as little as R5 a day

Why All Life?

All Life is a revolutionary direct life insurance company. They are pioneering the availability of life insurance to those living with HIV and diabetes.

Assisting with your health

All Life encourages its policy holders to maintain their health by living a healthy and safe life style to have access to affordable life insurance.
Benefits of All Life
Funeral cover - All Life offers a comprehensive funeral cover option. You can have up to R70 000 in funeral cover for you and your family. You can add up to 5 children to you funeral policy. Help alleviate the financial burden of your death with this funeral policy that will pay out on notice of your death. All Life also offers a payment holiday in December of each year.
HIV and diabetes management - because All Life prides itself on offering life insurance for a marginalised part of the population they also offer services to assist with the most prudent advice on the disease that you may be living with.
Not sick? All Life believes that every person should have access to affordable life cover no matter your health status. They offer traditional life cover as well.
---
All Life takes care of your loved ones when you no longer can
With an end goal of getting members and their families covered, All Life offers a range of life cover options that individuals can choose from in line with what they can afford.
Life insurance prioritizes family
Since All Life was established in 2004, they have assisted thousands of clients in acquiring the life insurance plan they need to protect their family members long-term. They are transparent in their services, with no hidden agenda and no fine print to worry about.
They provide a straightforward product, with no paperwork, no appointments, no wasting of time or money. Their process is simple, efficient, and quick.
An insurance product that stands out
All Life in South Africa is not only a preferred life insurance and funeral cover company of choice but a firm that cares about helping its members. At All Life, they give their members a choice and they understand how complicated life can be as one never knows what tomorrow may bring.
Life insurance areas of cover
An illness or death can happen without warning, but is anyone ever fully prepared for this? Are families proactively taken care of should an unexpected event arise? In the event of death, All Life will provide credit life insurance that covers all one's outstanding debts such as one's mortgage, car loan, and other debts incurred such as credit cards, and personal loans.
A simple life insurance application process
The process of getting life insurance in South Africa is simple, as all one needs to do is contact All Life directly or email one of their consultants. From there, they will proceed in gathering all details to provide the life cover that best suits the new member and their family.
Knowing that one's family is protected in the event of the policyholder's death will provide peace of mind, knowing that family members will not be left with any outstanding debts, and will be able to live comfortably under their roof.
Customer Reviews & Testimonials
"
October 2021
Great benefits and accommodating staff! Thank you All Life for the quick application process.
Miranda Y.
— Johannesburg —
July 2021
The most affordable life cover option that I have encountered. I am so happy to be covered by All Life.
Themba Z
— Pretoria —
August 2021
All Life made me aware of how important my family's future is. Thank you for securing our financial future.
Ntombi R.
— Cape Town —
All Life Contact
Contact Number
E-Mail
Website
Physical Address
14th Floor Libridge Building 25 Ameshoff Street , Braamfontein

Johannesburg

Gauteng

2001

South Africa
---
Postal Address
PO Box 787159, Sandton, 2196, South Africa
Opening Hours
Monday

08:00 – 17:00

Tuesday

08:00 – 17:00

Wednesday

08:00 – 17:00

Thursday

08:00 – 17:00

Friday

08:00 – 17:00

Saturday

08:00 – 13:00

Sunday

– Closed