Metropolitan Life Insurance
Easy online life cover
Get up to R1 million cover
No medicals required
In-page navigation
---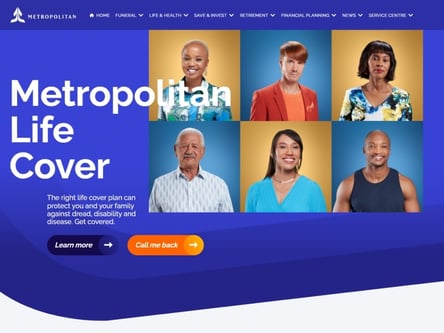 Author Metropolitan. Screenshot of Metropolitan website.


[Accessed February 6, 2023]
About Metropolitan
Metropolitan life insurance, one of South Africa's longest-serving insurers and amongst the 3 largest insurance providers in the country itself.
Metropolitan offers tailor-made services to help clients become financially literate, with their goal to help spread financial literacy in emerging markets such as South Africa. Their products range from life insurance to financial planning for the future.
Their mission remains dedicated to helping South Africans (and other emerging markets like Kenya, Ghana, Namibia, etc.) have an abundance of financial freedom throughout any situation in their life.
With life cover starting from as little as R120 per month, to receive a payout of up to R1,000,000, it is affordable for any household that would like to ensure that their families' well-being is taken care of.
Life Cover for everyone
Family structure and hierarchies differ in any household, whether it's a one-parent household, two, or those with no beneficiaries. But in each use case life insurance of any kind can give any individual more breathing room to make a living for themselves and those around them.
Usually, the head of the household and primary earner would be the one to take out a life insurance policy. This is to ensure that in the case of an accident, disease, job loss, or global circumstances the household can be taken care of financially both in the present and in the future for any needs that a life insurance policy can cover.
Metropolitan life offers a multitude of insurance quotes that range from full cover, accidental, medical, and also for retirement when one can no longer work, as Metropolitan will be able to ensure financial growth and help anyone who takes out cover make better financial decisions for the future.
Metropolitan Services
Metropolitan offers two main types of cover that start with either no medical tests involved with the benefit of receiving up to R1,000,000 life cover at a small premium cost of R120pm.
This simple life insurance covers you until the age of 60 and can assist your family with the small issues that surround us all, from inflation of goods and services to critical illnesses. This option that includes not having to do any medical tests has a second type of coverage that covers you for life and does not end at the age of 60 but rather at 85, or you can choose to end it early on at 65, with that being one of the smaller differences.
The Life cover plan
Metropolitan offers which include medical tests are amongst the more rounded options. The 3 options available give life insurance that covers all causes, be this leaving behind money to protect your family and its financial future, health insurance to cover for critical illness or any disability.
Metropolitan's life insurance can also be used for the short term. The payout will differ, and your monthly payments will too, the plans will still be able to cover a broad spectrum of needs that everyone looks for when paying for life cover.
Critical illness cover
This health insurance falls under both an add-on benefit to the Life Cover Plan and as a separate health cover all on its own. With the insurance being able to cover 4 of the major critical illnesses and a more comprehensive plan that includes 12 others.
This plan is available for anyone aged 14 to 65 and medical tests are required to be able to give the best possible monthly payments for you. Momentum does offer more in-depth coverage from Healthcare plans that cover you and your family while you're in the hospital, with the benefit of daily payments to pay for bills or make sure that the children are taken care of at home.
Metropolitan – Life insurance
Product

Life insurance
Price

You can get cover from as little as R100 a month

Options

Metropolitan life offers you direct life cover with various options to choose from. You can choose to insure without a medical check but you can have a medical check and save on your monthly premiums.

Value Adds

Their life insurance policy includes disability cover to protect your income should you be injured of become ill and can no longer work.
Benefits of Metropolitan
Financial Planning - in tough times it is even more important to have control of your money. On the Metropolitan website there is a budget format and calculators available to help you on your way to proper planning.
Retirement Planning - can be confusing and daunting. Sometimes we just don't know where to start with the planning. Let Metropolitan help by assisting you to choose the correct plan for your future.
Savings - Metropolitan has various savings plans available, but more than that, they also have calculators available where you can work out how much you can save by putting in your available amount that you have or you can put in your end goal and see how much you must save each month.
---
Metropolitan offers a wide variety of insurance plans
The list of financial planning services, health insurance, short term cover, long term life cover, funeral, and disability cover that Metropolitan offers go on and on.
Terminal illness cover
Metropolitan terminal illness cover as an option to your life cover, will be able to pay up to 100% of your cover in the given situation that you are diagnosed with a terminal illness and are expected to die within 12 months.
Metropolitan insurance online features
At the click of a button on their website, you can request a callback and within 24 to 48 hours a consultant will be in touch with you to discuss plans. The website also offers a live chat option that allows you to have a chat with their virtual assistant, the Metro Chat will be able to redirect any queries you have directly to an advisor.
The financial planning aspect allows you to invest from R20 000 for up to 15 years or to pay monthly premiums to achieve your personal financial goals that can benefit both you and your family.
The same system works for a retirement annuity plan where your initial investment will grant you regular payouts that don't change no matter the market condition. This is perfect if you want to invest a small amount now and make a regular income based on the investment to boost your current income.
Visiting the Metropolitan website could be the best decision you could make. With tons of intuitive features such as savings calculators, bond repayment calculators, and the virtual assistant to get a call back as you browse the site means you can do a multitude of research before you make any decision for your life cover beforehand. You can also keep up with the latest news in the financial industry via their website so you know what is going on around the world and your money.
Customer Reviews & Testimonials
"
August 2020
Some days are slow but they still deliver on their word. Never had a problem with claims or payment issues they have a great system.
Tiara W
— Boksburg —
June 2021
A very kind lady who helped me. The company knows what they're doing. Very professional and kind. Their services aren't at the most expensive and you're not struggling with tons of paperwork.
Johan F
— Upington —
March 2021
What I like about this insurance company is that they are straight to the point, no sugar coting and you can sleep peacefully at night knowing you not getting ripped off and your family is sorted...
Chante O
— Despatch —
Metropolitan Contact
Contact Number
E-Mail
Website
Physical Address
Parc du Cap, Mispel Road, Bellville

Cape Town

Western Cape

7530

South Africa
Opening Hours
Monday

09:00 – 17:00

Tuesday

09:00 – 17:00

Wednesday

09:00 – 17:00

Thursday

09:00 – 17:00

Friday

09:00 – 17:00

Saturday

– Closed

Sunday

– Closed