Up to R3m life cover
Affordable insurance premiums
Easy claim process
In-page navigation
---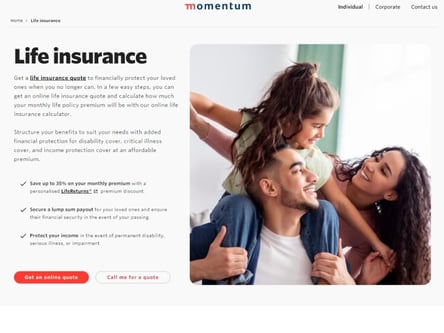 Author Momentum. Screenshot of Momentum website.


[Accessed February 6, 2023]
About Momentum
Momentum has through many years of experience in the insurance industry, built an incredible trust within their services offered to clients across the country.
By providing the most innovative products that meet the needs of new and existing customers, they go above and beyond to ensure all members receive the best possible cover.
A multi-insurance product provider
Since the beginning of Momentum's journey in 1966, their firm has evolved into one of the largest multi-insurance product service providers, known for their impeccable services and unbeatable products offered.
These products include everything from medical aid, disability cover, life cover, and more. They have achieved this client satisfaction result from the way that they communicate and keep things simple, without high risks or high costs.
Life insurance and more under one roof
Momentum can offer choice to their customers, which means that those looking for life insurance in South Africa are not limited to a single product. They offer such a diverse range of services, that members can select their cover and investment options from under one roof.
Momentum knows how important thinking long term is, which is why they have the best range of life insurance options available to take care of individuals and their families.
Momentum Services
Investing in one's family's future today will save loved ones from the trauma and stress when those unforeseen circumstances arise.
The fact is, no one will live forever, which is why Momentum thinks ahead, ensuring the best life insurance for their members, as well as their families.
Momentum simply does not just provide standard life insurance, but rather offers policies that go over and above the normal mundane services. They further provide their clients with flexible premiums in line with their life cover of choice, with easy and affordable rates payable monthly via debit order.
Life insurance up to R3 Million
With Momentum, members can get up to R3million in life insurance cover and ensure that their family will adequately cover those day-to-day living expenses as well. All that Momentum requires is a simple HIV test to qualify members for cover, and Momentum will calculate a reasonable life insurance quote in an affordable price range. These life insurance options include cover for death, disability, critical illness, and more.
The sooner one starts with life insurance, the better the premiums will be. With Momentum, one can get their life insured, with a company that cares about not only the member but their family too.
Momentum – Life insurance
Product

Life insurance
Choose how to get a quote

Momentum offers you the choice of either receiving an online quote, in the comfort of your own home, or having one of their friendly and knowledgeable consultants call you back to tailor make your quote.

Benefits

Momentum offers a lump sum payout upon your death to assist your family. They are able to tailor make your benefits to suit your needs and offer up to 60% savings on your premiums.

3 Different plans to choose from

Momentum offers three plans to choose from to suit your needs and your budget. Choose from their Essential, Extended or Comprehensive packages.
Benefits of Momentum
Draft a free will - a will is not something we want to think about but it is a very important plan to have in place. Momentum allows you to draft a will for free and protect your family.
Multiply Money from Momentum offers you a great investment and savings opportunity by allowing you to earn interest from the first cent you invest at a great interest rate.
Car and home insurance but not only comprehensive car and home insurance, to help you out when accidents happen, but also Safety Alert on the Momentum app which allows you to call for assistance when you need it most. Caring for not only your things but also for your family.
Medical Aid - get an online quote by telling them a little about your needs and your financial situation or call them on 0860 117 859 to receive advice on medical aids and gap cover.
---
Momentum invests in the future of you and your loved ones
Life cover through a provider one can trust will make a world of difference to a client.
Momentum knows this, which is why they provide life insurance cover options to meet the needs of every client they assist. Through an easy online insurance application process, Momentum can process each application at a speedy rate, to ensure individuals do not have to wait a minute longer to be covered.
Immediate cover up to R3million
Momentum can provide a quotation online, which saves individuals time and money which would be otherwise used for driving around and making appointments. They do not require too much from their clients and only ask for a simple medical test for HIV and clients can get immediate life cover up to R3,000,000.
Quality Life insurance customer service
If a quality life insurance plan is what is needed then look no further, as Momentum offers up to R4,000 discount on AVBOB funeral services and premium amounts are fixed for the first ten years.
What makes them stand out above competitors is their phenomenal customer service. No matter where one is, or what time it may be, they provide an elite customer care service through their experienced consultants for any queries, questions, or comments one may have in regards to their life insurance policy.
Get a Life insurance quote today
Apply with Momentum today for a no-obligations life insurance quote, and get access to a world of benefits and valuable services. Momentum's reputation in South Africa says it all. They offer competitive services, affordable rates, and ongoing customer care which clients throughout the country have been enjoying for many years. Getting an insurance quote is as easy as clicking a few buttons online.
Contact Momentum today, get insured and get the peace of mind needed to know all future financial stress is covered.
Customer Reviews & Testimonials
"
August 2021
The greatest life insurance company in South Africa by far! I am so happy to be covered by Momentum Life Insurance.
Amy F.
— Durban —
September 2021
Thank you to Momentum for taking the time to explain every little detail to me about my life insurance policy. I am so happy about the great value-added benefits.
Ntombi M.
— Cape Town —
September 2021
Excellent customer service and attention to detail for any query.
Paul Y.
— Durban —
Momentum Contact
Contact Number
E-Mail
Website
Physical Address
268 West Avenue

Centurion

Gauteng

0157

South Africa
---
Postal Address
PO Box 2338, Durban, 4000, South Africa
Opening Hours
Monday

08:00 – 17:30

Tuesday

08:00 – 17:30

Wednesday

08:00 – 17:30

Thursday

08:00 – 17:30

Friday

08:00 – 17:00

Saturday

11:00 – 15:30

Sunday

– Closed