Up to R1.2m life cover
Quick Life insurance quote
Easy insurance application
In-page navigation
---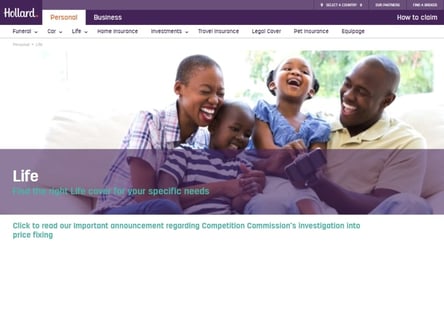 Author Hollard. Screenshot of Hollard website.


[Accessed February 6, 2023]
About Hollard
Hollard Insurance Group is a wholly-owned South African life insurance company that was established in 1980.
With decades of experience in offering the right insurance packages for clients in South Africa, they have developed an intrinsic knowledge of how to provide the ideal solutions for their clients.
A Life insurance company to trust
As one of the largest health, life, and funeral insurance providers in the country, Hollard has situated itself on the top of the list when it comes to a life insurance company one can trust. Hollard has created a groundbreaking solution and service in the country, for clients looking for insurance. Hollard is known throughout the country for high-tech innovative platforms, allowing clients to access the insurance they need, quickly and effectively.
Hollard Services
Life cover is no longer an option, but a necessity. Taking care of one's family when one no longer can is the best possible gift.
Hollard is unique, in that they offer their clients not only the life cover that their family deserves, but they also offer a 20% cashback after paying life insurance for over 5 years. With Hollard life cover, members will additionally receive funeral cover included in their package worth R30 000, covering the member's spouse or partner at no cost.
Life insurance add-ons worth R10 000
Hollard life insurance in South Africa offers an R10 000 funeral payout for larger families, covering up to 4 children free of charge. Their life insurance options are simple to apply for, with no medical examinations beforehand, and offer an extra 30% life cover should the member obtain an HIV test within the year of taking out their policy.
Hollard – Life insurance
Product

Life insurance
Want to speak to an actual person?

Hollard offers you the opportunity to find a broker, close to you, on their website. You can go in and speak to a person face-to-face to receive personalised assistance for your specific needs.

A wide range of options

Hollard offers you the choice of a wide range of life cover options. Each of these options come with their own set of value added services. You will be able to choose the option that fits you and your whole family best.

How to claim?

With Hollard the claims process is personalised. You call 0860 00 00 11 and reach an advisor who will walk you through the process step by step.
Benefits of Hollard
Funeral Cover with optional value added benefits which you can tailor to your family's needs
Cover for your car - let Hollard help you with not only comprehensive car insurance but also extended warranty from their various partners
Invest and Save - comprehensive investment and savings plans that plan for big spends like university and retirement or that trip around the world
Travel insurance from a company that understands the post Covid-19 world that we live in and all unexpected extra travel costs that this bring with it.
Legal cover that puts a lawyer at your disposal when you need them
Pet insurance for not only your 4 paw family members but also horses under their specialised Equipage option
---
Hollard Insurance offers cash back on your life insurance policy!
Hollard provides life insurance to cover up to R1.2 million to help one's family cover those expenses which they need to pay for and make life a little easier, for them to be given the space to grieve.
Life insurance benefits with Hollard
Life cover includes cover for the policyholder and their spouse for a maximum of R450 000.
Funeral cover covers the policyholder as well as their spouse to the maximum of R50 000.
Cover for the policyholder's children (up to five children), their parents, and extended family members as an added benefit.
Funeral cover which includes accidental death cover and more value-added for the main member of the policy.
Homeowner home contents cover worth R50 000.
The bare necessities of Life cover
In the event of an unfortunate situation such as death, the last thing one wants their loved ones to experience in-between grief is the overwhelming responsibilities of debt hanging over their heads.
With Hollard life insurance, this will ensure one's family is protected financially if there are outstanding payments left behind when the policyholder is no longer around to attend to them.
Hollard can help with all life insurance needs with:
Insight into the best products available.
Experience in the industry to ensure members get the best value.
A team of dedicated and empathetic staff on board to ensure members get the best possible service.
Customized Life insurance solutions to suit all
Hollard's life insurance options are specially designed and customized to meet the needs of each of their clients. To access their life insurance options, clients can simply follow the easy steps on their website.
Alternatively, one can contact a Hollard insurance expert through their toll-free number, or email them on the quote form provided. They will get back to all queries in the quickest turnaround times possible, and make sure those seeking life insurance are insured promptly.
Clients can also contact one of Hollard's brokers for a one-on-one meeting, where they have the opportunity to discuss all options available to them.
Easy to follow application process
Hollard takes all online life insurance applications, for whichever choice of life insurance is preferred, and affordably presents them, inclusive of all the value-added benefits, to make sure policyholders and their families receive the best possible life insurance cover.
They offer guidance through the application process to ensure nothing is missed, and that all individuals understand the agreement. Payment arrangements will be put in place for premiums to be paid via debit order each month, for the policyholder's convenience.
Life insurance starts now
Starting with a Hollard life insurance policy in South Africa now means that one can save money in installments in the future and also provide a security blanket for their family, to cover those expenses should one not be around to do so.
Customer Reviews & Testimonials
"
May 2021
The best life insurance policy in South Africa! I feel so much better now that my family and l are covered.
Siya B.
— Durban —
September 2021
Thank you for the above and beyond service and attention to detail. Hollard really has a way of making its members feel important.
Jackie T.
— Durban —
April 2021
Great service and speedy claims process. What a pleasure it is to be insured by Hollard life insurance.
Bongani V.
— Durban —
Hollard Contact
Contact Number
E-Mail
Website
Physical Address
22 Oxford Rd, Parktown

Johannesburg

Gauteng

2140

South Africa
---
Postal Address
PO Box 87 419, Houghton, 2041, South Africa
Opening Hours
Monday

08:00 – 17:00

Tuesday

08:00 – 17:00

Wednesday

08:00 – 17:00

Thursday

08:00 – 17:00

Friday

08:00 – 17:00

Saturday

– Closed

Sunday

– Closed