Life insurance starting from R92
Life cover up to 1M
Flexible insurance premiums
In-page navigation
---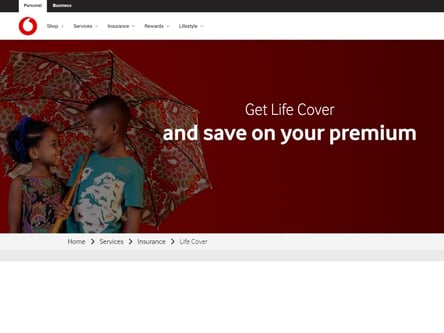 Author Vodacom Life. Screenshot of Vodacom Life website.


[Accessed February 6, 2023]
About Vodacom Life
Vodacom is South Africa's leading network provider and one of the most recognized and loved global brands.
Whether you're making use of their network, have a device contract, or are a loyal customer of their financial services, when you choose Vodacom you know you're going to get value for money and excellent, reliable services.
From humble beginnings to a global giant
Vodacom launched its GSM cellular phone network in 1993 and has grown immensely since then into the country's leading communication services provider. After establishing themselves in SA, they launched in Lesotho and then Tanzania only a few years later and are now one of the continent's largest communications companies.
Giving back to the community
From their SME development endeavours to their dedication to education and digital democratization, Vodacom gives back to the communities they serve. They believe that technology can uplift and transform the lives of the most vulnerable people and communities and strive to use technology to provide better access to health, education, and financial services.
They're also dedicated to mitigating the impact of their own operation on the environment (by half by 2025!) and are dedicated to helping others do the same with the use of new innovations and solutions.
Vodacom Life Services
Vodacom offers life cover of up to R1.5 million that comes with affordable premiums from as little as R100 per month.
Your premiums will, however, be dependent on your cover amount and risk profile and these premiums (as well as your cover) are subject to change as your needs change. This cover will pay out a lump sum to your loved ones in the event that you pass away or are severely injured or disabled.
Vodacom's Life cover features and benefits
Get cover of up to R1 million
Access a 20% discount on premiums by applying online
Enjoy immediate accidental death cover and natural death cover after just 3 months
Increase your life cover as circumstances and needs change
Add as many beneficiaries as needed
No medical checks are required, a small blood test is sufficient
High value with low premiums and extensive cover
Option to include injury benefit to your policy
You can choose to add an injury benefit to your life cover. This benefit is referred to as an accelerator and will payout a lump sum if you're injured or sustain serious trauma and experience disfigurement, paralysis, or a loss of vision, hearing, or speech ability.
In the event that this accelerator benefit is active, and the payout is calculated to be less than the full benefit, the remaining amount will remain available for further death or injury payouts.
Vodacom Life – Life insurance
Product

Life insurance

Loan Amount

from R92
No Medical Exams

Vodacom Life does not require a medical exam or blood test

No Paperwork

With Vodacom Life you can enjoy a paperless application process that will take you 20min online and you can get a 20% discount.
Benefits of Vodacom Life
e-School - Vodacom understands that education is a vital component to success. You can register your child for free and if you are a Vodacom customer then you don't pay for data used to download the content.
Mom and Baby - follow the link on the website to many articles with information that every new mom can use.
Vodabucks - earn Vodabucks as a valued Vodacom customer. You can spend you Vodabucks on entertainment, electronics, fashion and so much more.
Connecting your world - Vodacom is one of the biggest networks in South Africa and helps you to connect with family and friends.
---
Apply for cover online and get 20% off
The best way to apply for life cover with Vodacom is online via their website so that you can benefit from their 20% discount offer.
The entire process will take 30 minutes or less from the moment you sign up (excluding your blood test).
Valuable insurance products on offer
While you may associate them with network coverage and mobile devices, they also offer a range of financial and risk management products and services. This includes everything from device insurance to life and funeral cover.
Apply for Life cover:
Be in possession of a valid South African ID
Be between the ages of 18 and 64
Be able to make the monthly premium payments
You do not need to be on the Vodacom network or have a mobile device contract with them – their insurance products are available to all!
Information to be provided
You will need to answer questions regarding your occupation, level of education, travel habits and intentions, general health and smoking habits as well as whether or not you participate in any risky activities. These activities include things such as boxing, wrestling, diving, racing, mountaineering, sky-diving, and acrobatics.
Life insurance exclusions
Your policy schedule is an important document that will detail everything that you need to know about your life insurance policy including the waiting periods, health and disclosures regarding material changes, cover start dates, additional benefits, and your coverage amount.
This document should also specify any exclusions. These are causes of death or injury that will result in any claim being denied. This includes death as a result of non-disclosure of material facts, death from suicide, or injury resulting from participation in insurrection, war, or terrorist activities. There's also a list of countries to which any travel will exclude coverage.
Insurance products offered
Device insurance Offers protection for your devices from accidental damage, loss, and theft. There are three packages available and the cover starts from as little as R20 per month.
Funeral cover: Get the funeral cover of up to R10,000 with no underwriting and no blood tests – simply apply online in minutes.
Legal assist: Access legal advice from VodaSure – Vodacom's legal advice line and access to legal assistance for all civil, labour, and family law-related
Cover in just 10 minutes
You can get full coverage in just 10 minutes when you apply for insurance online – all you'll need to do is comply with a quick HIV test and you'll be covered! This cover will last for the duration of your life and will give you and your family the peace of mind and security that you deserve.
You can apply for life insurance from Vodacom regardless of whether or not you're a customer with the network provider. All you need to do is make sure that you comply with their basic ID and age requirements and make sure you're forthcoming with all your relevant personal and health information.
Customer Reviews & Testimonials
"
February 2021
A bit pricey but if you are looking for convenient and instant coverage they are perfect for you, they take special care of each individuals needs doesn't matter how big the family.
Janine T
— Helen vale —
January 2020
As a student Vodacom offers me the best deals and coverage I need to make sure I'm sorted in life.
Abayomi N
— Polokwane —
Vodacom Life Contact
Contact Number
E-Mail
Website
Physical Address
0A Century Blvd, Century City,

Cape Town

Western Cape

7441

South Africa