Multi-Prof Insurance Brokers
Instant life insurance quote
Affordable insurance premiums
Quick application process
In-page navigation
---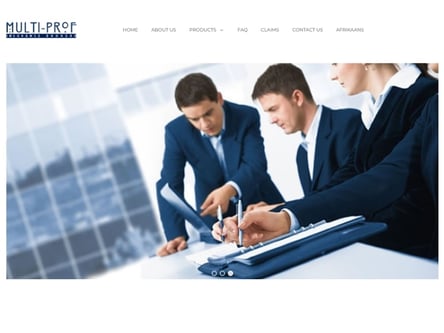 Author Multi-Prof. Screenshot of Multi-Prof website.


[Accessed February 6, 2023]
About Multi-Prof
Multi-Prof has over 15 years of experience within the insurance industry. With their knowledge of covering specific needs for clients, they have become a preferred firm of choice when it comes to choosing the right insurance partner in South Africa.
Life insurance and so much more
Multi-Prof offers their customers life insurance, as well as a diverse range of insurance options to meet all their needs. As a licensed firm, members will get that guaranteed service delivery within South Africa.
They assist clients in a professional capacity with the means to ensure their life and also to ensure valuables are covered in every unforeseen event.
Life cover that thinks ahead
One doesn't always think ahead in life, but unforeseen events can arise quickly, which is why having financial security in place can be one of the most important choices one makes in life. Being prepared for these unexpected moments is one of the best decisions to make for an individual as well as their family by choosing Multi-Prof life cover.
Multi-Prof Services
Multi-Prof Insurance Brokers in South Africa cover professionals in every aspect of their lives.
Be it home or life cover, they have the best insurance products to choose from. Customers can get instant quotes for their insurance needs online through easy-to-follow prompts. Getting cover is easy when one partners with the right people.
They have been helping professional clients get the best out of their insurance policies for many years, and have an extremely high track record for client retention.
Insurance products to suit all needs
Their premiums are suitable for all budgets, ensuring all members get the most out of what they are covered for.
Life insurance designed for every wallet
Multi-Prof life insurance options offer the best life cover anyone could sign up for to make sure their family is protected should they pass away. This life cover can be the lifeline to all financial family needs.
Multi-Prof understands that everyone has different needs, which is why they offer the choice to individuals to compare prices from leading insurance providers, to find the best option possible. Multi-Prof life insurance in South Africa provides cover in the event of death, disability, and dreaded disease as well as funeral cover.
Multi-Prof – Life insurance
Product

Life insurance
price

Premiums from only R120 per month

Life cover for the whole family

Multi-Prof offers you the opportunity to cover your partner, children, parents and extended family.

Custom build your life insurance policy

With Multi-Prof you can customise your life policy by including up to R10 Million Life Cover, R10 Million Disability Cover, R4 Million Dread Disease Cover, R45 000 Funeral Cover

How to buy your life cover

Hassel free - Buy your life cover over the phone or online. No paperwork!
Benefits of Multi-Prof
Car and Household Insurance which includes not only your buildings, all you belongings and your cars but your watercrafts as well.
Vehicle Tracking is a quick and easy way to compare quotes from companies that offer vehicle tracking and recovery.
Medical aid quotes - put all your information into one form and receive quotes from up to 20 of South Africa's best medical aid schemes.
Gap Cover - gap cover assists when your medical aid has a shortfall. Get quotes for the best gap cover available to you.
Bond Protection Insurance from R75.00 a month for a minimum of R100 000 cover.
Tax Free Investment Plan allowing you to save without incurring extra costs in the form of tax penalties
---
Multi-Prof, the professional life insurance provider of choice
Life insurance from Multi-Prof is the best decision one can make for those moments when life is unpredictable.
Anyone could be the safest person on the planet and still experience an unfortunate critical illness, accidental death, or even get retrenched from their place of work. Without a monthly income, one's financial well-being is compromised and this can affect the entire household. With Multi-Prof life insurance, these moments can be made a little easier with the aid of financial assistance for those that provide the financial support for their family.
Easy Life insurance quotes online
With Multi-Prof life Insurance, one can easily access life insurance quotes through the online platform on their website. One can also provide personal details and make inquiries directly to Multi-Prof through their contact number provided, or via their email address.
Speedy Life insurance approval online
Multi-Prof provides individuals with easy access to quick approval on their life insurance applications, with experience from a team of insurance consultants who understand the needs of their clients throughout South Africa. Multi-Prof life cover is designed to provide financial security for clients and their families in the event of death, disability, and more.
Life insurance benefits to enjoy
R10 000 000 life cover pay-out in the event of the policyholder's death which pays out in a lump sum to their spouse and family.
R10 000 000 disability cover if the policyholder becomes disabled due to an unforeseen accident, where a percentage is paid out to them to support their income when they cannot work.
R4 000 000 is paid to the policyholder if they become critically or terminally ill and cannot support their family with an income.
R45 000 funeral cover which includes the policyholder, their spouse, and their children. The funeral cover provides the option to include extended family as per the terms and conditions.
Contact a Multi-Prof expert today, and let them provide cover for the whole family should any unfortunate incident, death, or supporting illness arise.
Life insurance quotes made easy
Contact Multi-Prof today to get a hassle-free life insurance quote to provide financial security for the future. Multi-Prof provides those looking for life insurance in South Africa with a qualified team of experienced insurance experts, waiting to assist.
There is no reason to delay the process of selecting the best life insurance policy as one needs to think of the people that would be left behind, should an unforeseen event arise where one is not able to take care of their family or day-to-day financial obligations.
Customer Reviews & Testimonials
"
May 2021
Thank you to Muti-Prof for great service and amazing life cover at an affordable rate.
Vuyani T.
— Hermanus —
November 2021
So thankful to Multi-Prof for providing me with life cover to secure myself and my family for more than I could have imagined.
Claire B.
— Cape Town —
June 2021
Incredible insurance products for every category of life! Thank you Multi-Prof for going above and beyond.
Bulelwa O.
— Cape Town —
Multi-Prof Contact
Contact Number
E-Mail
Website
Physical Address
323 Piet Retief Crescent

Hermanus

Western Cape

7200

South Africa
---
Postal Address
PO Box 804, Hermanus, 7200, South Africa