Life insurance up to R10m
Hassle free life cover
Quick online solutions
In-page navigation
---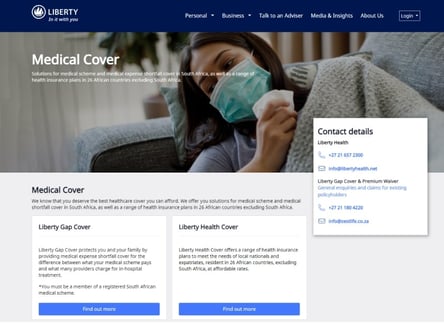 Author FRANK.NET. Screenshot of FRANK.NET website.


[Accessed February 6, 2023]
About FRANK.NET
Frank.net is a straightforward life insurance provider with no frills and provides cover for individuals and their loved ones when it matters the most.
They offer clients what they need to ensure that they make the best decisions for their future.
Life insurance team
The staff at Frank.net are handpicked and provide an energetic and passionate atmosphere to the company. With the belief that the final decision lies with the client, Frank.net aims to provide life insurance suited for each unique individual.
Life insurance solutions
Frank.net provides life insurance solutions that are easy for their clients to obtain, as they understand how important insuring one's life can be. Thinking beyond the present day and looking at the bigger picture, they know what is needed should a life-changing situation occur.
Life Insurance has never been easier or more affordable, as Frank.net has the most cost-effective and valuable life insurance cover to offer. What makes Frank.net even more fantastic, is the fact that lump sum payouts are tax-free up to R10 million.
FRANK.NET Services
Frank.net life insurance members in South Africa can have as many beneficiaries as they like, as well as amend their beneficiary list whenever they please.
All online life insurance applications can be processed quickly, with no medical exam needed to be taken beforehand.
Life insurance criteria
Even though one does not like to think about the facts of death, being prepared for a situation like that is highly important, especially when one has a family to consider.
Frank.net provides an easy application process that allows for no invasion of privacy and no paperwork. Factors that are taken into consideration include smoking habits, income, age, and health, as well as an HIV test prior to taking out a life insurance policy.
Furthermore, Frank.net will customize a payment plan for each member's life cover in accordance with these factors and the cover they decide to choose.
FRANK.NET – Life insurance
Product

Life insurance
Comparing quotes

With Frank.net you will be given up to 8 quotes to compare and make the best choice for you

Understanding Life insurance

POLICY HOLDER - Person taking out the policy, INSURER - the insurance company, LIFE ASSURED - the person whose life is covered, BENEFICIARY - the person who receives the money

Why do you need life insurance?

Life insurances offers you peace of mind that your entire family will be taken care of financially if anything ever happens to you.
Benefits of FRANK.NET
Serious/ Sever/ Critical Illness/ Dread disease cover for all those treatments that a medical aid may not cover
Salary/ Income protection to protect your family if you can not work
Disability Cover to ensure an income incase of an accident
HIV + Life Cover finally a life cover that includes a very large part of the population that has previously been excluded from buying houses and other economic activities.
Diabetes Live Cover doctors are concerned about the high rate of diabetes sweeping through the population. Diabetes cover allows you to claim on diagnosis to cover medical expenses.
---
Frank.net insures your life the way you want it!
Getting life insurance cover in South Africa from Frank.net is no tedious or lengthy task.
As they are an online firm, they do things innovatively, through technology. The Frank.net website is self-explanatory, with easy-to-use prompts and steps to follow.
Life insurance quotes
Clients can get an online insurance quote by clicking on the "call me" button, where a Frank.net consultant will call back in a fast turnaround time and provide a life insurance quote based on the details provided. Alternatively, one can also click the "Email" button to email individual requirements, and have an agent contact them.
Following this will be the presentation of a life insurance contract tailored according to the individual's specific needs.
Customized Life insurance in South Africa
Frank.net takes their life insurance services very seriously, and the products they offer their customers reflect this. Everyone has different needs, which means that their customized proposal will be designed uniquely for each member.
Frank.net doesn't restrict members on how many beneficiaries they can name and the application is fuss-free, with no medical tests, no paperwork, and no wasting of precious time.
Honesty is the best policy, which means that all information provided during the application process needs to be 100% truthful. As all life insurance application proceedings are performed online or telephonically at Frank.net, the word of individuals during all conversations is of great importance.
Life insurance application
The life insurance application process will be accommodated with the help of a Frank.net consultant where they will request information before sending applications through for processing. They will complete the life insurance application with the individual's personal details as well as accurate information such as:
Gender
Age
Health
Habits, such as smoking.
Body features, such as weight.
Life insurance claims
To make a life insurance claim, the process is just as easy as applying. Frank.net requires life insurance members to contact the team via the "Call me" prompt online.
From there, a consultant will contact the life insurance member to get the claim process started. All claims need to be legit and any self-harm or self-inflicted claims on one's life will not be paid out to the claimant. Important to note is that one could also forfeit their entire life insurance policy by submitting a fraudulent claim.
Customer Reviews & Testimonials
"
December 2020
I could not have asked for more affordable life insurance in South Africa. Thanks Frank.net!
Carla M.
— Cape Town —
February 2021
Amazing service and such caring life insurance agents! Thank you for going above and beyond.
Nolo T.
— Hermanus —
May 2021
The best life insurance benefits one could ask for! Thank you for the quick and easy claims process.
Luluthemba, M.
— Cape Town —
FRANK.NET Contact
Contact Number
E-Mail
Website
Physical Address
8th Floor, Eleven Adderley, 11 Adderley Street

Cape Town

Western Cape

8001

South Africa
Opening Hours
Monday

08:00 – 17:00

Tuesday

08:00 – 17:00

Wednesday

08:00 – 17:00

Thursday

08:00 – 17:00

Friday

08:00 – 17:00

Saturday

08:00 – 13:00

Sunday

– Closed