Quick insurance payouts
Affordable life cover premiums
Quick application approval
In-page navigation
---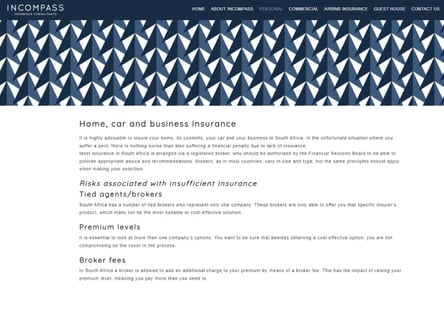 Author Incompass. Screenshot of Incompass website.


[Accessed February 6, 2023]
About Incompass
Incompass Life Insurance offers South Africans the financial support for life cover services that will help them stay afloat with their day-to-day living expenses.
With life being so unpredictable, we don't know when our time will end, it's all uncertainty, which lingers in our thoughts, but are we always proactive about it?
Think ahead with a Life cover policy in place
Your loved ones would need some kind of financial support when you can no longer provide for them, think ahead and make provision for them with life insurance. Without your salary coming in, they could lose all that they own in an attempt to cover the bills.
A range of Life insurance options
Incompass offers life cover and insurance options for all clients, with a diverse and realistic approach to caring for their clients. They also offer HIV life cover for clients living with HIV.
This will cover your family when you can't. They have many years of experience assisting clients in making the choice that will affect the rest of their lives. They can help you make the right decision today.
Incompass Services
Incompass offers clients a choice of affordable, valuable, and reliable life insurance and life cover options that provide more than enough to ensure that your family has been well looked after.
Enjoy Life cover with great customer service
Incompass also offers a service which is of the highest calibre of customer services, with the knowledge in the industry, to back up its service offers.
Honest & transparent Life insurance quotes
They have taken time to evaluate the products they offer their clients and investigated the end result to ensure that they receive honest and transparent life cover and life insurance options.
Life is never guaranteed
We could live many more years to come, and something could take us out tomorrow. But, having life cover in place just in case would be the wisest choice you could make. They have low premiums on their life cover and life insurance options. They cover clients living with HIV.
Flexible Life cover options from Incompass
Incompass has been providing exclusive and unique life cover and life insurance processes and tailored options to clients in South Africa since 2004. They strive to offer customers quick online life cover quotes and excellent all-around customer service.
Incompass – Life insurance
Product

Life insurance
Life Cover That Pays

Get life cover now so you don't have to worry about the future. Having life cover insures that the debt and loans you have is paid off in a event that you fall ill or in the case that you pass away.
Benefits of Incompass
Low Affordable Premiums - We have premiums that fit in to your budget and we also do quick lump sum payouts no need for long waiting periods.
Online Accessibility - We give you online access to everything you need. It is quick and easy.
Add The Ones You Love - We allow you to add your family to your policy.
---
Apply for life insurance online today
With affordable and beneficial options on offer, you cannot make a wrong move with Incompass by your side.
Incompass is confident about their Life cover products
They work with a team of the most dedicated and passionate people in the life cover industry. The level of qualifications and expertise in their firm speaks for their ability to provide outstanding life cover and life insurance products and service delivery to every client they make contact with.
With Life insurance you can be prepared for anything
Think of the future, of your family, and don't let another day go by without being prepared. Your family will be protected financially and still be able to live knowing you cared that much for their well-being.
Lump-sum payouts and quick response
Incompass have fast turnaround times on their payouts. They have all you need in one solution, to secure your financial needs when the main provider in the family passes on. You can get lump-sum payouts on your life cover, they won't make you wait, as they know there are bills to pay.
You can also get funeral cover to help you pay for the expenses when burying your loved one. Although they concentrate on domestic and automobile insurance, business, and home coverage, their recognition has constantly been and remains on three key criteria.
Their focus lies in:
The correct recommendation from experienced and qualified representatives.
Top-quality service delivery
Being there when it counts when you make a claim. They ensure that your valid life cover and life insurance claims are paid out in fast turnaround times every time.
Contact Incompass and see their service for yourself
Thinking of your life as it is now, you often aren't too worried about the financial future, as things may be going well. However, we never can plan for the future, unless it's financially. Incompass will assist you in planning for your future and the future of your family - from today.
It's never too late to get Life cover
During our life, we tend to build up debt by buying a home, having a car, and taking out student loans among many other forms of debt and expenses. There are endless scenarios that require financial assistance in order to live well. Should you die tomorrow, who would carry on with the payments of those financial obligations? Get life cover today with Incompass.
Customer Reviews & Testimonials
"
September 2021
No one is thinking of life cover at 25 or so I thought, my friend died and had life cover from Incompass and this saved his wife and kid from ruin.
Ruan. L
— Cape Town —
June 2021
The best service from you guys. You helped me with my questions and gave me the best quote in no time.
Thandi. M
— Hermanus —
September 2021
My dad died suddenly. We thought my mom was going to have to sell the house, Incompass life cover paid out and my dad had the best cover.
Laura.R
— Cape Town —
Incompass Contact
Contact Number
E-Mail
Website
Physical Address
4th Floor, 71 Loop St, Cape Town City Centre,

Cape Town

Western Cape

8001

South Africa
Opening Hours
Monday

08:00 – 17:00

Tuesday

08:00 – 17:00

Wednesday

08:00 – 17:00

Thursday

08:00 – 17:00

Friday

08:00 – 17:00

Saturday

– Closed

Sunday

– Closed