Choose the best medical aid for your needs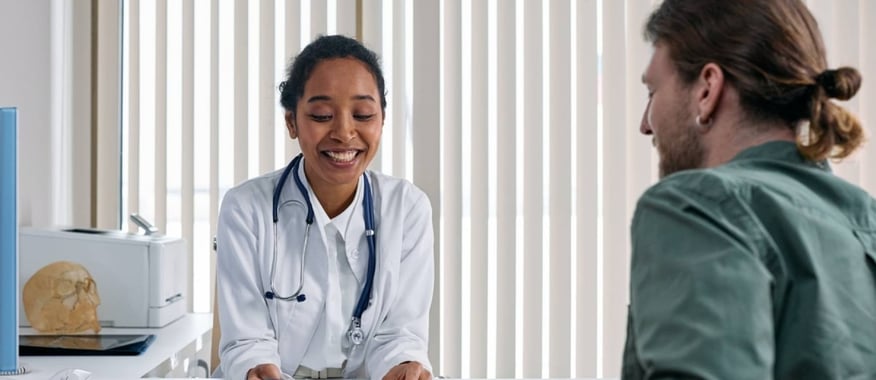 Choosing the best medical aid for your needs means considering a number of factors such as your general health, pre-existing conditions, risk factors, lifestyle, healthcare needs, and of course, your budget.
It's also dependent on the available medical aid plans on the market and whether these are suited to your needs. In preparation for choosing a medical aid for yourself and your family, you should know what you need, what's available, and how to quickly and easily compare insurance options – and that's exactly what we're going to help you figure out.
Some of the questions you may want to ask:
What level of cover do I need?
What level of cover will my dependents need?
What life stage am I in and what does this mean?
Should I opt for medical aid or will a hospital plan suffice?
What additional benefits are important to me?
How much can I afford to pay?
Answering these questions will help you get an idea of what you need and want even before you take a look at various insurers and the plans they offer. It'll also make it easier for you to eliminate options that are simply unsuitable, saving you time and effort.
That said, all private medical aid schemes will offer you a set level of minimum benefits courtesy of the Medical Schemes Act 131 of 1998. These are known as the Prescribed Minimum Benefits (PMBs) and apply to all insurers and benefit all medical aid policyholders regardless of health and age.
A quick look at Prescribed Minimum Benefits (PMBs)
PMBs are important because they ensure that all medical aid plans (irrespective of the premium you pay) must at the very least offer treatment for all life-threatening illnesses, all 271 medical conditions defined in the Diagnosis Treatment Pairs, and all 27 chronic conditions on the Chronic Disease List.
This ensures uniformity in the industry, ensures medical aids cannot refuse to pay for treatment of any PMBs (even if the member's annual cover has run out), and thus makes sure hospitals are paid for the healthcare they provide to patients.
Medical aid versus hospital plans
Hospital plans offer cover for any inpatient treatment you receive in a private hospital such as the costs of an operation resulting from a motor vehicle accident or a life-threatening illness.
Hospital plans will not cover the cost of any out-of-hospital expenses such as GP consultations and medication. Medical aids on the other hand offer more comprehensive cover and will cover both in-hospital and out-of-hospital expenses (as per your particular policy benefits).
Generally speaking, families with children or elderly members have more day-to-day out-of-hospital healthcare needs and will benefit much more from medical aid while.
Younger and fitter individuals who rarely need healthcare services may find that a hospital plan will suit them better. This is because they will be able to cover the costs of the odd GP visit while still securing themselves in the case of any serious illness or accident that will result in hospital admission.
Still not sure if you should choose a medical air or a hospital plan? Speaking to a qualified consultant or broker is your best bet since these professionals will be able to evaluate your individual needs and recommend the most suitable option.
South Africa's leading medical aids
Discovery is the country's leading medical aid with more than a million members followed by Bonitas with just over 300,000 members. The next three biggest medical aid providers, namely Momentum Health, Medihelp, and Bestmed have a combined membership total of roughly 350,000 people.
While the gap between Discovery and other providers is massive, smaller medical aid providers are gaining momentum by improving their offerings, delivering excellent value, and fostering strong relationships with customers.
How to compare medical aids
There are three primary ways to compare medical aids and we'll look at each of these in turn. In light of the above figures, your search should at the very least include the top three medical aid providers. So, whichever method you choose, make sure it includes these three.
Comparing plans manually online
You can do this by visiting the sites of insurers, reviewing their plans, and making use of their free insurance quote systems.
This method takes a lot of work and you'll likely find yourself lost in a sea of jargon, documents, and options. This is, however, a great place to start if you aren't in a rush as it can help you narrow down your search over time.
Comparison sites for free medical aid quotes
The second option is to make use of a free comparison website of an automated quotation service that asks you to input some personal details and offers you a list of all the plans that will meet your specific needs.
This is one of the most popular options since it's quick, easy, and can be done completely online. If you're the kind of person that needs a bit of time to consider your options and review the details of each plan, this option will help you with that.
Using a medical aid broker or consultant
The final way to compare medical aids is by employing the services of a medical aid consultant or broker. These professionals are generally contracted with all the main medical aids and will be able to access your needs and help guide you toward the best option. Brokers receive a fee for all the clients they successfully refer to the medical aid and therefore offer their series to you for free.
This option is best if you don't have the time to scour websites and want to be sure that you consider all of the available options, not just the most popular ones.
Remember that brokers deal with all medical aid schemes and are in the best position to help you decide which plan not only meets your specific needs but also offers the best value for money.