Customized medical aid
Unbeatable premiums
Instant pay out
In-page navigation
---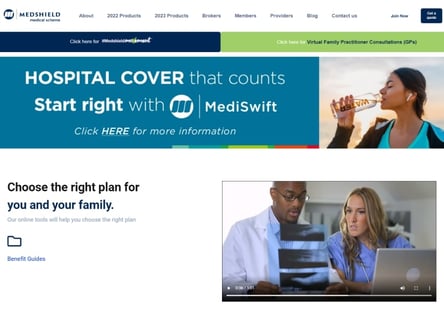 Author Medshield. Screenshot of Medshield website.


[Accessed February 6, 2023]
About Medshield
Medshield is one of the longest operating medical aids in South Africa today.
Since its inception in 1968, it has had a history of being one of the most experienced medical aids around. They offer more than 6 different medical aid plans for anyone from a young individual who wants to take out their first medical aid to upper-income families who want the full benefits of any medical aid for both themselves and their families.
Medshield is also an open medical aid that is on offer to no specific type of individual or for a specific organization such as NMAS for Old Mutual & Nedbank Clients or Polmed for SAPS workers.
Overview of Plans
Medshield has 10 different medical aid plans, offering also hospital-only plans in case of emergency, comprehensive plans as a well-rounded option, and also cheap alternatives for a variety of medical aids for a variety of people and budgets.
Medshield Services
MediSaver is one of 10 plans that is designed to help young individuals who want to receive the benefits of medical aid but one that does not put a heavy financial burden on them.
This plan simply works off of savings accounts for any out-of-Hospital requirements, and also provides a member with full unlimited in-Hospital cover through a Compact Hospital Network. This plan falls in between the least expensive plan with the least benefits and the most premium plan on offer.
Benefits Guide
In-Hospital (Major Medical Benefits)
Medshields unlimited benefit limit for in-Hospital benefits apply to:
Hospitalization
Surgical Procedures
Oxygen Therapy Equipment
Home Ventilators
Medical Practitioner consultations and visits
Pathology and Medical Technology
Medshields in-Hospital benefits are subject to a 72-hour pre-authorization from the relevant Managed Healthcare Programme, to prevent co-payments a list of DSPs is supplied and this also helps keep the quality of healthcare good along with it being cost-effective.
Medshield – Medical Aid
Product

Medical Aid
Online calculator

Medshield has an easy online calculator that will help you to know what your monthly premiums would be.

Options

Medshield has 7 different options for you to choose from.

Helpful brokers

Are you finding it difficult to make the choice? Find a broker close to you to discuss your needs and budget.
Benefits of Medshield
Medshield Mom - Getting pregnant can be scary but Medshield Mom walks with you through the 9 months of your pregnancy. They will answer questions and provide assistance.
Smart Care offers you the opportunity to speak to a health care provider video chat and telephone calls. It is important to protect ourselves by limiting contact with others, being able to speak to a professional without leaving home assists with this.
Click fit allows you to have a partner to help you reach your fitness goals. Set goals and track your progress on the app.
---
Get a variety of benefits with Medshield
Medshield offers Oncology benefits subject to a treatment plan that must be submitted to the Oncology Management Programme along with 36 months to post active treatment.
Chronic Medication
In order to receive the benefit of chronic medication, as with the oncology benefits, a member must register on the Chronic Medicine Management Programme and if it is not approved all chronic medication will be paid from the Acute Medicine Benefit. This option will be able to cover all 26 Chronic diseases listed as PMBs.
Maternity program
Medshield has a maternity program on offer, it is available to even the smallest plan and will range in benefits as the plan goes up. For MediSaver the maternity benefits are on offer during pregnancy, during birth, and post-natal. The plan includes 12 antenatal benefits per pregnancy and also offers antenatal classes at R530 per family. With two 2D scans per pregnancy and 1 amniocentesis test per pregnancy.
Medshield MOM
As part of the maternity program, Medshield has launched a website, Medshield MOM. This website is dedicated to helping women during their pregnancy, at birth, and after birth. The point of this website is to offer all women the chance to learn and be helped by professionals. The help consists of advice to moms in managing their health, their babies' health, fitness, and their babies' ongoing changes to inform them and keep them updated so that they can feel more at ease as the babies develop. This content-based service is endorsed by many and offers convenient and reliable information to keep parents up-to-date.
Out of Hospital
These out-of-Hospital benefits are all paid from a MediSavers personal savings account. They cover services such as optical services, dental cover, family practitioners, general acute medication, and specialist consultations. MediSaver has a 15% allocation to the Personal Savings Account from members' monthly contributions.
SmartCare
SmartCare is the latest revolution in healthcare, and during the age of COVID-19 it comes in handy. SmartCare works as a virtual consultation instead of in-person consultations. This is done through Videomed which telephone and video consultations with specific practitioners.
Wellness Benefits
Your overall health is something you should care about, and Medshield offers services on hand that can assist you in many ways. By taking tests at a pharmacy specified by Medshield, each year you can have your overall health assessed and through these assessments can take preventative measures.
Medshields wellness benefits are as follows:
Flu vaccinations
COVID-19 vaccinations
Adult vaccinations that include travel vaccinations
Contraceptives
Pap Smear
Contributions
For a MediSaver plan monthly contributions are listed as follows:
Principle Member = R3 894
Adult Dependant = R3 225
Child = R948
Medshield website
Medshields website has tons of resources to work through, including a full brochure of each plan. These brochures include in-depth details of pricing, claims, and benefits that each plan will contain. The brochures are meant to help each member understand all they are entitled to as per the plan they have chosen.
The website also contains resources that are handy for members such as a blog for wellness articles and videos to keep you updated on how and what is best to stay healthy in your everyday life.
Customer Reviews & Testimonials
"
August 2021
I would recommend this to any young person whos finding their own feet as they have so many options to choose from.
Jean Jaq R
— Cape Town —
February 2020
Medshield was created to help the young ones of today, they have low prices that wont be a heavy burden on you and with unlimited in-hospital cover you know you are covered if something horrible ...
Hannes P
— E.L —
January 2021
I have very bad asthma and I'm hospital in and out but now I'm covered with Medshield and thanks to them I can get the treatment I need at home.
Lindile D
— Tswane —
Medshield Contact
Contact Number
E-Mail
Website
Physical Address
288 Kent Ave, Ferndale, Randburg,

Johannesburg

Gauteng

2194

South Africa
Opening Hours
Monday

08:30 – 17:00

Tuesday

08:30 – 17:00

Wednesday

08:30 – 17:00

Thursday

08:30 – 17:00

Friday

08:30 – 17:00

Saturday

– Closed

Sunday

– Closed