Affinity Health Medical Aid
Best medical aid cover
Money saving premiums
24 hour services
In-page navigation
---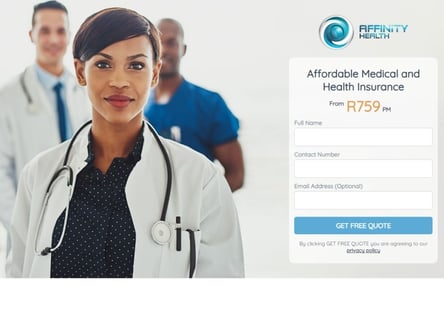 Author Affinity Health. Screenshot of Affinity Health website.


[Accessed February 6, 2023]
About Affinity Health
Affinity Health prioritizes its clients and provides them with the best possible health care.
They intend to give their clients phenomenal yet affordable medical aid quotes that give them access to unsurpassed quality facilities. They work day and night to come up with solutions that are cost-effective and simple.
With the cover plan offered by Affinity Health, you are guaranteed to receive medical care that is worth your money. They strive to insert peace into their clients' minds, by reassuring them that with their medical aid plan, they get exactly what they need, at a price they can afford.
They are effortlessly accessible
Affinity Health Insurance was established in 2011, with the vision that they provide all South Africans with the health care that they deserve and need. Feel free to contact them via their contact information on their webpage.
Applying for medical aid has never been this easy. Cover your family today, with Affinity Health. The best of the best. Affinity is built on strong unwavering principles and its reputation exceeds them. They can be trusted to care for you and your family if such applies to you.
Their helpline is on 24/7, in cases of emergency, to get you the assistance you need, when you need it. Life is unpredictable and Affinity Health knows that therefore they are there in times of trouble. You need not fear when Affinity Health is near, they protect their own. Become a part of their family, they are ready to welcome you with open arms.
Affinity Health Services
With Affinity Medical Aid you receive progressive, professional medical care.
They offer their customers boundless visitations to the General Practitioners office. If you end up in an emergency, illness, or dreadful disease, they will cover your hospitalization and make sure that you are comfortable.
The Emergency Cover they put into place for emergencies and Accident Cover in case of an accident that transpires. When you need prescribed medication, Affinity is there to provide just that. They also have a lovely Intensive Care Unit with qualified workers that are motivated and do their work with passion and tenderness.
Prices you can afford
Affinity Health has a Day-to-Day Cover plan that starts from R649 a month. With this cover, you have doctors' visits, access to dental cover, optometry, unlimited radiology, and pathology when it is recommended by your network General Practitioner.
Hospital Cover is one of their medical aid plans that include 24/7 emergency cover, as well as benefits that come with accidents, and permanent disabilities, and they also have a hospital benefit, where you can get medication for unforeseen illnesses. Considering all the benefits, R1028 per month is a small price to pay.
The Combined Cover Plan for R1488 gives you the best of both, the day-to-day and the Hospital Cover Plan. When you choose this cover plan, you get an increase in the Casualty Room Cover, as a bonus, alongside the other benefits. Trust Affinity Health care with your life, they give you a medical aid you can depend on.
Affinity Health – Medical Aid
Product

Medical Aid
Day to day cover

With Affinity Health you can get day to day cover from just R719 a month

Hospital

You can get Hospital Cover from just R1109 a month

Day to day and Hospital cover

Affordable combined cover for just R1629 a month
Benefits of Affinity Health
Comprehensive network - Affinity Health has a very comprehensive network of doctors and hospitals with whom they have negotiated the best possible care at the best prices for you.
Dentistry and optometry - the day-to-day benefits include dentistry and optometry for you to get all your needs met.
Service agents - Affinity Health has a dedicated team of specialists who can give you advice on which cover would best suit you. They can also assist you with your claims or pre-authorisations.
---
Get affordable medical aid with Affinity Health
The Affinity Health application process is fast, simple, and convenient.
Before attempting to apply for this Cover plan, you must be sure to have the following:
Proof of your Identity Document (ID).
Proof of your physical address.
Proof of income like a payslip or 3 months bank statements.
Follow these 3 steps and you will be well on your way to being secured, health-wise.
Step 1: Personal details
In step one, you need to fill in the first form that pops up, after clicking on the 'APPLY NOW' button. You will then need to fill in your title (Mr, Mrs, etc.), first name, surname, ID number, home language, email address, as well as your cell phone number.
Step 2: Plan selection
During this step, you will be required to specify which of their medical aid plan you would like to have taken out for yourself and/or your family. The cover plans available to you as the client is as follows:
Affinity Health (Original package)
Ages 18-54 years
Day to day Cover Plan
Hospital Cover Plan
Combined Cover Plan
Affinity Junior
Ages 0-17 years
Day to day Cover Plan
Hospital Cover Plan
Combined Cover Plan
Affinity Senior
Ages 55-70 years
Day to day Cover Plan
Hospital Cover Plan
Combined Cover Plan
Step 3: Payment setup
Once the Affinity team has cleared all the details with the government, they then notify you on whether you qualify for the medical aid and if many hick-ups do come to the forefront they will contact you to ensure that they answer any enquiries that you might have.
The benefits of applying for medical cover at Affinity Health
Day-to-day illness benefits.
Access to private elite hospitals.
Maternity cover (to guarantee a successful delivery).
Comfortable hospitalization in any case (drastic trauma, accident, illness).
Low prices you can afford.
24-hour availability and assistance to clients.
Expert workers nationwide
Customer Reviews & Testimonials
"
February 2021
What helped me the most about my medical aid cover is the casualty room benefit they helped me immediately and was covered instantly.
Hugo Y
— Queenstown —
May 2021
They gave me a very nice quote that fit with my life style and I'm definitely getting me and my family covered.
Amber A
— Brakpan —
January 2020
They cover all the medical cost and medication for my chronical disease.
Holly P
— George —
Affinity Health Contact
Contact Number
E-Mail
Website
Physical Address
1 Dingler St, Rynfield

Benoni

Gauteng

1514

South Africa
---
Postal Address
Posnet Suite 124, Private Bag x101, Farramere, Benoni, 1518, South Africa
Opening Hours
Monday

08:30 – 16:30

Tuesday

08:30 – 16:30

Wednesday

08:30 – 16:30

Thursday

08:30 – 16:30

Friday

08:30 – 16:30

Saturday

– Closed

Sunday

– Closed