Medical Aid starting from R945
No waiting periods
Instant hospital cover
In-page navigation
---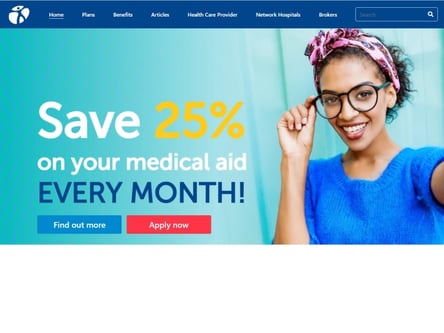 Author Fedhealth. Screenshot of Fedhealth website.


[Accessed February 6, 2023]
About Fedhealth
If you are looking for affordable medical aid,look no further.
I have the perfect solution for you. Fedhealth. Fedhealth is a South African medical aid platform that provides medical aid plans suited to each individual's pocket and everyday needs, as well as emergency needs.
It's rough out in the big, bad world now and Fedhealth understands this. That is why Fedhealth offers you a wide range of medical aid plans to choose from. Starting at the most basic, most affordable medical cover through to a super-comprehensive medical cover option for you and your entire family. Fedhealth has a medical aid scheme to suit your pocket, lifestyle choices, and medical needs. Looking for the right medical aid plan has just been made 100 times easier.
You come first with Fedhealth
At Fedhealth, they look after you in more ways than one. Wow! Not only do they offer you incredible medical cover suited to you and your needs, but Fedhealth also offers amazing support to you through forums, cell phone apps, and hubs.
Fedhealth offers an online app that you can download onto your phone through the Playstore or Apple istore. The app gives you access to everything that you need to know, as well as access to your medical dashboard, making life so much easier.
Info hubs and so much more
Fedhealth offers news and medical information to you too, which is a brilliant added benefit to becoming a member. They supply you with information on things like infertility, the covid-19, winter allergies, general self-care informative articles, how to beat boredom eating, and even how often one should shower. The list is endless and so rewarding to be a part of.
They have members writing about the great and beyond extraordinary service regularly. What more could one ask for from a medical aid? To top it all off, as a member, you can visit Fedhealth's covid-19 hub to receive the assistance that Fedhealth promises to provide to you, so you have the loyal word of the medical aid that you are not alone in this scary, crazy, world event.
Fedhealth Services
Clients at Fedhealth can choose from a wide variety of medical aid plans.
They are as follows:
The MyFED basic Medical aid plan
This option offers a salary-banded medical aid plan for the lower-income earners, providing you with medical cover to suit your pocket.
The FlexiFED Medical Aid cover options
These medical aid plans will allow you to create a medical plan to suit your personal medical needs. You get access to a Medivault and savings wallet for day-to-day benefits, as well as a threshold benefit that kicks in once your claims have reached a certain level.
FlexiFED 1- an affordable hospital plan
You can get access to a Medivault and wallet for unplanned day-to-day benefits. This medical aid is truly an exceptional value for money.
FlexiFED 2- a great hospital plan option
Maternity and childhood benefits are of great focus here and it is just what you would need to ensure peace of mind.
FlexiFED 3- great all-around cover
Offering generous maternity and childhood benefits.
FlexiFED 4- good hospital cover and medical aid
Once your toddlers and babies are out of nappies, it's generally said that a family's medical needs are somewhat different from what they were before. Apart from good hospital cover, this medical option also offers a MediVault and savings wallet for those unplanned day-to-day visits.
Fedhealth – Medical Aid
Product

Medical Aid

Loan Amount

from R945
Create your Aid

With FedHealth you can build your own medical aid with their create your aid tool on the website

Choose your cover

FedHealth has tailor made plans for you to choose from. They have 7 different plans for you to choose from. Easily compare these plans side by side on the website.
Benefits of Fedhealth
Do you have questions? Simply open the chat box on the website and a helpful consultant will give you the advice you need.
Find your doctor or hospital - On the website you can look for your doctor or specialist or hospital. These providers give you the best care at the best prices as negotiated with FedHealth.
Login and take control - you can take control of your cover and claims by logging into your member portal on the website.
---
Apply for medical aid with Fedhealth
With everything at the click of a button, applying to Fedhealth could not have been made easier.
On the homepage of the Fedhealth website, there is an Apply Now button that you can click on to apply online. Otherwise, there is also loads of member support on the website.
The MaxiFED medical option
Depending on the family plans in place, the number of dependents, lifestyle choices, and genetics that run in the family; Fedhealth has a medical cover solution for you.
They offer two types of all-inclusive MaximaEXEC plans:
MaximaEXEC-a medical aid plan that is generally for the more mature members.
This is a comprehensive medical aid plan with all-around medical cover. This medical aid quote also has a day-to-day savings portion as well as a threshold benefit.
MaximaPLUS- a medical plan that is like the Rolls Royce of medical aid plans.
This medical aid plan option offers generous cover all-round.
How to submit a claim
Fedhealth has a few options on how to claim:
1)Submit your claim via email, fax, or post. You can find the contact details and email address on the Fedhealth website.
2) Fedhealth Family Room
Login to the Fedhealth Family Room
Click on 'Quick Action' from the drop-down menu and click on 'Submit Claim'.
Enter the details of your claim and upload the necessary documents.
Once you are done, click on 'Submit Claim'
3)WhatsApp service
To add the Fedhealth contact to your WhatsApp list you will need to follow the following steps:
Add their number to your contacts and type ''hello'' to start a conversation.
Follow the easy prompts that are sent in response.
If you struggle with the above, then you can also click on the Whatsapp link directly from the website
You will be asked to confirm that is YOU with a unique OTP
Benefits of getting your Medical aid with Fedhealth
Access to over 17 value-adding medical benefits on your medical aid plan.
Get maximum value for your money by choosing the right option for you.
Access a list of the network hospitals that you can choose from, so have a look at them before deciding which plan suits you best
Knowing where and what type of medical facilities are offered, will help you choose the perfect plan.
A fast claims process.
Enjoy impeccable customer service from a team of experts that will go the extra mile for you.
Innovative and streamlined online processes.
Customer Reviews & Testimonials
"
June 2021
I am extremely happy at Fedhealth. My medical cover is sorted and at such an affordable rate. Having medical aid is so important and I am happy to know that I have medical coverage.
Sarah T.
— Pretoria —
November 2021
Fedhealth really pampers their members post-operation. They send you cute teddies, letters of consolation, and check in on you. I find this so comforting! They did this for me and I soaked up eve...
Michael U.
— Cape Town —
October 2021
I was in an accident and I was worried there were going to be problems while claiming because I was a fairly new member and hadn't used my medical aid yet. Luckily, I was able to claim without an...
Jessika M
— Durban —
Fedhealth Contact
Contact Number
E-Mail
Website
Physical Address
Flora Centre Shop 21 and 22 Corner Conrad street and, Ontdekkers Rd, Florida Glen,

Johannesburg

Gauteng

1709

South Africa
---
Postal Address
Private Bag X3045, Randburg, , Johannesburg, 2125 , South Africa
Opening Hours
Monday

08:30 – 16:55

Tuesday

08:30 – 16:55

Wednesday

08:30 – 16:55

Thursday

08:30 – 16:55

Friday

09:00 – 16:55

Saturday

– Closed

Sunday

– Closed