Unmatched medical aid
Fast online quotes
Affordable premiums
In-page navigation
---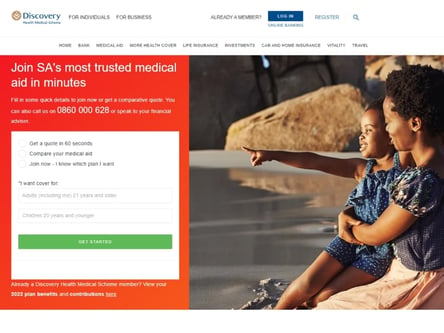 Author Discovery Health. Screenshot of Discovery Health website.


[Accessed February 6, 2023]
About Discovery Health
Get the best medical aid cover from the most well-known health care provider in South Africa. They have a reputation as the most valuable health cover provider South Africans could ask for.
Discovery Health values the way they are seen in the community and prides itself in achieving new and innovative benefits to provide to its clients on an ongoing basis.
Rewards for living a healthy lifestyle
There is no end to the value-added insurance services in South Africa they can provide to their clients. Who else rewards their clients for living a healthy life? That's the Discovery Health difference, they encourage clients to stay healthy, so they don't need to seek medical care as often as most.
Discovery Health puts you first
They are always putting clients first, and it shows from the list of clientele they currently service in the country. It is important for Discovery Health to add value in every service they provide to clients, with the result of each customer getting a service and a provider they can count on every time.
Discovery Health Services
Discovery Health offers clients a range of health care insurance covers that are appealing to your budget and your requirements.
They understand the health profession, they understand customers' needs, and they know what to deliver to make each client happy.
How to get rewarded
Discovery members can enjoy being rewarded every time they purchase healthy groceries; live active lives such as going to the gym, or just using their discovery card at the pharmacy or store. They offer a day-to-day and a savings benefit or a combination of both should you wish to cover you and your family with a complete health solution.
Basic benefits and Medical aid features
Day-to-day benefits cover your usual doctor visits, dental check-ups, and other specialized consultations but you may need a separate dental insurance policy for heavy work.
Discovery Health – Medical Aid
Product

Medical Aid
Quick quotes

Get a quote in just 60 seconds

Choices

Discovery has 23 different options for you to choose from

Added benefits

Discovery plans have benefits built in including dentistry, optometry, maternity and Covid-19 in their day to day and hospital plans. This ensures that your family will be covered for all eventualities.
Benefits of Discovery Health
International travel - cover for medical emergencies while traveling is included in your cover as an added benefit.
Gap Cover can be added to your medical aid. You can get covered from as little as R109 a month. This insurance can supplement or extend the plans you already have in place at an affordable rate.
Prepaid Health a revolutionary new product from the leaders in health care insurance. This new platform allows for a more inclusive approach to access to private health care. Anyone living in South Africa can buy a voucher and redeem it any of the private medical practices within the Discovery Prepaid Health Network.
---
Covering your health insurance needs every day
Discovery Health hospital plan covers all treatments, procedures, and medications received whilst in hospital. They also offer a savings option that can be used for all of the above as well as at the pharmacy.
Covering your everyday health insurance needs
Get covered with a company that has extensive experience in the healthcare industry, as they have an advantaged approach to healthcare and a knack for rewarding members for living a healthy lifestyle.
This approach goes hand in hand with their medical and health insurance covers, which provide clients with the financial backing to cover their medical expenses.
Discovery Health has a range of medical aid plans for you
With day-to-day cover, hospital plans, and extended options, they have the right option for you and your family, that is affordable and within your means. They offer day-to-day benefits that can provide payment directly to your doctor, dentist, or specialist from your savings account, which is a percentage of your premium payment on your medical cover.
Looking for a hospital plan
Discovery Health hospital plans cover all your hospital, medical, pharmacy, and treatment needs should you be admitted into the hospital for longer than 24 hours. There is no limit to the cover on this plan, so you can rest assured knowing that whatever you need to be done while in hospital, Discovery will foot the bill, directly with your medical facility.
Discovery offers more value, more benefits, and more services than any other medical insurance company in the country so get your medical aid quote today.
Discovery Health administration is top-notch
They provide payouts on their claims within 7 days, and pay hospitals, doctors, and medical facilities directly, to ensure that your healing requirements and needs are taken care of without any fuss. They know that an accident can happen in a split second. Have peace of mind knowing that you can go straight to the hospital without financial stress.
Starting or extending your family
Should you be a mom-to-be, and need to pre-authorize your birth, they will provide you with an authorization number in due time, to allow you to book your bed in advance and provide the hospital with an authorization number to secure your procedure in due time.
Paying for medication and more
If you need to get medication from your local pharmacy or take the children to the dentist, you can allow for direct payment from your savings portion of your medical insurance, which an allocated portion of your premiums will go to providing a pool of savings from the entire family.

Discovery Health is a trusted & reliable provider of medical aid
In our review, we found Discovery Health to be a company licensed to provide medical aid products and services, and is regulated under the Financial Sector Conduct Authority.
✅ Discovery Health is a registered and licensed insurance provider in South Africa: FSP 46336
Customer Reviews & Testimonials
"
January 2021
They have always been there for me, covering all my medical bills and operations, thousands of rands and I have never had any issues with them, extremely reliable.
Adel. K
— Durban —
July 2021
Great health care options even for a low-income earner like myself, they are very inclusive and cater to everyone with any background.
Siphe. N
— Pretoria —
September 2021
I can cover my entire family at a very reasonable premium with them, knowing that they are the best in the country and that they will always payout.
John. S
— Cape Town —
Discovery Health Contact
Contact Number
E-Mail
Website
Physical Address
Sable Park, Bridgeways Precinct, Century City

Cape Town

Western cape

7446

South Africa
Opening Hours
Monday

07:00 – 20:00

Tuesday

07:00 – 20:00

Wednesday

07:00 – 20:00

Thursday

07:00 – 20:00

Friday

07:00 – 20:00

Saturday

08:00 – 13:00

Sunday

– Closed