Medical Aid starting from R1,338
Easy online access
Unbeatable premiums
In-page navigation
---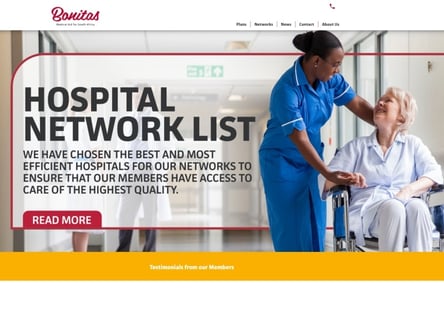 Author Bonitas. Screenshot of Bonitas website.


[Accessed February 6, 2023]
About Bonitas
Bonitas is South Africa's second-largest medical aid provider with over 700,000 beneficiaries and over R6 Billion in reserves.
They strive to deliver high value to their members and keep things simple, affordable, and convenient. This is why they're known for their excellent customer service and high levels of satisfaction with members recommending them to others with confidence. They boast a variety of comprehensive medical aid plans.
Ask Afrika Orange index winner
Bonitas was the winner of the Ask Afrika Orange Index for service excellence in their industry. This index measures performance, customer satisfaction, and loyalty among other things – therefore giving an accurate picture of the real value of a company.
Also worth noting is that they received the top spot in the South African Customer Index for Medical Schemes customer satisfaction index and were runners-up in the Sunday Times Top Brand Awards. Why is this important? It simply proves that Bonitas truly delivers on their promises and treats their members well – and when it comes to choosing a medical aid that's priceless.
Sponsorships that count
Bonitas is dedicated to improving healthcare in South Africa which is why you'll find them promoting health and wellness, sponsoring seminars to boost the knowledge and skills of family doctors, and even staying on top of healthcare developments.
Bonitas Services
Whether you're looking for suitable comprehensive cover for yourself, your spouse, and your children or have just entered the workforce and are looking for affordable medical aid – Bonitas has something just for you.
All of Bonita's plans include cover for:
Chronic medication
Contraceptives
Maternity
Wellness
Preventative care
Managed care programmes
Bonitas traditional Medical aid plans
These medical aid plans odder day-to-day benefits of over R12,000, cover for 45 chronic conditions, extra benefits including dental cover and optometry benefits, unlimited hospital cover, cover for the chronic medication of up to R19,670 (per family), maternity and childcare benefits, preventative medicine, screening, and care as well as access to managed care programs.
Available medical aid plans:
Standard
Standard Select
Primary
Primary Select
In addition to the above traditional plans, Bonitas offers three other categories of medical insurance including their Savings range, Hospital plans, and Edge plans.
Bonitas – Medical Aid
Product

Medical Aid

Loan Amount

from R1,338
Comprehensive plan

Bonitas offers a wide variety of plans to choose from. These include hospital plans and comprehensive plans with day to day benefits.

Online options

Bonitas allows you manage everything online. You can download your membership card to send or show to all your providers and you can submit and track claims all online.
Benefits of Bonitas
Networks - Bonitas is contracted to the best providers to offer you state of the art medical care at affordable rates. You can easily find a network provider in your area on the website.
Easily compare plans - On the website you can compare pricing and plans by clicking on the plan you would like to see in the compare option.
Comprehensive cover - Bonitas offers comprehensive cover for both in hospital procedures and day to day medical care. They also cover medications, dental and optometry.
---
Apply for medical aid online with Bonitas
It's a great idea to review Bonitas' complete brochure before deciding which plan will be best for you.
Once you've reviewed all the options you can head on over to their website and compare a select few options more closely.
Healthcare plans that don't disappoint
As a medical aid scheme, Bonitas offers some of the most generous benefits to its members with a range of in and out-of-hospital benefits that won't disappoint. From mental health benefits and MRI scan cover to preventative care and maternity benefits, you can rest assured that you'll be taken care of throughout every stage of life.
Bonitas wellness benefits
In addition to a yearly health check-up, you can get your flu vaccine, blood, cholesterol, and glucose testing, HIV testing, and mammograms to help prevent disease and ensure early detection. You can also get your MBI and hip to waist ratios numbers that are helpful to have on hand or get you started on a weight loss or weight gain journey.
Once you've had your wellness screening you can then access the Wellness Extender benefit which offers you additional benefits including doctor and dietician consultations, and cover for a quit smoking program.
Who is considered a late joiner
If you're over the age of 35 and have not had medical aid for 3 months or more. Late joiners must pay a penalty that increases their medical aid quotes and instalments. This increase is calculated based on the number of years that you were not part of a medical aid scheme.
Bonitas rate explained
If you receive a consultation costing 200% of the medical aid rate, let's say R1,200 and Bonitas pays 100% of the Bonitas rate – they will only cover R600, leaving you to pay the balance. This is why it's important to make use of medical professionals charging Bonitas rate or those that are on the scheme's network and therefore will be covered in full.
Waiting periods to consider
When you become a member of Bonitas you will have to consider certain mandatory waiting periods. Before you or any of your dependents can make a medical aid claim a 3 month period must first elapse (from the moment you take out the plan).
If you have a pre-existing condition you may have to comply with a 12-month waiting period during which you cannot make any claims related to the specific condition.
Applying for Medical aid online
You can begin your journey to better health by visiting Bonita's website and making your medical aid application online. You can apply for an insurance quote where you'll be asked a series of questions including how many dependents you have, your contact information, and what type of cover you want (a medical aid or a hospital plan) and you'll be presented with a range of options to suit your needs.
You can then compare plans side by side, download the full brochure or just review the benefits of each option. This makes selecting the ideal medical aid plan for your needs easy. If you're unsure of which option to choose you can contact Bonitas and a consultant will assist you.
Customer Reviews & Testimonials
"
July 2021
As a young lady turning into a woman can have a lot of health issues, i got medical aid by Bonita's and they even cover my contraceptives and all over the counter meds.
Terry-lee N
— Pretoria —
February 2021
Bonita's is one of the most known medical aids and they really are good they cover day-day medical cover and hospital procedures.
Vanessa K
— Limpopo —
December 2020
They allow you to manage everything online so you are welcome to adjust and upgrade your medical aid anytime.
Micheal B
— Humansdorp —
Bonitas Contact
Contact Number
E-Mail
Website
Physical Address
Flora Centre, Entrance 2, Shop 21 & 22 c/o Ontdekkers and, Conrad St, Florida North

Roodepoort

Gauteng

1709

South Africa
---
Postal Address
PO Box 1101 Florida Glen , Johannesburg, 1708, South Africa