Competitive medical aid
Instant claims
Free quotation
In-page navigation
---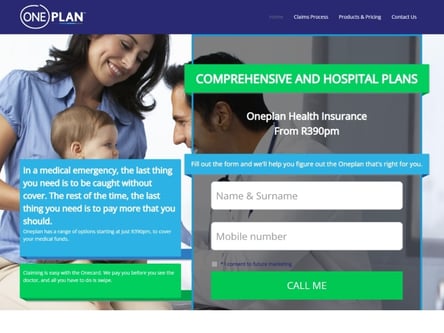 Author Oneplan. Screenshot of Oneplan website.


[Accessed February 6, 2023]
About Oneplan
Oneplan insurance offers a diverse and all-inclusive package for ensuring that all aspects of importance are covered with no additional stress.
Not only does Oneplan place value on household and health insurance, but caters to the fur kids through their pet insurance and all the valuable items that are essential to each day, with On-The-Go Insurance.
Doctor in the house
Designed to add no additional stress to that of health-related issues, Oneplan health insurance is a medical aid that offers the option for clients to select a doctor of their choice, as well as get paid before. In this way, all accounts can be settled upon the completion of any consultations or procedures.
About Medical health insurance
Oneplan is set aside from the rest as they offer medical insurance benefits, not only in the hospital but also out of the hospital. The waiting period is made stress-free with the introduction of the Oneplan Onecard assisting clients with payments. In this way, payments can be made when needed instead of waiting till a later stage.
With the assistance of medical aid professionals on the Oneplan team, value is placed on communicating medical health information with care to each client in an effort to inform Health Insurance members about what they are covered for, in a time when stress levels can make things appear even more complicated than they already are.
Oneplan Services
With Oneplan's range of 4 Health Insurance options, clients have a variety to choose from.
They can choose between:
Core Plan at R390pm
Blue Plan at R770pm
Professional Plan at R1035 pm
Executive Plan at R1365 pm
Clients will be covered for:
General Practitioner (Doctor/registered nurse)
Scripted Medication (Not including over the counter medication)
Over the counter Medication
Pathology
Radiology
Dentistry (Up to 3 visits a year)
Maternity Pre Birth
Optometry
Casualty Illness
Casualty Accident
Accident Cover
Repatriation
Ambulance and Emergency Services
Oneplan – Medical Aid
Product

Medical Aid
Price

Core Plan from as little as R390 / month

Easily compare

On the Oneplan website you can see the 4 plans that they offer side by side and easily compare the costings as well as the benefits.

All online

Oneplan has made it simple to get covered by offering you quotes online and the opportunity to buy your cover online.
Benefits of Oneplan
All-inclusive app - The Oneplan app allows you to get your quote, buy your insurance and manage your policy all in one place.
Comprehensive pet insurance - Oneplan offers 4 different plans to cover your pets. You can insure your pets for as little as R70/month. With Oneplan insurance you can also qualify for up to a 25% discount on pet products.
Chat to a consultant while you are on the website so that you can get live assistance.
Car and home insurance where you can choose your premium according to your budget which will determine your cover.
---
Get a range of medical insurance benefits with Oneplan
Before deciding which plan offers the best cover, clients can determine what is of utmost importance to their individual and family needs by assessing what is essential within a Medical Aid Company in South Africa.
Oneplan's Core Health Insurance option offers insurance for those who want the basics covered and then some, with the option of an amount of only R390pm, inclusive of coverage for the category of Dentistry up to R585 per visit and a maximum of 3 visits per year.
As individual and family needs increase, clients have the option of upgrading onto the Blue Plan at R770pm and Professional Plan at R1035pm, which offers an increase in coverage for illness in hospital, dread disease, as well as natural birth and emergency caesareans.
For ultimate medical insurance, clients can select the Executive Plan at R1365pm which offers cover for all categories as well as specialist cover and will be covered for up to R2000 per visit and allows for 3 visits per family per year.
The Blue Plan, Professional Plan, and Executive Plan furthermore cover:
Illness In Hospital
Dread Disease
Natural Birth and Emergency Caesareans
Other Medical aid insurance benefits
One point that must be highlighted in a time where the unexpected is almost expected, is the feature of ambulance and emergency services which can be a costly event in itself. With Oneplan Health Insurance in South Africa, all four medical aid plans offer 24hr Medical assistance with an emergency dedicated line, ready to assist in the event of a justifiable, life-threatening medical emergency. This means that the individual client will be transported by ambulance to the nearest appropriate medical facility.
Let's talk about Medical insurance benefits
Medical insurance benefits are included within all 4 of the Oneplan Health Insurance plans and offer additional coverage in the form of:
Accident Disability
Accidental Death Cover
Trauma, Assault, and Accidental HIV (trauma counselling, accidental HIV protection services, and accidental HIV infection treatment.)
Medical insurance application process
Sounds good? The application process is made easy through the Oneplan online insurance quote. Visit oneplan.co.za and sign up according to the option of choice. Click on the option and provide the relevant information with no phone call, unless you feel like chatting, which is also an option through Oneplan's "CALL ME" feature.
If any queries need to be answered before this process, all that eager applicants need to do is visit oneplan.co.za and click on "CALL ME", to have an agent call back to assist with all questions and queries.
DIY Medical Insurance claim
With the DIY Pre-Paid Claim Process on the Oneplan App, clients can be reassured that they will be covered within no time. Simply download the Oneplan App on Google Play Store and follow the 4 easy steps to submit the claim:
Login to the Oneplan App.
Load a claim.
Money will be loaded onto your Onecard.
Swipe your Onecard after your consultation.
Health Insurance Onecard
Oneplan offers the unique Onecard, to assist with all payments. Once the claim has been submitted, funds will be loaded directly onto the client's Onecard, ready to be used as a debit card. This feature makes the payment process much easier and time-savvy for both clients and health professionals.
Customer Reviews & Testimonials
"
March 2021
One plan has 4 plans you can choose of and make the plan your own suitable for your needs.
Monique G
— Free State —
November 2020
One plan's medical aid covers specialist and Dr's visits all affordable.
Wendy T
— Mpumalanga —
Oneplan Contact
Contact Number
E-Mail
Website
Physical Address
2nd Floor, South Tower Nelson Mandela Square Corner Maude & 5th Street Sandton City

Johannesburg

Gauteng

South Africa
---
Postal Address
PO Box 652075 Benmore , Johannesburg, 2010, South Africa
Opening Hours
Monday

08:30 – 17:00

Tuesday

08:30 – 17:00

Wednesday

08:30 – 17:00

Thursday

08:30 – 17:00

Friday

08:30 – 17:00

Saturday

08:00 – 12:00

Sunday

– Closed