Instant medical cover
24 Hour assistance
Quick application process
In-page navigation
---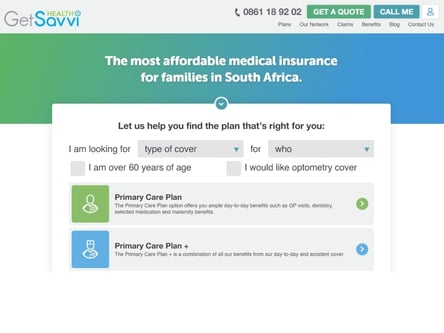 Author GetSavvi. Screenshot of GetSavvi website.


[Accessed February 6, 2023]
About GetSavvi
Most medical aid plans have you paying high monthly premiums but limit you greatly on benefits.
With GetSavvi you have affordable medical aid and great benefits to match them.
Getting medical aid you deserve
They are a medical aid that has completely dedicated itself to the well-being of its clients. Constantly making changes of improvement to their services to ensure their clients only receive the best that they have to offer.
Enjoy a medical aid cover from GetSavvi
GetSavvi has noticed how many of the clients that newly join them when asked why they left their previous insurance their reason is always how long they take to payout. So along with providing affordable medical aid cover for you, your significant other, and your family, they keep record time when it comes to paying back your claims.
Access medical cover from day one
Another reason why they are the best medical aid to join would be there is no joining fee which is usually charged by medical aid firms when you become a member and you are covered as soon as you join.
Get the best medical cover today
This is just the tip of the iceberg when it comes to the many ways they put their clients first. So by joining you will be signing yourself up with a company that is all about convenience.
GetSavvi Services
They offer different plans that you may browse through and compare, in terms of rates that match your budget and benefits that fit your lifestyle, so that you can find the best medical aid plan for you and not be financially strained.
Primary care Medical aid plan
Their Primary Care Plan is a monthly instalment of R475.00. It covers your entire family for day-to-day benefits. This plan also includes 24Hr emergency assistance as well as counselling for trauma victims, HIV patients, and assault victims.
Primary care Medical aid plus
They have a Primary Care Plus option plan, with a monthly instalment of R640.00 for the entire family. The plan includes the same benefits as the Primary Care option however, this plan includes additional benefits of a hospital plan.
Hospital Medical aid plan
The hospital plan cost begins at R210 which forms part of your monthly payment for the entire family with an additional hospital cover up to R100 000. This includes 24Hr emergency services along with a funeral cover and accidental death cover.
Funeral plan
With funeral costs ranging from R7,000 to R50,000, their funeral cover provides you with the necessary funds needed in a time when it is difficult to obtain them due to the deceased's estate being settled.
GetSavvi – Medical Aid
Product

Medical Aid
Price

You can get a hospital plan from as little as R353 a month

4 different plans

GetSavvie Health has four different plans available for you to choose from. You can cover yourself for just emergency hospital stays, just day to day GP visits or a combination of both.

Value adds

You can add top ups to the cover you. You could choose to include dentistry and optometry with your existing plan.
Benefits of GetSavvi
A comprehensive doctor's network is available on the website. Simply go onto the website and put it in your area to find a list of doctors that you can visit.
Claims in 1 of 4 easy ways - GetSavvi allows you to submit your claim in 4 different ways. Give your medical provider your insurance card to submit your claim directly, call and speak to an agent who will help you with the process, log in to the website and press the submit claim button or email your claim to the claims department.
Member login allows you to keep track of your benefits spent and your claims.
Funeral cover - GetSavvi offers funeral cover as well. You can get a quote online and add this benefit.
---
Get health insurance and never worry about financial strain again
With everything becoming digital these days GetSavvi has also made it extremely convenient for potential clients to join with an application process that is 100% online.
They have kept in mind that emergencies may arise at any time and have created a twenty-four-hour line to always be available to you.
Medical aid cover within 10 minutes
Where most insurance companies make you wait a month or two before your coverage kicks in, they can cover you within 10 minutes of your approved application. So get to it and apply for a medical insurance quote through their website.
Medical emergency services
They provide their clients with emergency services through ER24. Should anything happen to you at home or anywhere else, and you need the services of an ambulance or helicopter to get you to the hospital, ER24 will assist you, and they will cover the costs.
Medical aid with a 24-hour care line
They provide their clients with a call centre that's available 24/7. They have put together a team of trained experts to handle the following concerns;
Emergency medical queries.
Assessments for day-to-day ailments.
Health information.
Drug abuse and queries.
Poisons and what to do in an emergency.
Stress management.
Trauma counselling.
Get the best medical cover today
Don't delay your health requirements, register with GetSavvi to ensure you and your family have the best health insurance cover, to meet your needs, as well as the services included in their cover.
They strive to address all requirements from beginning to end and go out of their way to make their clients feel that they're in a safe space medically and financially.
Customer Reviews & Testimonials
"
May 2021
Not having to pay a joining fee is so much more convenient and left me with more money in my pocket.
Temba. M
— Hermanus —
February 2021
I had been worried I would have to wait to be covered to use my benefits but GetSavvi fully covers you from the day you join. This helped me greatly.
Michelle. R
— Cape Town —
April 2021
Them having a 24-hour emergency line was a great help to me as I needed to make an emergency medical query after office hours.
Mbali. D
— Cape Town —
GetSavvi Contact
Contact Number
E-Mail
Website
Physical Address
302, Tygervalley Chambers 5, 27 Willie Van Schoor Avenue, Tygervalley

Bellville

Cape Town

7530

South Africa
---
Postal Address
PO Box 378, Cape Gate, Cape Town, 7562, South Africa
Opening Hours
Monday

08:00 – 17:00

Tuesday

08:00 – 17:00

Wednesday

08:00 – 17:00

Thursday

08:00 – 17:00

Friday

08:00 – 17:00

Saturday

09:00 – 13:00

Sunday

– Closed