Cover starting from R325
Cheaper premiums
Easy application process
In-page navigation
---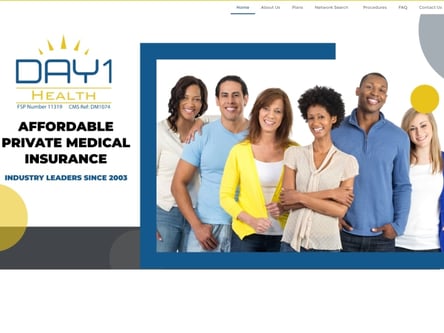 Author Day1 Health. Screenshot of Day1 Health website.


[Accessed February 6, 2023]
About Day1 Health
Assisting clients with medical insurance services since 2003, Day1 Health (Pty) Ltd has been the answer.
Taking Medical insurance to a new level
Over the years, taking health insurance to a new level, supporting their client's needs, offering cover within their budgets, and giving them the cover options that they need to suit their needs and budget, all from day 1.
By providing medical insurance quotes and options for South Africans and their families, businesses, and groups as well as an employee benefit in corporations who want to include a health insurance benefit to their company perks.
Covering you when others won't
Their insurance cover has become one very beneficial factor in the lives of those who have it, as the majority of their clients have found that their medical insurance is not covering their financial needs in full, because of prescribed minimum benefits attached to their funds.
With their medical insurance cover, you get to cover the missed payment gaps to ensure that you don't have to find cash of your own to get the healthcare you need to stay healthy.
Day1 Health Services
Offering South Africans the opportunity to get medical and health insurance that covers day-to-day and hospital payments through a number of options.
They give clients the ability to make use of doctor or GP visits as often as they like with their day-to-day benefits.
Medical insurance providers
They will provide their clients with a list of preferred doctors on their network list which is included in the policy. With the list of specified specialist visits allocated per family per year as well as chronic mediation benefits, radiography and pathology cover, and more.
Hospital plan option
The option with the hospital plan covers all in-hospital treatments including surgery for patients to the amount of R10,000 per day for the first three days. Payouts for the days following may be slightly lower, depending on the cover option and premiums you choose.
The hospital plan option also has immediate accident cover of up to R150,000 or R250,000 per event, depending on the cover option that you choose. This cover also includes an emergency ambulance service.
Top-up Illness, Critical Illness and Disability cover is also available on request.
Day1 Health – Medical Aid
Product

Medical Aid
Price

You can get covered from as little as R325 per month

The choice is yours

Day1 Health offers you 10 different plans to choose from

What makes Day1 Health different

Because they are a private medical insurer they do not have to work under the prescribed minimum benefits module of medical insurance.
Benefits of Day1 Health
Easy to compare - all 10 of their available plans are laid out on their website in an easy to compare table. You can see what you will pay and what exactly will be covered.
Easy quote - simply press the quote button under the plan that best suits your needs and your budget to receive a comprehensive quote
Inclusivity - Day1 Health has both day to day and hospital products tailor-made for senior citizens. They understand that you may not have been able to cover yourself in your younger years but that you now need cover as you age. No late joiner penalties.
---
Day1 Health insurance covers your health from day one
Day 1 health insurance benefits you and your family with the financial assistance to cover your health and medical requirements from day 1.
Day1 Health insurance has your health covered
Day1 Health membership is so easy to get. With their simple approach to including all South Africans in their simple, superior and affordable health coverage options.
To get covered, clients can access their online insurance application form on their website, and complete it in detail. Please ensure you include all the requested information as honestly as possible, as this will determine an accurate insurance quote at the end of the day.
When completing the form, use a black pen and write in block lettering, and fill in a complete medical history. Once completed, you can either email, fax, or bring it in. Please make sure to attach your identity documents, as well as those IDs for the dependents you wish to include on your insurance cover.
Choosing a GP
You will have the option to choose the network of doctors from the list provided, to ensure their payments are in line with the doctor in your area. Fast membership activation is ensured once receiving all your documents, ensuring you don't have to wait any longer to get the cover you deserve.
Getting your Medical insurance gap insurance membership number
Communication will be within 24 hours through an SMS, with your health insurance membership number, which will open a new door to medical health for you and your family.
You will receive a welcome pack with their health insurance with all your terms and conditions, premium breakdown, and what your coverage includes. A membership card as well as all the information you need to enjoy the benefits of this cover will be issued to you.
Hospital and Day to Day claims to process
Hospital claims can be processed with a completed claim form, also available on their website. Attach all the necessary accounts and membership details, and they will process your claim as soon as possible.
The same process applies to your day-to-day plan claims
Simply complete a remuneration form which is downloadable from their website, attach the account which you have paid, including your receipt and necessary practice information. Just submit and wait for fast reimbursement of your funds.
Customer Reviews & Testimonials
"
December 2020
Choosing Day1 Health was really the best option I could make for me and my family.
Sipho. B
— Pretoria —
March 2021
I would highly recommend Day1 health insurance to everybody.
Susan. V
— Port Elizabeth —
May 2021
Day1 Health has been keeping its promise of always being there since I joined them in 2006. I don't regret joining them.
Anton. S
— Johannesburg —
Day1 Health Contact
Contact Number
E-Mail
Website
Physical Address
Peter Place Office Park, 54 Peter Place, Lyme Park

Sandton

Johannesburg

2146

South Africa
---
Postal Address
PO Box 782 622, Sandton, 2146, South Africa
Opening Hours
Monday

08:00 – 16:30

Tuesday

08:00 – 16:30

Wednesday

08:00 – 16:30

Thursday

08:00 – 16:30

Friday

08:00 – 16:30

Saturday

08:00 – 13:00

Sunday

– Closed