Elite medical aid
Always available online
Executive individual premiums
In-page navigation
---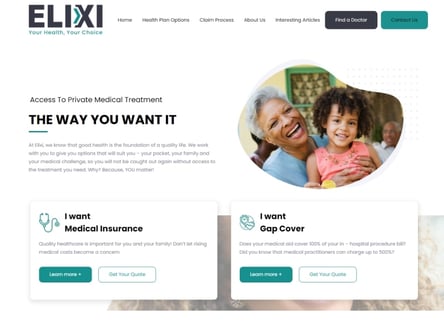 Author Elixi. Screenshot of Elixi website.


[Accessed February 6, 2023]
About Elixi
At Elixi, they understand that anything can happen to anyone at any given time, therefore it is better to be safe with Elixi Medical Aid than be sorry. To them, you matter, and they approach every client with equal compassion and respect.
Elixi is a healthcare company that offers its clients reliable, staunch, yet affordable services. Debt from medical bills leads to a financial crisis which results in frustration and the eventual deterioration of the client's mental and physical health.
After researching in 2017, they have found that one out of five persons has medical coverage in South Africa. The other four depend on departmental and public health care facilities. The central reason for this is that few South Africans can afford medical aid, but for those instances, Elixi is there to give comfort to your worrying heart.
Committed and determined
Elixi forms part of an Authorised Financial Services Provider (FSP), called Talksure. They operate globally and they are committed to giving their clients exceptional service when they need it. After thorough research, the FSP (Talksure) discovered that South Africans struggle with their health, and Elixi was established as a border of defence.
They are trustworthy and they have an application process that is easy and fast. All documents submitted during the application will be kept private and discrete. At Elixi they stand for client confidentiality and privacy. You never have to worry about fraud or hacking, because they have an impenetrable firewall on their systems, they protect their company and you.
Elixi has many trained professionals working for them, that is why you can always rely on them to give you answers to your questions, solutions to your problems, and better options to suit your budget. They are not there to take from you but they are there to give you more for less.
Elixi Services
The first cover plan involves Accidental hospital and primary care up to R1.1 million rand. The plan's payment terms per month start from R369.
The Blue plan medical aid primary care benefits include pathology, radiology, GP (general practitioner) visits, and hospital benefits like accidental death benefits, and MRI and CT scans, amongst others.
Medical aid Purple Plan
The second medical aid plan, involves primary care and accidental hospital care, up to R260,000. Nurse consultation, pap smears, and acute medication fall under the primary care category and in-patient hospital treatment (for accidents only), emergency services, and physio and occupational therapy, associated with the hospital care benefits. This cover starts from R499 per month.
Medical aid Gold Plan
The gold plan medical aid includes primary and hospital care of up to R1250,000 in total. Their hospital care package includes the accidental death benefit, optometry, and in-patient stabilization (amongst others). This coverage starts from R595 and they also have other services listed in plan A. Also, the primary care unit has GP (general practitioner) visits, maternity, and radiology.
Medical aid Black Plan
The sum of the Black medical insurance plan covers up to (R1250,000) with only R790 as the payment term per month. This plan is the most expensive yet, and they cover both the primary and the hospital care plan, which both respectfully provide you with GP visits, acute medication, Pathology, Maternity, and in-and-outpatient treatment.
Elixi – Medical Aid
Product

Medical Aid
Medical Insurance

You can get medical insurance to cover day-to-day doctors visits from just R369 a month

Gap Cover

Gap cover allows you to have access to extra cash just in case your medical aid has a short fall.
Benefits of Elixi
Online Quote - get your quote online by filling in the form on the website.
Medical Claims - With most medical practitioners you can give them your Elixi Card and your ID and they will submit the claim directly to Elixi
Gap Cover Claims - Send your form and accounts to Elixi on claims@ambledown.co.za or fax on 011 463 1665 for them to assess and reimburse you.
---
Apply for affordable medical aid today
The unpredictability of life is evident all around the world today, therefore applying now, could save you from unwanted predicaments in the future.
Single and family Medical aid deals
The Single consists of three packages, the first being the Standard Single Package (R209-R265 pm), the Single Co-Plus (R279-R355 pm), and the Executive Single Plus package (R345-R449 pm). Whereas the Family package comprises of the Standard family (R310-R389 pm), Family Co-Plus (R379-R469 pm), Executive Family (R439-R539 pm), and the Executive Family Plus package, at R519-R689 per month.
Get covered, Get secured
Make sure that you have the following information/documents at hand:
Proof of your Identity Document (ID)
Proof of your address (Physical).
Evidence of An Income.
Be 18 years or older.
On the webpage, you can request the Elixi Team to call you, or you can request an insurance quote.
Step 1:
The first thing you do, if you want to find out whether you qualify for any of the cover plans or packages, you visit their online webpage (elixi.co.za). At the bottom of the page with the cover plans, you will see the phrase 'Get A Quote', then go ahead and click on the button.
Step 2:
When the new page opens, you will be asked to give your full name, surname, email address, and contact details, and then click submit.
Step 3:
For this step, it is very important that you remain close to your cell phone since the company will give you a call after they have checked the validity of the inserted information. The same applies when you have requested the company to give you a callback.
The benefits of applying with Elixi
Fast responses and affordable coverage.
30-minute free legal consultations and legal support.
Personal and funeral cover.
Professional expert employees.
Crisis centre available 24 hours a day.
Household assistance (child labour)
Customer Reviews & Testimonials
"
August 2021
I finally found a company with professional doctors that never get tired of me. They make me feel like I am one of them.
Smith J.
— Pretoria —
June 2021
I am so happy with the cover package I chose. They give me the best of the best, every day. Thank you Elixi.
Jafta D.
— Bloemfontein —
September 2021
If I had to, I would give Elixi a five-star rate, because every encounter I had with them has been amazing. No regrets here.
Victor E.
— Durban —
Elixi Contact
Contact Number
E-Mail
Website
Physical Address
8 De Winnaar St, Halfway House, Midrand,

Johannesburg

Gauteng

1685

South Africa
Opening Hours
Monday

08:00 – 17:00

Tuesday

08:00 – 17:00

Wednesday

08:00 – 17:00

Thursday

08:00 – 17:00

Friday

08:00 – 17:00

Saturday

– Closed

Sunday

– Closed