Quick insurance application
Affordable dental insurance
Add cover to your store credit
In-page navigation
---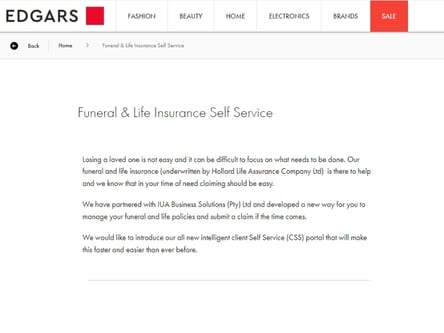 Author Edgars Insurance. Screenshot of Edgars Insurance website.


[Accessed February 7, 2023]
About Edgars Insurance
Edgars dental insurance is a new concept specially designed with Edgars clients in mind. Without adding an extra payment onto your budget, they include your premiums into your Edgars account payment.
Offering more than you'd ever expect
Edgars are well known throughout the years for their clothing and fashion sense; however, they are more than that. Edgars has enquired the most experienced team of consultants to assist their insurance side of the company, making Edgars a truly diverse retail company, not only looking good on the outside but having an amazing smile to follow it with.
Cover your Dental health needs
Edgars has deeply investigated what clients want from a dental insurance provider and created a solution that meets those pain points. Their dental insurance will take care of all the basic comprehensive needs of your dental requirements. They are providing a cover to suit you and your family. Edgars dental insurance premiums are extremely affordable, which leaves no excuse for you not to keep your teeth healthy for years to come.
Edgars Insurance Services
Edgars dental insurance saves you every time you visit the dentist. They offer affordable benefits in options that will meet your dental requirements.
Obtain the best private Dental insurance
Edgars is an extremely quality-driven company, with the ability to provide streamlined and efficient services in all the industries they work through including the financial sector since they also provide personal loans to customers.
Dental cover you can rely on
This is one of the reasons Edgars dental cover is becoming one of the most popular and manageable insurance covers in the country. Edgars clients benefit from paying their premiums through their Edgars account payment, making life easier for you. Edgars clients can claim easily and fast through their claims division in-store at any Edgars store.
Claim back on dental bills
Convenience is just one of the strong points when they provide a service to South African's across the country.
Edgars Insurance – Dental Insurance
Benefits of Edgars Insurance
---
Dental cover for clients needing a little extra from their retail group
Now those expensive dental bills can be a worry of the past, as you can claim back what you spend on your treatment straight from your Edgars dental cover.
Fulfil your Dental insurance needs
Edgars dental insurance is part of the Edcon group in South Africa. Since they know that medical aid often only covers an annual check-up – they have brought you dental cover with a difference.
Clients, who are Edgars account holders, can have a streamlined and quick membership option, which will allow them an affordable and convenient insurance cover, to assist with those dentistry bills.
Access to a world of benefits
Edcon has been one of the top leaders in the clothing industry since 1929, and through innovative enhancements throughout the years, has introduced more markets into its brand, including the options of insurance cover. Edgars has a footprint exceeding its presence throughout South Africa, allowing its clients to access Edgars services anywhere in the country.
Put your trust in a company that will go the extra mile for you
They go the extra mile for Edgars clients and take your health just as seriously as any other service they provide. Edgars insurance process is simple and affordable and they offer quick online insurance quotes as well. Clients can obtain membership by visiting any of their stores nationwide.
What's even more convenient is your premiums will be added and deducted from your Edgars account, so you can just carry on paying your Edgars account on the monthly basis as per normal.
Settled in just 48 Hours
Any claims sent to them from their clients are settled within 48 hours, making them one of the fastest paying dental insurers in the country. Clients simply settle their dentistry bill with the dentist and submit the claim to Edgars with the correct information on the invoice (ICD codes, membership number, member name, and dental practitioner details).
It's now easier than ever to afford a beautiful smile, and Edgars will help you get it!
Take care of your teeth stress-free
Now Edgars clients don't have to stress about their dental hygiene checks, consultations, root canals, and fillings. You can now take care of your teeth and claim back what you have paid from your dental cover. They will provide you with a full breakdown of what your dental insurance covers when you become a member of the Edgars dental insurance.
Edgars also offers a toll-free line for members to contact in case they need more information regarding their insurance premiums, what dentistry is covered, and what service providers are to us.
Customer Reviews & Testimonials
"
June 2021
I am so surprised with the great service I received from Edgars in terms of their dental insurance cover, I never even knew that they offer this affordable product as well.
Jabu. G
— Durban —
December 2020
They are super-fast when it comes to paying out claims and servicing their clients as they care about them a great deal.
Michelle. E
— Cape Town —
June 2021
Edgars doesn't only have great quality clothes but also great quality dental health insurance, more people should hear of this amazing product they offer to South Africans. That is why I recommen...
Fatima. N
— Durban —
Edgars Insurance Contact
Contact Number
E-Mail
Website
Physical Address
Shop Lg46 & Ug174 30 Tokai Road Blue Route Mall

Cape Town

Western Cape

7966

South Africa
---
Postal Address
PO Box 100, Crown Mines, 2025, South Africa
Opening Hours
Monday

09:00 – 17:00

Tuesday

09:00 – 17:00

Wednesday

09:00 – 17:00

Thursday

09:00 – 17:00

Friday

09:00 – 19:00

Saturday

09:00 – 19:00

Sunday

09:00 – 17:00