Reliable insurance provider
Choose best plan
Affordable dental insurance
In-page navigation
---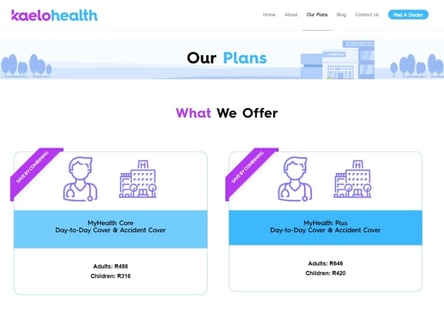 Author Kaelo Health. Screenshot of Kaelo Health website.


[Accessed February 7, 2023]
About Kaelo Health
In 2004, Kaelo Health sold its first-ever policy. From then, up until now, they cover more than 140,000 policyholders, and their numbers grow every day.
With Kaelo Health medical insurance you have access to 470 infirmaries as well as 9,500 health security providers. If you are a client at Kaelo health, you are almost always within the 10km range of one of their network doctors.
This information proves that they are, literally always there for you. They care about your well-being and the health security of your family. At times when you are in financial calamity, you need not worry. You get the health care you need and deserve, while they cover the cost. No more worrying about how and what your next plan is, you simply enjoy the comfort of private care.
They guarantee you satisfaction
Your mental, physical, and emotional health are very important to Kaelo Health, so much so that they would leave no stone unturned, to ensure that you get what your body needs. The network doctors, physicians, and dentists are highly qualified, and they have years of experience and successful cases to back them. If you are a policyholder of a cover with Kaelo Health, you get to skip the long waiting lines.
For 17 years Kaelo Health has been going strong, and the future looks bright for them, as a healthcare company and you as a policyholder with them. Accidents can happen at any time, and with little time to prepare for them, therefore they strive to offer the most excellent response time.
Kaelo Health Services
Attempting to fall asleep at night with a toothache and headache is, under no circumstances acceptable for a Kaelo Health policyholder.
If you are in dire need of medication, they are there to provide you with effective medication and private dentists. You can be certain that the dentists provided to you are well trained and equipped with the knowledge to get the job done, but passion and meticulousness.
The MyHealth Core plan for R486 (Adult Dependant for R486 p/m or Child Dependant for R316 p/m) and the MyHealth Plus plan for R646 p/m (Adult Dependant for R646 p/m or Child Dependant for R420 p/m) per month, both include the dentistry benefit. They provide you with Oral Hygienists and qualified Dentists that treasure your teeth.
These dentistry benefits that come with your MyHealth plan, include processes like filling (resin/amalgam), dentures, root canals, extractions, dental consultations, tooth cleaning, and medication for pain control.
Whatever you need, they've got you
Your Health cover varies from the core plan and the plus plan. These plans include services like access to General Practitioners, that cater to your bodily needs. They now have such a successful online presence that they now offer virtual, doctor, and nurse consultations. They give you access to Optometry, emergency help, entry to casualty for stabilization, over counter medicines, and private in-hospital treatment.
They provide you with access to specialists. For pregnancies and injuries, you have access to X-rays and scans. Their Your Health Plus plan includes an Accidental Death benefit worth R20,000.
Kaelo Health – Dental Insurance
Product

Dental Insurance
Additional Dental Cover

Kaelo Health has three different plans for you to choose from. Two of these include comprehensive dental cover.

Price

From R185 a month
Benefits of Kaelo Health
Additional Benefits - Kaelo Health offers you access to social workers and psychologists to assist your family in times of crisis. You also have access to financial and legal advice to help navigate stressful situations.
A comprehensive network for you to choose from - With Kaelo's wide network options every South African is with in a 10km radius of a network doctor. So everyone can have access to professional care
---
Apply for dental insurance today
When you decide on applying for Kaelo Health Insurance, please be sure to do it at a time when you are not occupied.
A broker will call you to take the procedures further and kindly walk you through the process.
Your documentation needed:
Proof of Identification (ID)
Proof of Home Address (Utility bill, Bank letter)
Proof of Income (Monthly/Weekly etc.)
Follow these few steps to apply:
Firstly, you will need to fill in the 'Get Medical Insurance' form. This form will require your Name, Surname, Mobile number, Email address as well as specifying what you are applying for. Tick the box next to terms and conditions to indicate that you have read and agree with them.
You will then be called by a broker, who will then further explain the dental insurance plans to you. They will advise you and guide you step by step and ensure that you choose the right insurance plan.
After you have received confirmation, you will be given a welcome pack as well as a card for you as a policyholder.
After receiving the card, you will then be able to use and access your private medical care at any time.
The benefits of applying with Kaelo Health
Welcoming and adequate staff
Trusted by many clients, Reliable
Budget-friendly
Fully accessible online
A few additional benefits:
Access Psychologists for both you and your family
Access to Social Workers
Advice regarding your Finances
Legal Advice
Debt Advice
Customer Reviews & Testimonials
"
May 2021
With Kaelo Health you can never go wrong, I chose my insurance wisely, I chose Kaelo Health.
Spencer V.
— Durban —
December 2021
My daughter always wanted to get braces, but I was never able to afford them. When I applied for dental insurance with Kaelo Health, she was able to get braces and it made her so confident. I hav...
Smit J.
— Pretoria —
September 2020
Kaelo Health is one of those good things that you only come across once, I am just grateful that I got the opportunity to make full use of this.
Seaborne A.
— Port Elizabeth —
Kaelo Health Contact
Contact Number
E-Mail
Website
Physical Address
52 Corlett Dr, Illovo, Sandton,

Johannesburg

Gauteng

2196

South Africa
Opening Hours
Monday

08:00 – 17:00

Tuesday

08:00 – 17:00

Wednesday

08:00 – 17:00

Thursday

08:00 – 17:00

Friday

08:00 – 17:00

Saturday

08:00 – 14:00

Sunday

– Closed