Quick insurance quotes
Discounted dental cover
No hidden costs
In-page navigation
---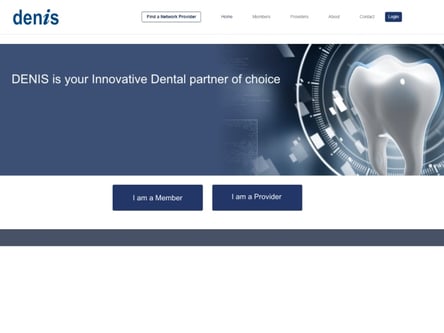 Author Denis. Screenshot of Denis website.


[Accessed February 7, 2023]
About Denis
Denis Dental Insurance is a well-known insurance provider in South Africa.
They have vast experience in combining risk management into their insurance options and tailoring a comprehensive solution that the modern-day family requires in order to have a healthy smile.
Access the best private Dental insurance in SA
They have over the years created a name in the industry, with a unique and innovative approach to clients getting an all-around benefit and financial backing for those costly dental procedures.
A highly reliable Dental insurance provider
With their firm being well established since 1996, clients trust them with their oral health insurance needs and know they can depend on their experience and knowledge to assist them and guide them throughout the processes involved.
Delivering on expectations
Denis' strengths lie in the way they deliver on clients' expectations and maximize the outcome of their needs. They believe in the transformation of the country and are proudly rated level 2 BEE recognition.
Denis Services
Denis Dental Insurance understands the challenges faced today when it comes to the costs of keeping your life healthy.
This goes along with your dental hygiene, keeping updated with your dental check-ups, and attending to those cavities and broken teeth.
Avoid the dentist no more, you deserve better
We often avoid going for these visits because they cost us a fortune. Often your medical aid will cover a portion of the bill, and you still end up paying thousands to get your teeth at the stage where they are healthy. No longer do clients need to put off this important part of staying healthy.
Protect your family with high-quality cover
Denis offers clients options of dental cover that pays back what they spend at the dentist. Now you can claim the hard-earned cashback that you have used to pay the practitioner. Denis provides simple and easy-to-understand terms and conditions for each option they provide.
Denis – Dental Insurance
Product

Dental Insurance
Find a provider

Denis has a network of providers who will provide you with care at the best price so you can avoid paying co-payments

Options

Denis offers you cover for basic dentistry as well as more costly or in hospital procedures

Preferred provider

Denis is the preferred provide of the biggest medical aids in SA.
Benefits of Denis
Why Denis
Denis has partnered with several medical aid schemes in South Africa to offer specialised dental care to their customers. If you are on one of these medical aids you can rest assured that the team at Denis will make sure that you receive the best customer service when it comes to claiming and authorisations. With a dedicated team to assist you you can be assured that any query or payment will be processed swiftly.
With their easy to navigate website you can quickly find a dentist, you can submit your claim with all necessary documents and you can request your pre authorisation with just the click of your mouse. Log in to view your claims status as well as what monies have been paid for your procedures.
---
Cover for you and your family with competitive premiums
Clients can choose the cover which suits and benefits them and their families, as well as what is in line with their budget.
Best premiums for Dental insurance
Denis Dental Insurance has many years of excellence proving how they help clients get their smiles back! For years, they have been providing dental insurance to meet the needs of your dental requirements as well as your budget.
Denis has assisted thousands of smiling clients with Hospital pre-authorisation, Managed-care, Dentistry network availability, and much more. Denis's focus is to provide cover for health management and they start from your mouth! With affordable premiums, everyone can afford to have the dental work they need to keep their teeth healthy.
Benefits to their clients include Dental cover options
Conservative, Specialised, and IV Conscious Sedation dentistry. With each of these sections, clients can receive all-around dental care, to provide the treatment they need in any situation. General or conservative dental care includes the basics such as general check-ups, and examinations, oral hygiene, fillings, root canals, plastic dentures, extractions, radiography, and more.
Most procedures in the dentist's rooms differ when it comes to payment terms. They will provide each customer with a detailed look into these terms and preferred dental practices in your area just contact them or apply for an online insurance quote to get started.
When claiming clients need to provide a few details:
Medical membership details/number
Dentist Practice name/number
Dental Treatment date
Patient name
Patient code as per membership card
ICD-10 codes
Procedure codes
Authorization number
And a few more areas may be applicable, which they will inform you of during the claiming process
Claim payments
The payment of your claim will be in line with your stipulated policy terms just as it would with regular health insurance, each policy differs in accordance with the membership you have chosen.
Denis makes it easier to afford those dental visits, and now your whole family can have that glowing smile and healthy mouth that makes everything worth smiling about.
Get the Dental insurance you deserve
They are available at any time during office hours to discuss your dental cover options, and what your preferred membership option will cover. Denis works in line with the dentistry codes and terms of tariffs according to the list of dentists on their preferred lists. They will be happy to discuss any questions you have in regard to keeping your family healthy.
Customer Reviews & Testimonials
"
April 2021
A trustworthy, transparent, and reliable company that cares about its client's dental health.
Jacky. K
— Durban —
October 2021
Their prices are so affordable, a real value for money service provider in terms of their customer service as well as the amazing products they offer.
James. L
— Port Elizabeth —
March 2021
If you are considering taking a dental plan from them, I can assure you that you won't regret it. They are fast in paying out claims, their service and friendliness are also world-class.
Lebo. H
— Cape Town —
Denis Contact
Contact Number
E-Mail
Website
Physical Address
Block D, The Forum, Northbank Lane, Century City

Cape Town

Western Cape

7441

South Africa
---
Postal Address
Private Bag X1, Century City, 7441, South Africa
Opening Hours
Monday

08:00 – 17:00

Tuesday

08:00 – 17:00

Wednesday

08:00 – 17:00

Thursday

08:00 – 17:00

Friday

08:00 – 17:00

Saturday

08:00 – 12:00

Sunday

– Closed