Dental Insurance starting from R91
Low insurance premiums
Gap cover included
In-page navigation
---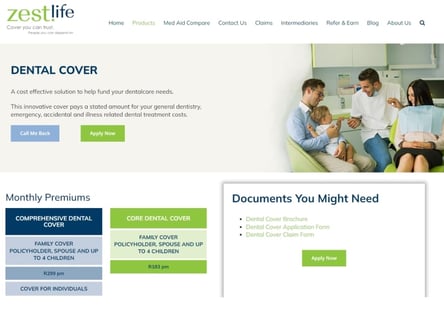 Author Zestlife. Screenshot of Zestlife website.


[Accessed February 7, 2023]
About Zestlife
Zestlife, a registered financial service provider, is associated with 2 of the world's largest insurance providers.
They offer dental cover to a range of clients at affordable rates.
How to apply for Dental insurance
The site navigation for Zestlife is straightforward. On their homepage, there are a variety of options when wanting to browse the brochures, and claims documents or just do a background check on them. But most importantly it is easy to apply for dental cover via their website. All contact details are made available there, unfortunately, you cannot purchase dental insurance then and there and you have to fill out the "quick contact" form to receive a call back from one of their consultants. You can also use the live chat option to do the same.
Dental insurance cover
Zestlife offers something called dental gap cover, this is basically to ensure you are covered by more than just your medical aid and helps in solely covering the cost of your dental services that cannot be paid fully by your medical aid. Zestlife's day-to-day dental cover will be able to payout in the amount stipulated by their brochure (in rands)
Zestlife Services
As with all insurance options, the comprehensive plan is the one that will ensure a wide range of dentistry benefits and treatment options.
As part of having a comprehensive dental cover, you as an individual will be covered with the option of purchasing the family option which will include a spouse and up to 4 children under the age of 21.
The comprehensive dental insurance plan is priced from R149pm for an individual and R299 for the family option. The core option generally covers the same benefits, the only difference is that you will be insured for less when it comes to being treated. The pricing is cheaper and is suited for families who do not often require dentistry in their daily lives, nor would they in the long-term future.
The pricing options are cheaper for the core dental cover. For an individual, you pay R91pm, and for your family (which also includes up to 4 children) R183pm.
The benefits of the Dental cover are:
Day-to-day dentistry treatment
Emergency dentistry treatment
Dentistry treatment following an accident
Dentistry illness treatment
Specialized dentistry treatment (not included as part of the core dental cover)
Zestlife – Dental Insurance
Product

Dental Insurance

Loan Amount

from R91
Dental Gap Cover

When your medical aid does not cover all the expenses for your dental treatments Zestlife dental gap cover will help you fill the short fall.
Benefits of Zestlife
Credit life insurance - This insurance will pay off your debt when you pass away. This can include your credit card debt or car loan.
Claiming - Make sure which type of claim you are going to be making. Download the claim form and send it and all the supporting documents to Zestlife Claims
---
Get covered with Zestlife today.
With all these benefits there are specific claim events that will fit into each category and in each category, there will be a specified amount that will be allowed to be paid to the client as part of a claim.
Dental insurance claim events
As part of day-to-day dentistry insurance benefits, you as a client are allowed to claim for your general dentistry check-ups, these check-ups will include treatment for minor dental discomfort and gum disease. Your day-to-day benefits will also include impacted wisdom teeth and severely decayed teeth and tooth damage.
Any infections or pain that require emergency treatment will be part of the emergency dentistry treatment claim events as well as an abscess.
One claim event that would be really helpful to have and be covered for as part of your dental coverage is the accidental dentistry treatment. This cover will be helpful to have as a benefit for someone who is accident-prone and has children who are accident-prone. The accidental dentistry claim events extend to:
Chipped tooth
Fractured tooth
Loose tooth
Or a tooth knocked out
Jaw fracture
Dentistry illnesses that will be covered as part of your dental insurance are oral cancer.
Specialized dentistry, which is not available on the core dental cover option, covers you for events that are generally more expensive and are for long-term dental solutions. They include:
Dentures
Dental implants
Dental bridges
Stated Dental cover amounts
Generally speaking, the amount which you are insured for will be dependent on the dental insurance plan you have paid for. Comprehensive cover will cover larger amounts especially for dentistry illness and accidental dentistry such as a fractured jaw.
The rule of thumb is that comprehensive cover will pay out between 100% and 120% more than the core cover plan. For example, in day-to-day dentistry, Zestlife will pay R1500 per tooth on the comprehensive plan and R750 per tooth on the core plan. For something more expensive like a fractured jaw, the comprehensive plan will pay out R25 000 per event and the core plan R15 000
Claiming Dental insurance
On Zestlifes home page there is a range of options that you will have to select to help navigate for what you are looking for. To claim all you have to do is select the "Claim" option at the top of the home page, you will be redirected to the claims section where on the left side of your screen you can select "Dental Gap Cover Claims". This will take you to a page where you can download the claims form which can be printed and filled in by hand or you can use an online document editor to fill it out digitally.
Customer Reviews & Testimonials
"
September 2021
They cover even the biggest claims, they ensure you have the best coverage.
Ricky M
— Sasolburg —
November 2020
Affordable prices and great coverage with amazing benefits and all in a click of one button, its never been this easy.
Marry-Ann K
— Paarl —
Zestlife Contact
Contact Number
E-Mail
Website
Physical Address
"Sunclare Building 2nd Floor 21 Dreyer Street Claremont

Cape Town

Western Cape

7708

South Africa
---
Postal Address
PostNet Suite 87 Private Bag X1005 Claremont , Cape Town, 7735, South Africa
Opening Hours
Monday

08:00 – 17:00

Tuesday

08:00 – 17:00

Wednesday

08:00 – 17:00

Thursday

08:00 – 17:00

Friday

08:00 – 17:00

Saturday

– Closed

Sunday

– Closed