Dental Insurance starting from R279
Variety of dental cover plans
Affordable premiums
In-page navigation
---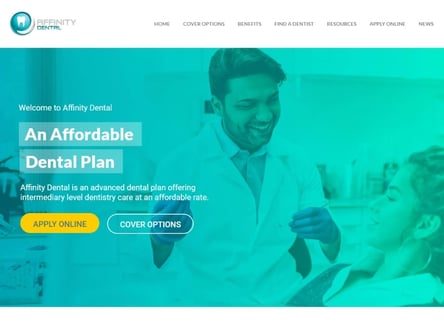 Author Affinity Dental. Screenshot of Affinity Dental website.


[Accessed February 7, 2023]
About Affinity Dental
Get top-quality dentistry and access over 2000 registered Affinity Dental dentists across South Africa. Expensive dental procedures are often not covered by most medical aid plans, this is where Affinity Dental can help you out.
Understanding the industry
Affinity understands the intricate details which follow a dental environment. They know and understand that thousands of South Africans simply avoid going to the dentist due to the fact that their medical aid does not cover these costs and they struggle to afford and can't pay it themselves.
Dentistry is a costly side of life, and Affinity Dental clients have the backing of dental cover which meets these demanding dental needs and costs.
Dedicated consultants and assistance
If you have any inquiries or concerns about dental cover, their highly dedicated, informative, and transparent consultants are always ready to assist you. Affinity Dental's main purpose is to keep your smile bright with its tailor-made dental insurance options.
Affinity Dental Services
Affinity Dental offers a new approach to affording those dental expenses through innovative and conveniently affordable dental insurance cover options.
Specialists in Dental care
Put your trust in a company that cares greatly about your dental health. This is what they specialise in, so they use their knowledge and expertise to create a financial solution for clients who need this insurance support.
Three Dental cover options
Affinity Dental offers clients three options on their cover, to choose from. Their dental cover options are carefully designed to cater to your entire family and the frequency of dental visits needed while still ensuring that it is affordable and financially feasible.
Each of their options contains basic consultations and hygiene treatments, and then they each have their own unique features and benefits. Choose the best private dental insurance option for your family and your budget.
Affinity Dental – Dental Insurance
Product

Dental Insurance

Loan Amount

from R279
Choices

Affinity Dental offers you 3 different plans. You can choose from basic dental cover to full dental cover including root canals

Find a dentist

Affinity Dental has partnered with service providers to offer you the best care at the best prices. You can find a partner dentist on the website and make your appointment.
Benefits of Affinity Dental
Apply online via the website. Simply put in all your information and a helpful consultant will get in touch.
Chat bot is available to speak to while you are on the website. If you have any questions that you need answered straight away then you can send message on the website.
Fillings - Affinity Dental will cover up to 5 fillings a year
Extractions - up to 7 extractions are covered
Wisdom teeth are covered by Affinity Dental. This can be a very costly procedure but you can be covered for it.
---
Dental insurance package to keep you smiling
You can also speak to an expert that will be able to explain everything to you in easy-to-understand English, or you can get an online insurance quote that is tailored to your needs and finances.
They have a Dental insurance package to keep you smiling
Affinity Dental takes a cost-saving approach to your dental needs. With dental insurance options in place, to cover those dental costs, assisting their clients with the high costs of dental work, for your whole family.
From general check-ups to major dental procedures, they cover the costs so you can keep your cash for something else you have wanted to pay for. With Affinity's dental insurance plans, you can cover your whole family in a comprehensive way as their prices are so affordable.
Getting Dental insurance is simple
Enjoy a convenient online insurance application and to make life easier their claims process is done through the same streamlined and trouble-free online channels.
Having a clean healthy smile makes a world of difference to your life. Access a wide range of suitable options for your family's dental care without breaking the bank.
Plan One – The Silver Dental insurance plan
Enjoy unlimited consultations and complete examinations for you and your family, this Silver Plan also includes emergency visits and special dentistry. The silver plan starts from R156 per month and is affordable for all family members to join. If you have a healthy mouth, and just need regular upkeep, this is the perfect plan for you.
Benefits of the Silver Plan Include:
Scale and polish
X-rays
Emergency consultations
Infection control and oral hygiene
Extractions
Fillings
Plan Two – The Gold Dental insurance plan
Get a comprehensive plan with a range of features and benefits starting at a premium of only R223 per month. The Gold Plan offers unlimited emergency consultations and offers more exclusive benefits including specialized dental care.
The Gold Plan Offers:
Scale and polish
X-rays
Emergency examinations
Infection and hygiene control
Extractions
Fillings
Root Canals
Impactions
Crowns
Plan Three – The Platinum Dental insurance plan
This plan is the most comprehensive of them all and offers you everything and more starting from only R321 per month. If you have regular visits and procedures in your mouth, this would be the best option for you.
The Platinum Option includes:
Scale and polish
X-rays
Emergency consultations
Infection and hygiene control
Extractions
Fillings
Root Canals
Impactions
Crowns
With Affinity dental insurance, the whole family can benefit from dentist visits and get what they need to smile brighter every day. Get your medical aid quote today or call them for more information on their dental plans.
Customer Reviews & Testimonials
"
July 2021
Paying so little for a cover so comprehensive is almost too good to be true, yet it is true and I have been a happy client with a big smile for the last 3 years.
Celina. K
— East London —
July 2021
A great service provider that truly has their clients' best interest at heart, they work hard to provide the best solutions for dental care and still keep their prices low.
Fiona. I
— Pretoria —
June 2021
Extremely friendly, informative, and fast, I trusted them with my smile and it has been bright and shining from the get-go, and still going strong.
Elana. B
— Johannesburg —
Affinity Dental Contact
Contact Number
E-Mail
Website
Physical Address
1 Dingler St, Rynfield

Benoni

Gauteng

1514

South Africa
Opening Hours
Monday

08:30 – 16:30

Tuesday

08:30 – 16:30

Wednesday

08:30 – 16:30

Thursday

08:30 – 16:30

Friday

08:30 – 16:30

Saturday

– Closed

Sunday

– Closed