Affordable insurance quotes
Flexible dental cover
Quick online claims
In-page navigation
---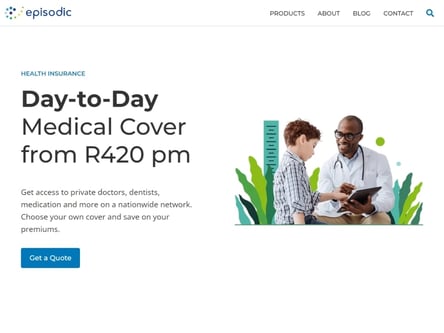 Author Episodic. Screenshot of Episodic website.


[Accessed February 7, 2023]
About Episodic
Episodic was created in 2019, with the key vision of constructing and organizing an insurance product that would be able to maintain the health of its clients.
They came about with a bang. For them there was no 'starting from rock-bottom', from the get-go Episodic was a top-tier Underwriting Management Agency.
Episodic is a medical insurance company that provides their clients with supple healthcare insurance for every day, not just on the bad ones. For years they have been successful in governing a powerful life and medical insurance book. They are constantly discovering new concepts, new products, and new solutions that place the client in a position of wealth.
With you for every episode of your life's series
If you are someone that wants to be in control of your life, then episodic is the insurance for you. They make sure that their clients get the quality health care that they deserve, without taking too much from their income. Creating solutions to suit each client's needs, and budget is their priority. They shift the focus onto the client, rather than the company. They empower you to be the hero of your own story.
They are passionate about the lives of their clients, and they desire and aspire to inspire you to take care of yourself in the way that you ought to be. Your story is special and unique, and no two people experience the same life trials. They know that your story might be different from someone else's but they are there to remind you that it is still a story that matters.
Episodic Services
The dental insurance benefits form part of almost every medical healthcare cover package that they have.
The dentistry benefit that comes with having dental insurance with Episodic is that you get unlimited organized visitations to a network dentist. This benefit also involves infinite consultations, control over your aching tooth, clean-ups, fillings, and tooth extractions at a provided network dentist.
Choose from three levels of dental insurance:
Level 1
With level one, you only have unlimited access to the basics of teeth care. This level includes things like cleaning, pain control, amalgam fillings as well as normal extractions.
Level 2
This level is an updated version of level 1. This means that this level consists of all the benefits of level one but has more to it. Other benefits like resin fillings, one root canal every 12 months per member at the worth of R2000, and one crown every 12 months at the value of R4500, per member.
Level 3
This is the most advanced level. All the benefits of level two are applicable, plus dentures worth R2000 per year per policy, two crowns every 24 months worth R4500 per member, and 2 root canals every 12 months per member to the value of R2000.
Episodic – Dental Insurance
Product

Dental Insurance
3 Levels of cover

With Episodic you can choose your level of cover to build your insurance quote.

Request a quote

You can choose the cover that you require and they will tailor make your cover and payments for you.
Benefits of Episodic
Accidents and emergencies - Add hospital cover, emergency hospital visits and permanent disability cover
Funeral cover to protect your family in the event of your death and all the costs that may come with this for an additional R26 a month
Day to day medical cover - use Episodic network professionals for your medical needs
---
Apply for dental insurance with Episodic
Episodic goes the extra mile for their clients, with them you are allowed to create your quote on your desired cover. This personalizes your cover and payment terms to suit your monthly income.
What you need to apply:
Proof of Identity
Proof of your physical address
Proof of monthly income
What will be asked of you:
Your full name
Your cellphone number
Your email address
Your age (must be above 18 years of age)
They can cater to your needs
Episodic has various plans with prices adjustable to your finances. The Day-to-day cover, Hospital cover, Funeral cover, and accident and emergency cover. These covers include GP (general practitioner) visits, access to critical and enduring medication, permits to x-ray scans and blood tests, access to a specialist as well as optometry benefits.
The application process
Once you have filled in the 'Get a Quote' form you can either ask for assistance from one of the employees of Episodic, or you can go ahead and create your online insurance quote.
Step 1: You choose
Firstly, you will have to decide on the benefit that you want, along with the level (1, 2, or 3) that will best fit your needs.
Step 2: Your budget
The number of people you add to your cover, as well as the benefit you choose will determine the total cost of your monthly premium.
Step 3: Processing of online application
At this point, you can request an honest, informed, and qualified agent to help you with the rest of the processing, by creating a quote for you that they believe would be best for you. If you can continue with the online process without assistance, then you are more than welcome to do so.
Step 4: Remain informed
By sharing your email address, you agree to receive regular emails, regarding updates on your coverage and new cover information with Episodic.
The Benefits of applying with Episodic
Flexible and inexpensive
Adaptive to your stage of life
Guaranteed exceptional quality care due to years of experience
Put you first
Reliable and trustable insurance
Customer Reviews & Testimonials
"
May 2021
Episodic made the impossible possible for me. I was battling cancer and due to costly expenses, I could no longer afford treatment. I had to suffer until I came across Episodic Medical Insurance....
Newfeldt J.
— Cape Town —
March 2021
You won't believe it can do wonders until you watch it do wonders for you. Episodic is a health changer.
Du Plessis T.
— Cape Town —
November 2021
Every day I wake up and I do not fear what may come my way, because I know I am prepared. With episodic I do not stand alone; they are there every 'episode' of the way.
Groenewald L.
— Pretoria —
Episodic Contact
Contact Number
E-Mail
Website
Physical Address
"Office No. S10 The Sanctuary Shopping Centre Corner de Beers Avenue & Broadway Boulevard R44, Paardevlei Somerset West,

Cape Town

Western Cape

7130

South Africa
Opening Hours
Monday

08:00 – 17:00

Tuesday

08:00 – 17:00

Wednesday

08:00 – 17:00

Thursday

08:00 – 17:00

Friday

08:00 – 15:30

Saturday

– Closed

Sunday

– Closed