The South African Dental Association
Free insurance quotes
Online application available
Call center assistance available
In-page navigation
---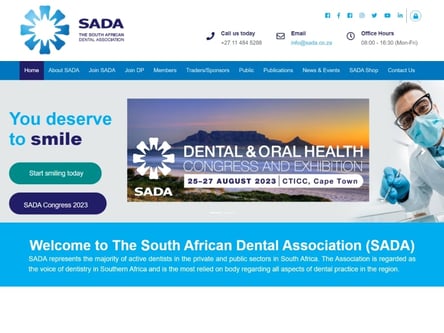 Author SADA. Screenshot of SADA website.


[Accessed February 7, 2023]
About SADA
The South African Dental Association provides awareness and assistance to South Africans in the form of oral hygiene and dental treatment through the dental cover.
They strongly believe that every South African in the country deserves financial support to maintain a healthy lifestyle, which also includes healthy mouths.
Your most valuable asset – your teeth
The first thing people see when you smile is your teeth. With The South African Dental Association, you can take good care of them by accessing regular check-ups and treatment from your dental practitioner as often as you need it.
Don't be left without sufficient Dental cover
These visits can be quite costly, especially if you need to involve your entire family in this process. Medical aid provides only a certain percentage towards dental cover. The majority of customers they assist have no dental cover at all.
Having the financial backup you need through putting proper dental insurance in place, will ensure that you will never miss out on a check-up or suffer from excruciating tooth pain ever again.
SADA Services
The South African Dental Association engages in the well-being of clients in the country needing dental hygiene and medical care through dental insurance which is created in line with the needs of the South African market.
An experienced Dental insurance approach
Through their dental cover options, you can access a preferred list of dental practitioners all over South Africa. They took a look at the potential gaps in dental cover and created a product that will cover where most medical aids and other health plans miss the mark.
Get the best private Dental insurance
The South African Dental Association clients receive a plan which allows full cover on accounts paid to dental surgeries and practices and they offer online insurance quotes to make getting it easy. They believe you deserve to be covered, and they will provide all the tools, information, and guidance you need to fulfil your dental requirements.
---
Get dental insurance today that will save your teeth later
You and your family can afford a perfect smile while enjoying comprehensive dental care at a reasonably low premium.
Get Dental insurance today
The South African Dental Association provides dental cover to reimburse those expenses that you pay for your dental treatments. They will assist you with every step of the application as well as explain the methods, premiums, terms, exclusions (if any), and aspects of your cover in detail.
Highly trained Dental insurance consultants
The South African Dental Association consultants are highly trained and experienced in the dental insurance industry. They will help you to find the right option for you and your family, in accordance with your finances and how often you visit the dentist.
Add a Dental cover to fill the gaps
Even clients, who belong to a medical aid scheme, can cover the shortfall on their dentistry and claim back from them directly. They know that good dental care can be very expensive and it is usually something a typical medical aid will not cover in full. This is why they've created a solution to fill the gap, not only in your teeth but also in your finances.
All accounts which you have paid directly to your practitioner will be able to be claimed back through your dental insurance policy.
Claiming on your Dental insurance
All claims submitted to them need to include the dental practitioner details and practice numbers. They will also need the specific ICD codes for the procedures that were done. You will receive a membership number, which will need to appear on the invoice as well as the details of the patient.
Catering to the Dental needs of fellow South Africans
The South African Dental Association has a quick and easy claiming process, to ensure you are paid back your spent amount promptly and problem-free. Because they are a South African firm, they cater to all South Africans who need to take care of their dental needs.
Don't take a healthy smile for granted – Dental insurance is important
We often take for granted our need to visit the dentist regularly, and put off that niggling pain for another day, until it gets to the point where major treatment is needed. This is often because of the costs involved, and without having that factor of being paid back for that deters you from getting the treatment you need.
However, getting dental insurance will alleviate that thought, and push you into getting that smile back, with healthy teeth! Get an online insurance quote for dental cover from The South African Dental Association today and feel the weight lift off of your shoulders.
Customer Reviews & Testimonials
"
April 2021
Dental health is so very important, but super expensive especially in South Africa, The South African Dental Association has the best dental health solutions at a very affordable price.
Christo. L
— Durban —
July 2021
What an amazing company to have dental insurance at, they are so fast with their payouts, and to top that off they have extremely friendly and helpful staff.
Mphele. S
— Pretoria —
March 2021
A very caring company that takes good care of its customers and is always ready to answer and explain any questions or concerns you might have. They are the best.
Heena. A
— Durban —
SADA Contact
Contact Number
E-Mail
Website
Physical Address
31 Princess of Wales Terrace

Johannesburg

Gauteng

2193

South Africa
---
Postal Address
Private Bag 1, Houghton, 2041, South Africa
Opening Hours
Monday

08:00 – 16:30

Tuesday

08:00 – 16:30

Wednesday

08:00 – 16:30

Thursday

08:00 – 16:30

Friday

08:00 – 16:30

Saturday

– Closed

Sunday

– Closed