Unmatchable dental insurance
Quick online insurance quotes
Affordable premiums
In-page navigation
---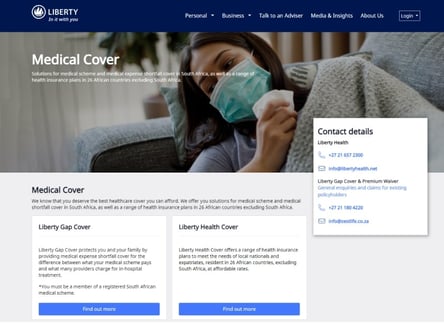 Author DenCap. Screenshot of DenCap website.


[Accessed February 7, 2023]
About DenCap
DenCap Preventative Dental Care understands the demanding needs of capital required to get and keep a healthy mouth and these are simply not met by most health insurance policies.
Although they cover South Africans in the country, they work off an internationally driven best practice in presenting the best possible services in the country.
What they cover under their Dental insurance
DenCap Preventative Dental Care cover will take care of the payment of paid accounts from you when you received dental work, treatment, and procedures via a preferred listing of dental practitioners. They offer membership options, benefits, and features to meet your needs, and deliver quality-driven services in every process they follow.
Cover the family with affordable insurance
If your children are still under the age of 21 they will be able to redeem benefits as a member on your cover, this allows for the entire family to benefit from competitive value-added services on your dental cover.
Unlike most DenCap dental covers all check-ups, consultations, general maintenance work, and more. Choose the best dental plan for you by selecting from a variety of affordable options with inclusive benefits.
DenCap Services
DenCap Preventative Dental Care makes dental insurance affordable for the whole family. They offer competitive benefits with a customized solution giving you the peace of mind that your dental care is covered.
Clients can choose a plan that is most suitable for them according to their budget as well as how often they normally visit the dentist. They provide dental cover for South Africans getting the best out of a preferred list of dentists in the country.
DenCap insurance plan options to choose from:
Standard Dental Insurance Plan - includes all consultations, dental hygiene, radiography, scaling and polishing, prescriptions, local anesthetic, pain management for infections, fluoride treatments, fillings, and more.
Comprehensive Dental Insurance Plan – include all consultations, radiography, dental hygiene, scaling and polishing, fillings, root canals, pain management for infections, prescriptions, local anaesthetic, fluoride treatment, and more.
Platinum Dental Insurance Plan – this plan caters for the majority of all treatments and procedures in the dental area although some terms and conditions may apply in certain cases.
DenCap – Dental Insurance
---
Put a break in the problem before it hits your mouth
DenCap Preventative Dental Care offers exclusive dental insurance cover for you and your family.
Getting a bright white and healthy smile is now affordable and easy. You can access great dental health with them.
Here for you every step of the way
By sending an email or contacting them directly, they can assist you from the beginning to the end of your application and getting insured. Conveniently enjoy assistance from them when you need to choose the nearest dentist to you on their list. With them, you can get your smile back without breaking the bank.
Once you have received an online insurance quote, applied, and been approved for your dental cover, they will provide you with a customized dental pack, which will include all your benefits and premium breakdowns. They have highly experienced and informative consultants that are always ready to assist you with whatever it is you need.
Affordable Dental cover for all South Africans
They evaluate your applications to determine if you qualify for dental coverage through their streamlined application processes. They will then provide you with a tailored quotation on your premiums depending on how many people you want under your cover.
Easily approved Dental cover
Your application will depend on how much work you have needed through a dentist over the past years, and what condition your teeth may be in. Your premiums are evaluated accordingly. Children with a healthy record are permitted to use their insurance policy.
Three Dental insurance plans to choose from
With their Platinum, Comprehensive, and Standard Dental Insurance plan, you can enjoy specific benefits on each unique plan. Get a medical insurance quote and get insured today, make an appointment with them to get a dental assessment, you can contact them for an appointment at any time.
What happens once you're approved
Once you have registered, you will receive confirmation and receive a membership card and your welcome pack. It's as easy as that. They will determine what cover will suit you the best according to your needs, and they will provide the premiums arranged accordingly to you. Don't be shy to show your smile, get the dental insurance cover that makes your mouth sparkle.
Customer Reviews & Testimonials
"
October 2021
I got my smile back again with their help as I was now able to get the filling done that I'd been putting off for so long.
Koos. H
— Port Elizabeth —
August 2021
Wow, what a great company with great people and great benefits, they provided me with affordable yet comprehensive dental insurance cover.
Mogadi. P
— Pretoria —
September 2021
Thanks to them I can have peace of mind when it comes to the dental health of my family, I am a mother of 3 lovely young boys that are always playing rough, so a missing tooth is a normal thing i...
Janine. L
— Durban —
DenCap Contact
Contact Number
E-Mail
Website