Dental Insurance starting from R23
Cost-effective plans
Easy to understand dental cover
In-page navigation
---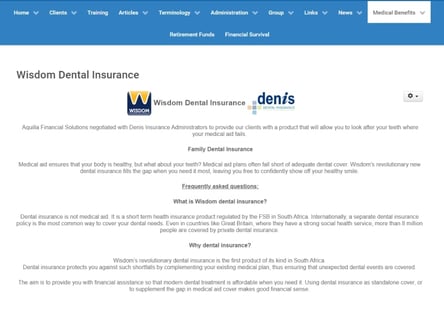 Author Wisdom Dental Insurance. Screenshot of Wisdom Dental Insurance website.


[Accessed February 7, 2023]
About Wisdom Dental Insurance
Wisdom Dental Insurance provides comprehensive cover to South African clients throughout the country.
A Cape Town-based company that has a team of highly experienced insurance consultants who are available through all mediums, including email or telephone, to assist you with whatever questions you might have, and to guide you throughout the application and claims processes.
Unique & convenient Dental cover
Wisdom Dental Insurance's unique and convenient dental insurance cover was designed with the clients' needs at the core of the development strategy.
Wisdom is known in the dental world, for their fast delivery on claims, streamlined and efficient services, and the empathetic manner in which they address their clients.
Wisdom Dental Insurance Services
Wisdom Dental Insurance is one of the country's leading dental cover providers. With their unique approach and service delivery, they have created insurance options to cater to all clients.
You deserve the best Dental care
As a South African, a healthy smile shouldn't have to cost you an arm and a leg. They cater to clients on every level of income in the country. With Wisdom's affordable options, clients have the opportunity to choose from a range of covers that Wisdom feel will provide a full benefit to them and their family.
Use your Dental cover with your medical aid
Do you already have a medical aid in place that covers a portion of your dental treatment? You can then use your Wisdom Dental Cover in correlation with your health insurance cover. This means, whatever the medical aid doesn't pay, they will cover the balance on the account you have settled.
Wisdom Dental Insurance – Dental Insurance
Product

Dental Insurance

Loan Amount

from R23
Price

Get dental cover with a quick claim payout

Choices

Wisdom Dental Insurance has four different plans to choose from

What is Dental insurance

Insurance pays you a lump sum to pay your service provider directly instead of a medical aid who has contracts with your service providers.
Benefits of Wisdom Dental Insurance
Dental insurance can be bought in conjunction with your current medical aid. Dental insurance will pay you out a lump sum per procedure.
Compare plans - Easily compare the four plans that Wisdom Dental Insurance offers. On the website the four plans are side by side and each procedure is shown with the amount that the insurance will cover.
Claims - you will need to fill in the claim forms and send them in with your invoice and the diagnostics from your dentist will all the details of the procedure.
Questions - you can phone 086 010 4940 and have any queries that you may have answered.
---
The wise move in dental care with wisdom dental insurance
Enjoy easy and beneficial dental cover with Wisdom Dental Comprehensive dental insurance that will enable you to take good care of your dental health.
Tailored Dental cover solutions for all
Get the financial backup you need for those expensive dental procedures, with their tailored dental insurance solutions. Don't let a dentist visit take a toll on your budget, put Wisdom Dental's affordable and extensive medical cover in place for yourself and your family.
They understand and know exactly what cover is essential when you visit your dentist and can guide you to the healthy smile you can now afford.
The wise move in dental care with Wisdom Dental Insurance
Wisdom Dental Insurance is there for South African customers to get the most out of their insurance, and get secured payment for what they spend at the dental practitioner. When you're trying to figure out solid protection for your family's dental needs, dental protection from Wisdom Dental will satisfy your requirements every time.
Obtain the best private Dental insurance
If you count how many times you and your family have needed to visit your dental specialist, or how regularly your youngsters need to get fillings, hygiene checks, extractions, and other procedures to their teeth, the costs can add up and really take a toll on your bank account. The brilliant decision is to have protection for those circumstances, to recover your cash once you have paid.
A simple Dental insurance application
Wisdom Dental Insurance makes the online insurance application procedure basic, by reaching one of their accomplished advisors, who will go through the whole application with you, and talk about what premium choices would best suit your finances as well as your family's dentistry needs.
Helping you make the best choices
Wisdom Dental Insurance will clarify the diverse covers and the choices they will provide you with, and in addition what preferred dental practitioner systems are secured under the terms of their strategy.
Since they have a preferred list of dental practitioners across the country, you will easily be able to find one in your area near to you. Wisdom Dental is about making life less demanding and more affordable while keeping you and your family smiling healthier each day.
No more dental care worries with Wisdom's Dental Cover
Clients no longer need to stress about the amount of money they are spending on dental care. Wisdom understands how much it costs to be free of cavities and has that gleam in your teeth.
Easily claim back the amount you paid towards the dental care you received and get a quick payout of cash with Wisdom Dental Insurance's swift claims process. No need to put off your dental care any longer as you can now afford to get it done without financial stress.
Enjoy simple and efficient dental cover from a leading company that is tailor-made to your needs, budget, and lifestyle. Claiming is easy. Essentially, they would need your receipt from your dental practitioner, demonstrating the required ICD codes, the dental practitioner details, and dates with the codes of your treatment.
Making a claim on your Dental cover
You need to include the membership details as well as the patient details. Once they have received your claim, they will repay you at the earliest opportunity, straight into your Get your dental cover today, and don't waste any additional time agonizing over how you will manage the cost of that immaculate grin.
Customer Reviews & Testimonials
"
February 2021
My dental health has never been in a better condition, thank you Wisdom Dental Insurance for the great service you deliver.
Sarie. W
— Cape Town —
June 2021
Got such a comprehensive dental cover from them at a great price for my entire family, I am very pleased.
Mashoba. T
— Cape Town —
January 2021
They have an amazing staff that is always ready to help no matter what is needed, so friendly and well informed too.
Hendra. U
— Hermanus —
Wisdom Dental Insurance Contact
Contact Number
E-Mail
Website
Physical Address
Northbank Lane, Century City

Cape Town

Western Cape

7441

South Africa