Free insurance quotes
Affordable dental insurance
Quick online dental cover
In-page navigation
---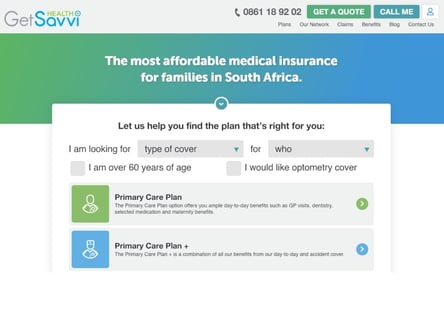 Author GetSavvi. Screenshot of GetSavvi website.


[Accessed February 7, 2023]
About GetSavvi
GetSavvi exists for all South Africans, not only for the wealthy but for the average and poor as well.
In South Africa 13.5% of our population has access to and can afford medical aid, leaving an excess of 40 million people without it and at the mercy of the state.
To combat this aperture, GetSavvi Health was established. The company aims to become one of the leaders in the primary healthcare (basic healthcare) sector, using day-to-day benefits to uplift your overall physical condition. State hospitals in South Africa carry a large burden, and GetSavvi embarks on a journey that would combat and reduce that burden, by granting members access to a network of service providers.
Let them stand for you
They believe that all industrious South Africans deserve the opportunity to have access to high-quality, yet affordable healthcare. They work to improve their products daily to enhance the lives of their clients.
When you join the GetSavvi family they promise to treat you with loads of respect and dignity, and you can rely on them to go the extra mile for you. They do the best that they can do, with their expert employees and loyal workers.
Not only do they care about you as a client but they also show interest in unemployment. Their motive behind this is that they believe in empowering the jobless. They try, not only to improve people's health but also their standard of living by creating equal job opportunities for the unemployed.
GetSavvi Services
GetSavvi Health cares about every detail of their clients, they, therefore, have put dentistry benefits in place to maintain and restructure the oral health of their clients.
At GetSavvi they are about finding affordable and effective ways to limit your expenses. With dental insurance, you will have access to a dental practitioner or therapist. With basic and emergency dentistry they include a cover of about up to R1650 per year, per family. They offer consultations with one of their Preferred Provider Network (PPN) dentists. Treatment for accidental emergencies, includes X-rays, surgical incisions, and anaesthetic extractions.
They do fillings for designated teeth, for only R1650 per annum per family, depending on the tariff codes. For only R1650 per consultation per policyholder per family per year, they offer two extractions. Also, for R1650 they provide you with one local anesthetic per family per annum per visit per policyholder.
Get what you deserve with GetSavvi Health
GetSavvi not only has dentistry benefits for their clients, but they also offer day-to-day benefits to give you a range of benefits that you can easily afford. They have Netcare 911 Emergency Services that are at your disposal 24/7. To access this emergency service, clients can contact the ambulance hotline.
Their maternity health benefit provides soon-to-be mothers with all the support, guidance, and knowledge that they need up until the delivery of the baby. They have so many other benefits you can make use of like their Funeral Benefits, Comprehensive Family Funeral Plan, 24-hour Health Advisor, preventative Benefits, and Unlimited HIV, Trauma, and Assault Counselling.
GetSavvi – Dental Insurance
Product

Dental Insurance
Comprehensive Dental cover

GetSavvi Health offers you comprehensive dental cover as a top-up within two of their options.

Network

GetSavvi has a network of health care professionals who will offer the best care possible.

Emergency

Netcare 911 offers emergency service to clients
Benefits of GetSavvi
Medical aids - GetSavvi Health has 4 different medical aid plans from hospital cover to comprehensive plans including day-to-day options.
Funeral cover - Get comprehensive funeral cover for you and your family.
Quick cover - Get covered in just 10 minutes
Need to claim - The doctor's office can claim your consultation for you. Contact the claims team on 0861 18 92 02. Email you claim to claims@getsavvi.co.za. Log into the member zone on the website and submit your claim. You can track your claim and get your pre-authorisation
---
Get dental cover with Getsavvi today
GetSavvi Dental Insurance entails no fees needed to join, full coverage for either just you and/or the whole family in less than ten minutes.
Personal details required:
Full name and Surname
Identity Document Number (or passport number)
Email address
Mobile Number
Home Number (if applicable)
Physical Address (Street Address, City, Postal Code, Province)
The application process' simple steps:
Step1: Personal details
You will need to fill in your details in the given spaces, these details being Personal, Contact, and Address details. GetSavvi ensures the safety of their client information, and their pledge can be found under their privacy policy (at the bottom of the webpage).
Step 2: Plan details
The second step is where you will be requested to choose a dental cover for you and/or your family. After you have done so, simply click on the proceed button and it will take you to the next page and step.
Step 3: Confirmation
After you submit your details and dental plan selection to GetSavvi Health you will now have to wait for a short period of time. At this point in the application process, they sort through your information, to check whether it is valid or not. After that, they will send you confirmation on the outcome of your application via their webpage, an SMS, or an Email.
Benefits of applying with GetSavvi Health
Unlimited dental consultation if you add a top-up dentistry option, to your existing plan
Basic and emergency dentistry
Affordable price per plan
Get a Quote for free
Health Advisor (available 24 hours a day)
Customer Reviews & Testimonials
"
April 2021
I went from weak, sensitive, and painful teeth to healthy, strong, white, and wholesome teeth.
Nicholson F.
— Port Elizabeth —
August 2021
I was always very worried about my twin's teeth since they eat sweets and chocolates every day, but GetSavvi took away that worry. Now I have two beautiful girls with pearly white and lively smil...
Isaacs G.
— Johannesburg —
May 2021
I have always had very weak teeth, and I would get migraines from the rotten one's causing pain. When these migraines come it would feel as if I'm dying, so in that sense, I can say that GetSavvi...
Scholtz J.
— Johannesburg —
GetSavvi Contact
Contact Number
E-Mail
Website
Physical Address
Suite 401, Tygervalley Chambers 5, 27 Willie van Schoor Ave, Tygervalley, Bellville,

Cape Town

Western Cape

7530

South Africa
---
Postal Address
PO Box 378, Cape Gate, , Cape Town, 7562, South Africa
Opening Hours
Monday

08:00 – 17:00

Tuesday

08:00 – 17:00

Wednesday

08:00 – 17:00

Thursday

08:00 – 17:00

Friday

08:00 – 17:00

Saturday

09:00 – 13:00

Sunday

– Closed