Easy insurance quote
Affordable dental cover
Streamlined dental insurance
In-page navigation
---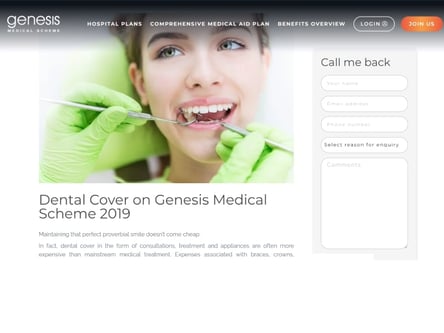 Author Genesis. Screenshot of Genesis website.


[Accessed February 7, 2023]
About Genesis
Genesis medical scheme offers a variety of medical aid products that provide affordable health care.
Genesis dental insurance is available on both the comprehensive medical aid plans, as well as the two hospital plan benefit options. Dental-related matters are never a cheap event and can be stressful and postponed when not financially an option.
Dental insurance options
To benefit from Genesis dental insurance, one can sign up for the following Genesis medical schemes:
Hospital Plans consist of Private Choice and Private.
Comprehensive medical aid plan
The Private Choice hospital plan offers a 2021 price of R1340 per main member; R1340 per adult dependent and R440 per child dependent. The Private hospital plan offers a 2021 price of R1850 per main member; R1850 per adult dependent and R530 per child dependent. The Comprehensive medical aid plan offers a 2021 price of R2640 per main member; R2640 per adult dependent and R530 per child dependent.
Genesis Services
Those who sign up with one of the Medical schemes from Genesis can enjoy the benefits of dental cover when sourced from a registered dental practitioner.
With Genesis Dental Insurance in South Africa, one can receive remarkable dental cover, as well as enjoy a broad range of dental benefits.
Dental cover benefits consist of the following:
An amount of three dental oral examinations.
An amount of six fillings.
An unlimited amount of tooth extractions.
Six plain X-rays for matters of conservative dentistry.
Two root canal treatments, exclude root canal treatment on wisdom teeth.
Any crowns, bridges or dentures, which are paid at the lower cost or Medical Aid Rate and are limited to the amount of R3 700.
The surgical removal of bony impacted wisdom teeth in the event that pathology and pain are directly associated with the wisdom teeth, up to 100% of the scheme tariff and is limited to R10,000 per case.
In-hospital extractions and fillings, which are limited to one hospital admission per beneficiary per annum.
Genesis – Dental Insurance
Product

Dental Insurance
Dental Cover Included

Genesis understands that dental work can be expensive. Most medical schemes do not include dental cover but require you to pay from your savings. Genesis has worked to change this by offering comprehensive dental cover as part of their medical aid cover.
Benefits of Genesis
Chat - You can chat to a consultant while you are on the website looking at their plans.
Brokers - for face-to-face advice and purchases you can speak to a Genesis Med Broker.
Members have access to the Genesis App as well as the portal on the website where you can track claims as well as request pre-authorisations.
---
Get affordable dental cover today
Genesis offers those looking to sign up for dental cover the option of using the online medical aid prices calculator, to work out one's monthly contributions, depending on the Genesis medical scheme selected.
Genesis further provides the option for individuals to email their relevant details to genesis@genesismedical.co.za, where a Genesis agent will make contact to further assist in calculating and quoting monthly contributions to secure dental insurance in South Africa.
Dental insurance claims
Genesis offers a quick and simple claims process where all claims are processed within 24 hours and payment is made within 30 days of receipt.
To submit a claim one can:
Scan and email a claim to Genesis at claims@genesismedical.co.za.
Submit a claim by posting or hand-delivering it to Genesis at the following address: The Terraces, 4th Floor, Black River Park, Fir Street, Observatory, 7925, or to P.O. Box 144, Observatory, 7935.
Once a claim has been submitted and approved, all service providers will be paid directly, unless a receipt is attached to a claim, in which case Genesis will refund the member directly.
From here, any Genesis members that have provided Genesis with their cell phone details will receive an SMS when a refund has been paid directly to them, or one can log in on www.genesismedical.co.za or use the Genesis smartphone app to view personal claim details.
Dental insurance application
To apply to the best private dental insurance in South Africa with Genesis, one can visit www.genesis medical.co.za to find the right medical scheme which entitles individuals to Genesis dental insurance. Alternatively, one can make use of the quick query option by completing the necessary fields of the information under the "Quick Query" box and a Genesis agent will address any concerns and make contact to provide clarity on any queries.
Best private Dental insurance
Genesis offers all members the option to choose their preferred hospital, doctor, or medical specialist when it comes to all medical scheme matters and procedures, as well as dental treatment.
A point to highlight with Genesis dental insurance is that members are not forced to seek treatment from network hospitals, nor are they forced to use a network of medical practitioners, but rather choose the option that is best suited for the individual's comfort and peace of mind.
Along with this, Genesis offers the best private dental insurance to all of its members with the additional service of access to the ER24 Emergency Contact Centre for the management of any medical emergency, which also includes a 24/7 medical helpline service for any medical-related inquiries.
Customer Reviews & Testimonials
"
September 2021
Our family have bad dental DNA and I had to get 4 teeth filled and genesis actually covered all 4 I didn't have to pay a cent.
Priya D
— Butterworth —
May 2021
Got my braces done through genesis and I'm so proud of them good by skew teeth.
Themba L
— Virginia —
Genesis Contact
Contact Number
E-Mail
Website
Physical Address
The Terraces 4th floor Black River Park Fir Street Observatory

Cape Town

Western Cape

7925

South Africa
---
Postal Address
PO Box 144 Observatory , Cape Town, 7935, South Africa
Opening Hours
Monday

08:00 – 16:00

Tuesday

08:00 – 16:00

Wednesday

08:00 – 16:00

Thursday

08:00 – 16:00

Friday

08:00 – 16:00

Saturday

– Closed

Sunday

– Closed