Medical aid for you
Quotes free of charge
Affordable premiums
In-page navigation
---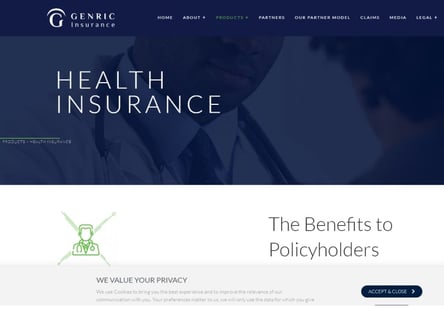 Author Genric Insurance. Screenshot of Genric Insurance website.


[Accessed February 6, 2023]
About Genric Insurance
Get health insurance you can easily afford with them.
Genric Insurance was established in 2005, with a vision to precede going forward in the healthcare industry. Focusing their attention on providing health care insurance options that meet the client's need and budget simultaneously.
The ability to provide the best Medical aid plans
Genric Insurance quality service delivery is not easy to compare, as they have the ability and the experience to capture just what is needed in the market, and cover it.
What makes them different is that they don't payout according to the ICD codes and typical percentages that medical aids use as a guideline. The amount outstanding on your invoice is the amount they will pay.
How is Genric Insurance different
You can rest assured that no matter what, they will pay for the medical care you require even if it is for long-term care cover. With their ability to adapt to the modern-day medical aid industry, they pay the provider directly, so no unnecessary stress for you. If you let Genric health Insurance cover your family, it can save you a lot of time and money in the long term.
Genric Insurance Services
Genric Insurance believes your health shouldn't suffer because of the costs involved.
Everyone, no matter what salary bracket you fall under, deserves equal rights to good health care. They offer a number of services that you will find appealing.
Medical aid gap cover
There will always be certain portions of your hospital stay, dentist, or doctor's visit that medical aid might not pay for, and that is where Genric Insurance will pay the difference for you.
They understand that the gap between what your medical aid will pay and what you have to pay can be a financial burden to you, and they are there to protect you against hopeless situations like this. Having Genric Insurance means you have all the unforeseen costs covered.
This also applies to oncology treatment cover and cancer treatments that your medical aid only pays a small portion towards.
Out-patient cover and hospital cover
These options can be beneficial to clients who have absorbed their entire medical aid savings towards doctor visits and specialist check-ups. Access a cash lump sum for the invoices you have paid towards in and out of hospital medical care.
Genric Insurance – Medical Aid
Product

Medical Aid
Gap Cover and Health Insurance

Employers and individuals can find both gap cover and health insurance quotes in one place.

Health Insurance

Genric Insurance offers both pre-made template plans as well as tailor made options at competitive prices
Benefits of Genric Insurance
Gap cover - 4 plans to choose from which cover shortfall cover for day to day specialists and a benefit that can be paid straight into your bank account.
Pet cover - Genric offers 5 different pet cover plans to help you insure your furry friends
Any insurance you can think of - Genric Insurance offers niche insurances in the market. If you can think of it they insure it. From marine insurance to gadget insurance.
---
We offer health insurance benefits which add real value
Genric Insurance has extensive experience in the field, their underwriters are also a group of highly knowledgeable experts that work together to provide the very best medical aid gap insurance to South Africans.
They have short-term insurance options investing in your livelihood, from your health and wellbeing in mind at all times. They continue to add value to clients' lives by taking an in-depth view of the risk factors involved in the potential circumstances that could affect you and your family.
A revolutionary insurance platform
With years of an in-depth investigation into health and care management, Genric Insurance derived at a point where they were able to provide health insurance for clients that attended to their needs and their budget. With Genric Insurance business partners, created a revolutionary health insurance platform.
Health insurance cover that meets your needs
Access high-quality health care cover that will meet your needs in every way, designed with the South African market at heart. You can get your cover by speaking to an experienced consultant either by telephone or conveniently leaving them a message through email, you can also request them to call you back to discuss your needs, budget, and health status.
Leveraging world-class technology
These days the online world of insurance and technology is continuously making life easier. They thought of doing the same with their health insurance cover. Genric Insurance website provides a world of information on their products, and their team is just a phone call away from getting you covered.
The role of Health insurance
Health insurance offers clients the opportunity to claim back the cash they spend on medical bills, be it day-to-day payments, or even long-term hospital stays and this is all a medical aid quote away.
You may think you are healthy and invincible at times, but somewhere along the line, you will need to see a doctor, dentist, and specialist or even have a procedure or surgery done in a hospital.
Keeping your budget healthy too
The price you pay for good medical care can really take a knock on your budget, so they thought of creating a cover that didn't exceed your budget. With minimal premiums on a monthly basis, you can afford to pay for that medical care, and know you will get your money back.
Added benefits when you choose Genric Insurance
Enjoy a list of additional benefits to your cover, these are stipulated in their services. These also include the cover of co-payments when your medical aid won't cover the entire bill, gap cover, and much more.
Don't let your health suffer because of the costs involved. Now you and your entire family can get whatever treatment they need to be in tip-top health with Genric Health Insurance cover - apply for an online insurance quote today.
Customer Reviews & Testimonials
"
October 2021
They are great at paying out claims, a very trustworthy and reliable company.
Julius. Z
— Durban —
November 2021
A health insurance provider you can trust with your life, they are also extremely informative and experienced in the field.
Daan. V
— Johannesburg —
January 2021
An insurer that cares about their customers by protecting their health and finances. I have been a happy client for 5 years now and I highly recommend them to anyone.
Mary. J
— Pretoria —
Genric Insurance Contact
Contact Number
E-Mail
Website
Physical Address
Corporate Park, Block B, Western Entrance Lynnwood, 36 Alkantrant Rd, Lynnwood Ridge,

Pretoria

Gauteng

1682

South Africa
---
Postal Address
P O Box 1115, Bromhof, 2154, South Africa
Opening Hours
Monday

08:00 – 17:00

Tuesday

08:00 – 17:00

Wednesday

08:00 – 17:00

Thursday

08:00 – 17:00

Friday

08:00 – 17:00

Saturday

– Closed

Sunday

– Closed