Low budget medical aid
Variety of premiums
Easy online application
In-page navigation
---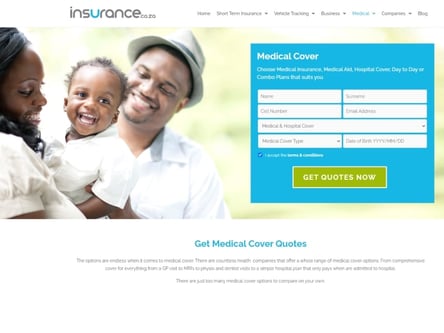 Author Insurance co za. Screenshot of Insurance co za website.


[Accessed February 6, 2023]
About Insurance co za
A quick and easy tool to guide you through all of it? Then let's get you started.
In a demanding world where time has become a bit of a luxury, Insurance.co.za speeds up the process of hunting for the perfect medical aid cover to fit your budget and give you peace of mind knowing you are covered as desired.
Insurance.co.za is the leading provider assisting with quotations covering you and your loved ones. Insurance.co.za has built a portfolio of trustworthy medical aids, Insurance companies, and various other medical providers and insurers to cover all of their clients' medical wants and needs.
Insurance.co.za has also developed extra benefits to include into your registration package through their company. Don't let these words tell you though- fill in a quick summary of your details, tell Insurance.co.za what you are looking for and let them get straight back to you. The hassle and tedious task of searching for the right cover has ended here; they have got you covered by getting you covered.
Insurance co za Services
Insurance.co.za puts you in touch with professional and well-known companies throughout South Africa.
It brings you details regarding medical aids, medical insurance, in and out of hospital cover, day to day benefits, health event life plans, gap cover, dental cover, personal accident plans, combination plans and so much more.
Still not sold by what you have read so far? Have a look at their below inclusive benefits when registering through their company:
How about up to 30% saved through them with In and Out of Hospital plans.
Affordable premiums they look at for you to fit your budget.
Over-the-phone registration and quick comparisons for you to browse through.
ADDITIONAL perks with Leisure, Travel, and Wellness discounts for staying healthy.
AND who doesn't like a bit of extra cash at the end of the month R 300.00 will be given back to you per month for staying healthy.
Insurance co za – Medical Aid
Product

Medical Aid
Multiple quotes

Insurance.co.za has partnered with various companies to offer a wide variety of medical insurance options all in one place.

Various options available

Insurance.co.za offers you the opportunity to get quotes for not only comprehensive medical aid but also for gap cover and everything in between.

Savings

You can save up to 30% on your in hospital or day to day medical expenses.
Benefits of Insurance co za
Short term insurance includes home, car, bicycle, motor warranty and cell phone insurance to cover you in the event of loss or damage. it is vital to insure your valuables so that you are able to replace them when needed.
Business insurance - you work very diligently to build up your business. Make sure that you have the correct cover in case of an unforeseen event. Insurance.co.za have partnered with the best providers in order to give you a range of different options to suit every kind of business in SA.
Life cover - Insurance.co.za allows you to get quotes for life insurance, death cover, critical illness and disability as well as funeral cover. This cover allows you to protect your family.
---
Get medical aid now
How about some of their renowned partners to give you that extra bit of security in your mind: Hippo. co.za; Flexicare.co.za; Elixi.co.za; Bloom.co.za; GetSavvi.co.za; EssentialMed.co.za amongst many more.
Insurance.co.za wants you to become another happy and satisfied customer through continuously striving to provide the best customer service but most importantly customer CARE. Their friendly consultants will provide you with fast and reliable answers and assist with any of your concerns or queries.
Insurance.co.za the process:
Simple to navigate website, no obligations when being contacted and having to register, quick and easy registration when you are ready or if you are ready. Hop on over to the "Medical" tab onto their easy to navigate website- www.insurance.co.za
Fill in a few details required to get you started; the type of cover you are looking for and click "Get Quotes Now". Their friendly and professional consultants will call you back to provide you with options that best suit your wants and needs. OR give them a call on 087 350 1795 and if you want assistance with a few different insurances and/or medical aid options you can select "Contact Us" and fill in details for - yes, you guessed it right- their consultants to get back to you.
Not only have they got you covered on the medical side; they also have you sorted on short term insurance, Business Insurance, Life Insurance, and Funeral Cover. You really have landed on the right site for all your personal and work life cover needs. Have a click around and get the lifestyle you deserve today.
Customer Reviews & Testimonials
"
January 2020
Cheap and affordable premiums and they cover 30% of your hospital bill if you need to be admitted! You literally save 1000's.
Morgan O
— Nelspruit —
April 2021
Kids and Dr's can become expensive best to get covered now.
Lerisha M
— Knysna —
Insurance co za Contact
Contact Number
E-Mail
Website
Physical Address
6 Louise Terrace 12th Avenue, Rivonia, Sandton,

Johannesburg

Gauteng

2129

South Africa