Nedgroup Medical Aid Scheme
Preferred medical aid
Always available
Free online quotes
In-page navigation
---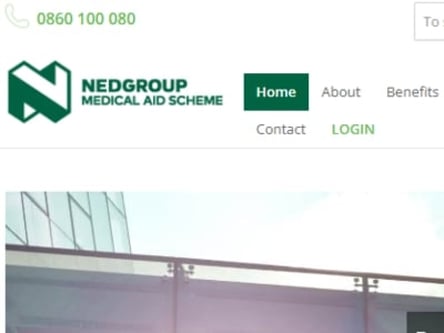 Author Nedgroup Medical Aid Scheme. Screenshot of Nedgroup Medical Aid Scheme website.


[Accessed February 6, 2023]
About Nedgroup Medical Aid Scheme
The NMAS or Nedbank Medical Aid Scheme is a medical aid that is strictly closed off to Nedbank or Old Mutual employees.
The medical aid is a requirement in any Nedbank or Old Mutual employees contract, if you are a beneficiary on a spouse's medical aid you may be voided from the requirement to join NMAS. If you are retired you may also continue to use the benefits from the NMAS this also applies to widows and widowers of an employee and can apply for the continuation scheme to allow each person who was formerly a dependent to continue using NMAS.
Benefits
PMB's
Due to the Medical Schemes Act No. 131 of 1998, Nedbank along with any other medical aid scheme is entitled to provide a set of minimum prescribed benefits. They are a set of health services that anyone can have access to regardless of the type of plan you are on.
0Nedbank's PMB's are such that if you follow their correct guidelines it can see to any:
Emergency medical conditions
270 diagnostic treatment pairs
26 chronic conditions
Nedgroup Medical Aid Scheme Services
These are also otherwise known as day-to-day benefits, they fall under this category due to the fact that they may be a more frequent health requirement such as dentist appointments, doctor visits and prescribed meds and possibly contraceptives.
They also fall under "Everyday Services" as they are benefits you receive "out of hospital" or before you are admitted to hospital, only then do different benefits apply. This also applies if they are follow-up services after you have been discharged from the hospital or an outpatient.
Hospital & Trauma
These medical expenses are incurred when going for specialist services or into doctors' rooms for things such as surgeries. Nedbank gives all members regardless of plan the Hospital & Trauma rates at the Medical Scheme Rate, subject to sub-limits per plan.
Services that are covered are:
Bone marrow biopsy
Colonoscopy
Vasectomy
Stitching of wounds
The list does go on, but there are many more doctors' room services that Nedbank covers as part of the Hospital & Trauma Benefits.
Nedgroup Medical Aid Scheme – Medical Aid
Product

Medical Aid
contribution calculator

Simply go online and fill in the information to see what your contributions will be

Ask a nurse

You have the option to call ER24 to speak to a qualified nurse and receive medical advice
Benefits of Nedgroup Medical Aid Scheme
Chronic medication is covered by your medical cover. You can go to the pharmacy and ask them to claim your medication from your medical aid.
Maternity - From your GP visits to your hospital stay when giving birth will be covered by your medical aid
Managed care program offers you the opportunity to partner with your medical aid to manage your chronic illness
---
Get health cover from NMAS today.
Often enough, if medical tests are done early enough in one's life, one would be able to single out any health conditions and better prepare for a change in lifestyle to improve one's life. Nedbank and its network of pharmacies offer health screenings as part of your plans.
At your screening a qualified nurse will be able to check :
Blood sugar
Blood pressure
Cholesterol levels
Body Mass Index
Body measurements (height, weight & waist circumference.
Nedbank will also help in giving the best advice from professionals to help you on your journey to staying or becoming healthier. This account exists on a member's medical aid. It works by allocating a certain percentage of a member's contribution to a separate account and is paid out each month. Each member's savings fund is made available upfront at the beginning of each year for each member to use.
The savings fund can be used for Everyday Services on both the Savings & Comprehensive plans. And can also be used to cover the difference between the actual cost of any service and the Medical Scheme Rate.
NMAS Plans
Each plan available to each employee will depend on multiple things. The income level of a member also ties into the amount a member can afford to contribute, the personal health needs and the health needs of the beneficiaries.
There are 4 different plans (ranging from least to most expensive) :
Savings
Traditional
Comprehensive
Platinum
Savings plan
The savings plan which is the cheapest option starts at R2 231 per member, it also includes a 23.1% allocation to their PMSA. With this plan, all benefits are covered from the savings account and non-PMB from a set limit with unlimited PMB. This plan is perfect for flexibility and a family being okay with benefits being covered from the savings account.
Traditional plan
This medical aid plan is described as being one for medium health care needs. It covers listed benefits up to a pre-set sub-limit and covers non-PMB from a set benefit limit, and like every other plan covers unlimited PMB conditions.
Comprehensive plan
This plan is generally for higher healthcare needs, such as chronic conditions. The savings plan is more flexible to help with everyday benefits. It covers certain benefits directly from the savings plan, unlimited PMB benefits as is the case with all plans and approved non-PMB from a set benefit limit.
Platinum plan
This plan is generally for families with a higher income level, and for those who require the best medical assistance for everyday benefits. The plan covers up to 3x Medical Scheme rate along with the highest level of benefits. It covers PMB and approved non-PMB from a set benefit limit and according to the site it will then cover Routine Medical Benefits with unlimited PMB.
Customer Reviews & Testimonials
"
January 2021
I have a lot of general health problems and i must say I haven't found another medical aid that covers everything I need for the price I pay by them, totally worth it.
Natasha V
— Namibia —
November 2020
I am on their medical aid plan even since I've retired, I can afford them with my low income every month they just make me rest better at night knowing at my age I need a lot of medical assistanc...
Anderson C
— Hartenbos —
April 2021
They walk through your whole hospital journey with you and even after you are discharged they still got your back with out patient costs and visits they are by all means the best medical cover t...
Janika L
— Pietermaritzburg —
Nedgroup Medical Aid Scheme Contact
Contact Number
E-Mail
Website
Physical Address
7th Floor, 57 Heerengracht St, Cape Town City Centre,

Cape Town

Western Cape

8001

South Africa
---
Postal Address
PO Box 174 Vereeniging , Cape Town, 1930, Western Cape