CompliMed Health Insurance
Medical aid for all
No medical exams
Affordable cover for you
In-page navigation
---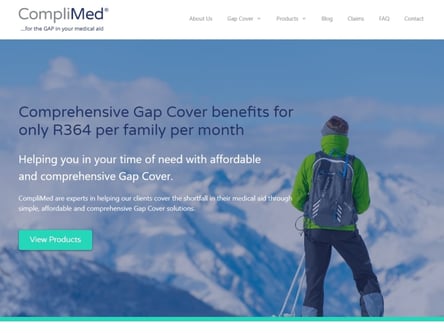 Author CompliMed Health Insurance. Screenshot of CompliMed Health Insurance website.


[Accessed February 6, 2023]
About CompliMed Health Insurance
Have you ever been in a situation where your medical aid did not cover all the medical costs? CompliMed has the right medical insurance to fill the gaps for you.
They have been assisting thousands of South Africans with competitively priced medical insurance or medical aid gap cover since 2003 when they saw the specific need for this type of cover in the country.
The cost of medical care in South Africa
The cost of health care in this country is rising by the day, and being able to afford the necessary treatments and day-to-day consults can weigh heavy on your pocket, especially if you need to be hospitalized.
Medical aid gap cover
Through years of being in the industry, they were able to identify the needs of their clients and came up with a medical insurance cover that pays out a lump sum amount, which can be used to cover the gap that is missed when using medical aid.
Highly qualified and experienced CompliMed health insurance consultants are ready to assist you with medical aid quotes, queries you may have, and applications that you would like to be processed in order to get the health insurance they need.
CompliMed Health Insurance Services
CompliMed Health Insurance can help you to fill the financial gaps when your medical aid paid only a portion of your medical or hospital bill, leaving you to take care of the rest of the owed amount. CompliMed has the solution.
They have several unique benefits including:
When you are admitted to the hospital, they can help you cover doctor or specialist visits and in-hospital charges.
An enhanced cover of 500% over and above your medical aid, they often see most medical aids only pay a certain percentage due to doctor rates and ICD tariffs, this is when their insurance cover takes care of the balance
They cover a host of specialist procedures out of a hospital or as an outpatient
They pay towards cancer treatments specified in the terms of the contract.
They pay for renal disease treatment over the medical aid rates.
They can reimburse you for the money you paid towards a required medical aid co-payment.
If you're looking to protect yourself from excessive medical bills that your ordinary cover doesn't include then it's time to get an online insurance quote from CompliMed Health Insurance. This health insurance cover will also enable you to claim back any fees you paid towards other medical, doctor, or specialist bills.
CompliMed Health Insurance – Medical Aid
Product

Medical Aid
Leaders in Gap Cover

CompliMed is a leader in providing gap cover to cover the shortfall from your medical aid provider.

Price

Get comprehensive gap cover from as little as R323 per month

Benefits

CompliMed offers in and out of hospital benefits for not only medical procedures but also dental. As well as other benefits such as travel insurance and Gap Premium waiver.
Benefits of CompliMed Health Insurance
Extended family can be added to your gap cover at a per person rate. The rate is dependent on the age of the person you are adding. This makes it quick and easy to cover all your loved ones.
Group gap cover allows you, as an employer, to offer your employees peace of mind. Many employees neglect this kind of cover because they feel that they can not afford it. By providing this gap cover as part of their package you are making sure that they are able to recover without the financial burden.
Easy quote for group gap cover - simply go online and fill in the form to receive a quote on the group gap cover. There is a simple spreadsheet to show the ages of your employees that you can attach to the form for an accurate quote.
---
CompliMed covers those expensive gaps in your Medical aid
CompliMed Health Insurance makes claiming your health insurance easy and hassle-free. They have easy-to-use online methods for you to assist when you claim, this allows for optimum speed and convenience.
Fill your Medical aid gap in no time
To get the benefits of their gap cover, you can follow a few simple instructions to get your claim covered. Simply complete the claim form, sign and attach a copy of your hospital bill.
If you have any accounts from your specialist and doctors, attach those with the completed documents. Email this complete set of claim documents to claims@ambledown.co.za or fax to 011 463 1600. Your claim will then be processed in a speedy and smooth manner, ensuring that you receive the required gap cover.
In order to ensure your claims are paid in due time, they advise clients to take a responsible approach in submitting their documents within 6 months of the hospitalization date. Once they've received your claim, it will typically only take them less than 14 days to process your payment.
How Medical aid gap cover works
Often medical aid cover only covers portions of payment in line with the ICD codes and tariffs, according to the medical procedures and doctor billing processes. This is where medical aid gap cover comes into place, by covering the gap.
This often results in a gap payment where the medical aid will not cover a portion of the hospital or treatment bill.
CompliMed Health Insurance believes in always having a financial backup plan for all the unforeseen medical costs that might not be covered by your medical aid, and this is what they are there for, providing financial relief to thousands of people that found themselves in hopeless situations.
Going without this cover is risky, get a quote online from their website in just a few clicks.
Always striving to grow and improve
When it comes to health, supporting South Africans financially is CompliMed Health Insurance's main goal and they work hard to continuously find better and more innovative ways to do this. Learning through surveys, compliments, and complaints on what their clients need, and how to improve or create a service that meets those needs.
Access a wide range of cover with CompliMed including medical insurance, disability, and life cover. Take the proactive approach and look after your health with CompliMed Health Insurance, today!
Customer Reviews & Testimonials
"
March 2021
It is so great to know that no matter what happens me and my family won't struggle to pay for any outstanding medical bills or land in a life-or-death situation due to not having funds to pay for...
Eland. K
— Durban —
July 2021
They are so thorough and truly care about their clients, the consultant I spoke to explained everything to me in easy-to-understand English.
Magda. S
— Durban —
August 2021
So happy with their impeccable service and they are fast with paying out claims as well.
Mpho. M
— Port Elizabeth —
CompliMed Health Insurance Contact
Contact Number
E-Mail
Website
Physical Address
Pinnacle Park, 25, Dawood Cl,

Dolphin Coast

KwaZulu-Natal

4301

South Africa
---
Postal Address
PO Box 658, Pinetown, 3600, South Africa
Opening Hours
Monday

08:00 – 16:30

Tuesday

08:00 – 16:30

Wednesday

08:00 – 16:30

Thursday

08:00 – 16:30

Friday

08:00 – 16:30

Saturday

– Closed

Sunday

– Closed