Compare medical aids
Flexible cover
No hidden costs
In-page navigation
---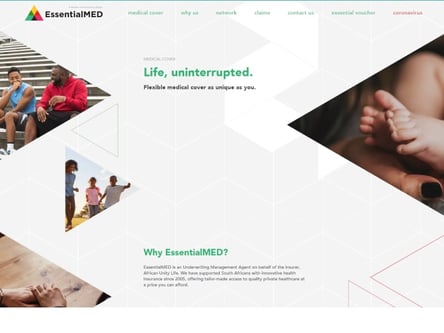 Author Essential Med Health. Screenshot of Essential Med Health website.


[Accessed February 6, 2023]
About Essential Med Health
Essential Med is a medical aid cover that pays for the essential medical costs that people endure in life. Being a health and medical specialist team, they know better than anyone, what costs are involved in the road to staying healthy.
Essential Medical aid covers healthy living
A simple doctor visit can cost you large sums of money, imagine finding yourself in a situation where you need to see a specialist, or you need surgery. Do not put off good health because you can't afford the consultation fee of the doctor or hospital fee.
With Essential Med, this is a thought of the past. They have created a medical insurance plan that will cover those costs, so you can afford to stay healthy.
The best Medical aid that is affordable
They take their time to research and investigate the needs of their clients and use the outcomes to create the best medical aid insurance solution. They look at both affordability as well as practicality.
Benefits for you by your Medical aid quote
They don't offer you benefits that you can't use. By looking at where you live, what resources are available to you, and the best medical aid solution that custom fits you like a glove.
With you every step of the way
Regardless of how healthy or sickly you are, they have you covered for every cycle of your medical journey. They do not, however, offer long-term care insurance or dental cover for extensive dental work.
Essential Med Health Services
Essential Med offers clients the option of two exceptional health insurance covers. Their clients also have the option of combining the two medical aid plans to create an insurance cover that meets all their needs.
Hospital cover with Medical aid savings account
They will provide you with a medical savings account at a minimal premium monthly, to utilize on hospital cover. More and more frequently, clients are under the knife for a procedure that was either put off for months or an emergency procedure. This is why having this option is ideal because in situations like that you are not put under financial strain.
If you are admitted to the hospital for any procedure that requires you to spend more than 24 hours in a hospital, they will cover everything that happens thereafter. The blood test, medications, doctor visits, surgery, and everything else that occurs during your hospital stay, will be covered from your Essential Med hospital plan.
Day-to-day Medical aid cover
This plan covers your;
Doctor visits.
Pharmacy bills.
Dentist visits.
Physio.
There will be a limit that is placed on your medical aid as per the terms of the policy you have taken.
Essential Med Health – Medical Aid
Product

Medical Aid
Your choice

Essential Med Health allows you to tailor make your plan to your needs and budget.

Options

You can choose from day-to-day cover including GP visits, dentistry and optometry. You can cover hospitilisation for your family and accidents and emergencies.

Networks

Essential Med Health has a comprehensive network of world class health care providers for you to choose from. By using the network doctors and hospitals you are afforded the best care by the best providers
Benefits of Essential Med Health
Group cover - Essential Med Health can help you with quality, tailor-made affordable cover for your employees.
Added benefits - you can add illness hospitalisation to cover illness not covered in the emergency cover. ICU benefits and maternity benefits can also be added to the hospital benefits. Dread, disability and funeral covers can also be added to your portfolio.
Essential Voucher Program is a savings plan you can use to redeem vouchers for any Pick and Pay store. Each month there will be different savings vouchers available to give you more savings on your usual purchases at the store.
How to use your essential voucher - simply register on the Essential Med mobi site. You can then view all the vouchers available but you may only redeem one voucher at a time. Select the voucher you want and show it to the cashier at check out.
---
Offering tailored Medical aid and hospital plans
They will issue you with a list of preferred specialists who work in line with their medical aid cover. This is to ensure payment is made directly to the specialist and not out of your pocket.
Offering tailored Medical aid and hospital plans
Essential Med Hospital Plan health insurance offers clients in South Africa, medical aid cover that covers you every day be it with your daily expenses or hospital cover.
Medical aid cover with unique offerings
With a unique offering, clients can access their medical aid cover through a simple step-by-step application, and before long, get their entire family covered for all the medical care they need to stay in tip-top shape.
Understanding your medical needs
They work in line with the hospital medical rates, and doctor codes, allowing your payments to be made in full and leaving you happier and healthier, not having to worry about the payment of your treatments. They know how quickly an accident can occur.
You can try your best to stay healthy and active but unforeseen situations like being involved in a car accident or needing surgery due to a medical complication. You can trust Essential Med to ensure that all your costs are covered because they understand that life is unpredictable.
Get private care and treatment from your Medical aid
Clients need not wait hours or days to be seen in a government medical facility, they allow you to get the preferred treatment from the private hospital where you can be seen and assisted by medical professionals. They understand that there isn't a medical aid or insurance cover that's generic and fits every home or family. We know that everyone needs and requires a specific cover that sees to all their needs.
Tailored insurance options
This is why they will tailor a health insurance solution that meets your customized needs. With day-to-day medical benefits, they cover everything from doctor consultation, to prescription medication from the pharmacy.
Keeping healthy doesn't always happen in hospitals.
They are aware that there may be times when you just need to visit the doctor, dentist, or any other medical practice. For times like these, you can use your Essential Medical health cover to ensure you get those day-to-day benefits.
Customer Reviews & Testimonials
"
January 2021
They were so quick with assisting me to find the best plan that suits all my needs.
Shane D.
— Cape Town —
April 2021
I needed an operation unexpectedly and the hospital plan was indeed a great financial help to me and my family.
Ayanda Z.
— Port Elizabeth —
May 2021
I suffer a lot from allergies and need to see a doctor regularly, my day-to-day funds are very handy in that situation.
Lunga M
— Durban —
Essential Med Health Contact
Contact Number
E-Mail
Website
Physical Address
Crossfire Place, 15 Gardner Williams Ave, Paardevlei, Somerset West

Cape Town

Western Cape

7130

South Africa
Opening Hours
Monday

08:00 – 17:00

Tuesday

08:00 – 17:00

Wednesday

08:00 – 17:00

Thursday

08:00 – 17:00

Friday

08:00 – 16:00

Saturday

– Closed

Sunday

– Closed