Medical aid for travelers
Affordable premiums
Quick online access
In-page navigation
---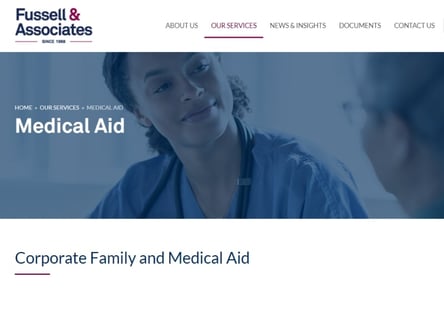 Author Fussell & Associates. Screenshot of Fussell & Associates website.


[Accessed February 6, 2023]
About Fussell & Associates
Fussell and Associates, founded in 1968, has from the outset created an agency that promised and introduced first-class products and services to the South African market, that its clients depend on.
A service-focused enterprise
Today, Fussell and Associates is a service-oriented business enterprise offering clients an extensive variety of products in diverse fields of coverage such as employee benefits, term insurance, medical aid, and personal financial planning.
The divisions are in constant verbal exchange, and despite the fact that they offer medical aid as a one-of-a-kind offering, they acquire an interactive synergy.
Excellent service delivery you can rely on
Staff onboard their team are selected from particular levels of experience and must have a passion for the financial and medical aid industry. They believe that the right people for the job always create a better build-up of a company and in turn, better service for its clients.
Fussell & Associates is unanimous in its quest to provide customers unparalleled personal service that they need and want, in a medical aid provider of choice.
Fussell & Associates Services
Fussell and Associates will help you make the right medical aid decisions.
Medical Aid plans are an incredibly specialised area and the variety of clinical and medical aid covers and insurance alternatives in South Africa are daunting for organizations, individuals, and families alike.
Medical aid plans that are affordable
Fussell & Associates have made the search for medical aid plans to cover your health a lot easier, and more affordable than ever before. Their experts will provide the expertise and guidance to ensure that clients receive service options that meet their needs every time.
Medical aid quotes at a peak of efficiency
Fussell & Associates medical aid plans offer the convenience of a group of experienced specialists who offer invaluable services of the highest calibre for clients. You get medical aid plans solutions with amazing value and benefits.
Fussell & Associates – Medical Aid
Product

Medical Aid
Why Fussell?

There is a whole world of medical aids to choose from. Fussell will to take the guess work out of it. Their consultants will evaluate your needs and suggest the best solutions.

Medical Benefits for your employees

If you are a business owner then Fussell can help you choose cover that will help your employees stay safe and something that will fit within your company's budget parameters
Benefits of Fussell & Associates
Day to day benefits - Get advice on medical aids with day-to-day benefits for your family
Employee training - if you let Fussell consult with you on medical aid for your company, they will come in and explain the benefits and costs to your workforce. They will also help educate all your employees on the best way to stay safe.
Financial planning - Let Fussell help you to make the best decisions for your financial future. They can assist with wills and estate planning. Give you investment advice. And assist with retirement planning.
Insurance - you can add business commercial or domestic and motor insurance to your portfolio
---
Affordable Medical aid for you
Fussell & Associates staff will always add value to your medical aid cover, by offering guided assistance with any queries you have as well as supporting you through your claiming process, with proactive ability and efficiency.
They provide annual reviews on your medical aid plans policy to ensure you are receiving the best service throughout your medical aid cover at all times.
Independent advice for the best Medical aid
Clients get a range of medical aid options that meet their needs, as well as what their budget can afford. They offer advice and assistance throughout your partnership with them. Enjoy getting that personal service you require, especially when it comes to a sensitive industry such as medical aid.
Expert knowledge of Medical aids on offer
Experience in the medical aid industry is their strong point. Being on top of the laws, service offerings, and where they can add value to their clients' lives is what they do best. With them, you can access a range of value-added services including life insurance and legal cover.
Fussell & Associates uses the latest innovation through technology that enhances its clients' lives. This speeds up all processes, making claiming and application of your medical aid plan much quicker through enabled platforms.
Service excellence is key
Clients can expect a service delivery of the highest quality. Fussell & Associates use experience and passion for people as its strong point in the industry. With honesty, their clients get the truth, and a transparent policy that has no hidden agenda.
Their professionalism stands out in the medical aid world, which is the first thing their clients notice when putting their health in their hands. Fussell & Associates offers a medical aid cover that will take care of your financial needs when it comes to medical aid.
Medical aid for the whole family
They provide medical aid cover that covers you and your spouse, as well as your children for those medical bills that can take a nasty knock on your budget. They understand the cost of staying healthy, and they know how a medical emergency can come up in an instant.
Be secure, be financially savvy, and get the medical aid cover you need to protect your family in case of medical emergencies by getting a medical aid quote today.
Keeping you in the Loop
Fussell & Associates keeps you updated with all the latest news and useful information that may be beneficial to you and your family and also offer medical aid quotes.
Their staff is experienced in handling your medical aid requirements, as they continuously support workshops and training to keep them up to date with the latest and newest interventions in the medical aid world.
Customer Reviews & Testimonials
"
January 2021
They get things done the right, easy and fast way. I have been a client for years now and they are always ready to assist and go over and above for their clients.
Sarah. L
— Johannesburg —
January 2021
They helped me with a great value for money medical aid plan at a very reasonable price. I am also very pleased with their service delivery.
Pitso. R
— Pretoria —
May 2021
Their staff are on point with their knowledge in the medical aid field and always ready to answer whatever questions or concerns I have, honestly and professionally.
Jack. G
— Johannesburg —
Fussell & Associates Contact
Contact Number
E-Mail
Website
Physical Address
48 Atholl-Oaklands Rd, Melrose North

Johannesburg

Gauteng

2196

South Africa
---
Postal Address
PO Box 48, Melrose Arch, , Johannesburg, 2076, South Africa
Opening Hours
Monday

08:00 – 17:00

Tuesday

08:00 – 17:00

Wednesday

08:00 – 17:00

Thursday

08:00 – 17:00

Friday

08:00 – 17:00

Saturday

– Closed

Sunday

– Closed