Fast cover medical aid
No hassle application
Premiums just for you
In-page navigation
---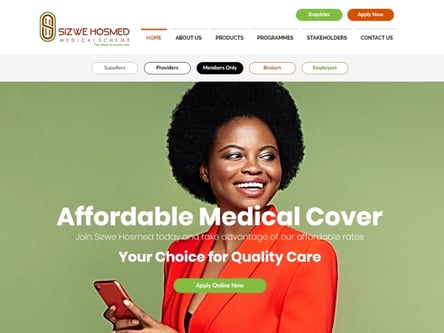 Author Sizwe Hosmed. Screenshot of Sizwe Hosmed website.


[Accessed February 6, 2023]
About Sizwe Hosmed
Sizwe Medical Fund merged with Mosmed Medical Scheme and formed what is today known as Sizwe Hosmed Medical Scheme – a medical aid fund that is now the 8th largest in South Africa.
The merger brought together Sizwe's 47,000 members and Hosmed's 21,000 members to create a more stable, financially viable, and thriving scheme. Some of their large corporate clients include Ford, Johannesburg Water, PikiTup, City Power, The City of Johannesburg, and Salga.
The story behind Sizwe
Sizwe was born out of a need to make healthcare accessible to the underserved population of the country. Led by the South African Medical Discussions Group, and led by Dr. Motlana, Kwacha Group was registered with 38 shareholders. After R3 million was raised the medical scheme was registered and later the name was changed to Sizwe Medical Fund.
The scheme's first members were from the Barlow Rand Group, Iscor, PUTCO, and a handful of steel, mining, and motor industry workers.
The story behind Hosmed
Hosmed's journey began in 1988 in an effort to provide civil employees with the access to healthcare that they desperately need. While they serve both the public and private sectors today. In 1998 Hosmed was registered as an open medical aid scheme and from there on served their members for more than 20 years with dedication and service excellence.
The incredible results of the merger
In addition to the financial benefits of the merger (such as the lowering of membership expenses and less volatility), it has also ensured a greater range of cover options for members to choose from, increased benefits, and an increase in distribution channels.
New plans for all members
As part of the merger strategy, Sizwe Hosmed has merged their products and all existing, as well as new members, must select their desired plan. All their new plans are listed on their website as well as in their complete product brochure and all benefits, as well as costs, have been listed.
Sizwe Hosmed Services
Sizwe Hosmed now offers 11 plans that range from the cost comprehensive which is their Titanium Executive Plan to their Essential Copper Plans which offer the most affordable basic cover.
All plans cover the Statutory Prescribed Minimum Benefits and all benefits are payable in South African Rands, subject to approval from Sizwe Hosmed.
The Titanium Executive and Plus plans
Both these plans offer no overall annual limit for in-hospital benefits with a host of out-of-hospital benefits (limited on the Plus plan) such as radiology, pathology, and medication. The Titanium Plus plan includes GP, Specialist, and Physiotherapy out-of-hospital benefits.
The Platinum Enhanced and Platinum Enhanced
These two plans were designed to offer members comprehensive life cover for families and with the EDO option access to discounted care from their provider network. With the EDO option, there is also a co-payment required for all use of non-DSP providers.
The Value and Value Core options
These two options are ideal for families looking for a comprehensive cover that also offers discounts for using the available provider networks. Primary members will pay R10,300 per year and R21,750 for the main member and one dependent.
Gold Ascend and Gold Ascend EDO
These plans will cost only R6,556 per year for the main member and R9,709 for the main member plus a dependent. On the EDO plan, there is a co-payment for use of non-DSP providers.
The Access saver
25% or 15% (as selected) of contributions for Access Saver members will go to their personal medical savings account. This option ranges from R4,056 to R7,668 per month for the main member.
Silver hospital
This is the only hospital plan available from Sizwe Hosmed and therefore has no out-of-hospital benefits but covers in-hospital care up to the specified limits.
Sizwe Hosmed – Medical Aid
Product

Medical Aid
A wealth of different options

Sizwe Hosmed has many different options for you to choose from. You can compare them side by side and choose the best cover for you that suits your budget.

Brokers

If you would like to speak to a consultant who can give you advice on which option would suit you best you can contact a broker.
Benefits of Sizwe Hosmed
Employers - Sizwe Hosmed offers you, as an employer, the opportunity to assist your employees in getting medical cover.
Network options - Sizwe Hosmed has a large network of medical providers who will give you the best care at the best possible prices.
Hospital and comprehensive cover - You can be sure that you will be covered for both day-to-day medical care as well as emergency hospital care and needed procedures.
---
Choose the right cover for you today
Sizwe Hosmed is ready to break down their plans and help you identify which plan is best suited for your income level and healthcare needs.
They're not only dedicated to serving their members with patience, understanding, and expertise but they're dedicated to growing the scheme and making sure that members benefit from the increased financial stability and the increasing number of benefits.
If you're looking for an affordable, reliable medical aid scheme that you can join today, Sizwe Hosmed is ready to have you on board!
The prescribed penalties for late-joiners
If you or any of your dependents over the age of 35 were not on a medical aid plan for a certain period of time, a late joiner penalty will be applied as per the below.
1 to 4 years - .05 x the prescribed rate
5 to 14 years - .25 x the prescribed rate
15 to 24 years - .50 x the prescribed rate
25 years or more - .75 x the prescribed rate
The Essential copper
All out-of-hospital and in-hospital benefits are limited to the statutory prescribed minimum benefits and contributions per member per month will be calculated based on your monthly income.
Need support
Whether you're looking to contact Sizwe Hosmed to help you with a question or you'd like a medical aid quote – you can contact them via their toll-free number or send them an email.
There is also a contact form available on their website that you can complete should you want a consultant to get back to you. Their consultants will ensure you get the assistance that you need with ease, speed, and the empathy that we all deserve.
Sizwe Hosmed's bright future
As a result of the merger of Sizwe and Hosmed, both staff and members can look forward to many positive, exciting changes which will continue to take place. From a new logo and a new set of medical aid plans to a more unified, balanced, and stable scheme, you can look forward to a bright future with Sizwe Hosmed.
Stay up to date with the latest health news
Sizwe Hosmed offers you easy access to the latest and most important health-related news on their website. From medical aid scheme updates and information to advice on health, diet, and exercise.
Customer Reviews & Testimonials
"
December 2020
Their copper plan is very affordable and anyone who is receiving an income can afford it, it makes life easier.
Kaya F
— Newcastle —
April 2021
This is really the cheapest medical aid to get with great benefits and they have such a big variety of covers.
Amanda H
— Stutterheim —
September 2021
They help you choose the right plan for you and adjust as you want it. I'm happy I chose to get medical aid by them.
Uche X
— Umlazi —
Sizwe Hosmed Contact
Contact Number
E-Mail
Website
Physical Address
3 Victoria Link, Tshwane,

Johannesburg

Gauteng

0045

South Africa