Flexible medical aid
Get an online quote
Easily compare different options
In-page navigation
---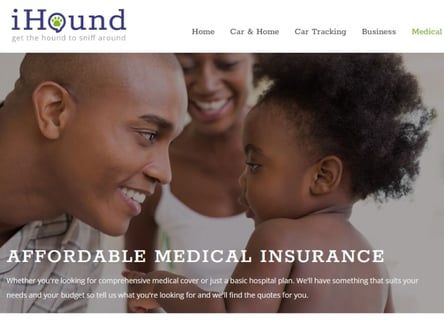 Author Insurance Hound. Screenshot of Insurance Hound website.


[Accessed February 6, 2023]
About Insurance Hound
Insurance Hound helps clients in South Africa, access information on the internet, through a web-based channel. In other words, they search for what you need instantly, saving you time, money, and stress.
Health insurance and Medical aid gap cover
Over the years, they noticed that there was an overwhelming search over the internet for insurance in the health industry. Clients with medical aids were unhappy with the gap not paid on their funds when they had to undergo surgery or any medical treatment. They saw a rise in the need for health insurance coverage and decided to take it on as a speciality in their search field.
Leveraging their industry experience
They have since developed relationships with thousands of health insurance providers, who offer their listed and registered clients, the best benefits and premiums that they wouldn't be able to access on their own.
Insurance Hound services are absolutely free of charge and offer you online medical aid quotes. They don't charge their clients a cent. They are just there to provide a service to you, by searching for the specific medical aid or health insurance provider that you need.
Insurance Hound Services
Insurance Hound knows that every Rand you spend on medical aid counts.
It can add up and eventually amount to thousands out of your pocket, often we put off our health because we cannot afford the costs. Don't let this happen to you, there is an easier way to find affordable medical aid. Insurance Hound is the medical aid comparison expert.
Affordable Medical aid providers
They have years in the industry, to know which medical aid partners will provide the services you need, and which are affordable. They will provide the service to compare medical aid that hunts down the medical aid cover that will cover your family when your budget can't.
Find the best Medical aid policy
All you need to do is complete their detailed information form and let them search, find and select the medical aid provider that fits your criteria perfectly. They save you the time and the hassles of taking copious hours of time out of your day, or week, trying to contact all these medical aid providers yourself by offering you easy-to-access medical aid quotes.
They have the means and the technology to source the medical aid cover that will keep you and your family happy and healthy for years to come.
Insurance Hound – Medical Aid
Product

Medical Aid
Quickly compare quotes

With iHound you can have multiple quotes at your fingertips. Simply fill in the online form and they will send you various options to compare. The process is completely online. You can get your quote and buy your insurance from the comfort of your home

Best prices in half the time

With iHound you are guaranteed to get the same prices as going direct but they save you the time of having to contact each insurer to get a quote
Benefits of Insurance Hound
Pet insurance - don't forget to get medical cover for your fur babies
Life insurance - make sure that your family is covered if you are ever no longer around. iHound will source quotes for you to make sure that you get the best cover at the best price.
Need a loan - iHound can find you a loan in just 3 easy steps. The money will be paid directly into your account and you can pay it back with payments each month.
Car and home insurance - let iHound sniff out the best quote for you. They have various partners who will send you quotes in just minutes of filling out the online form.
---
Get the best Medical aid with us
When you are looking for a good medical aid provider, but have endless hassles in comparing costs, benefits, and what would be best for you and your family, look no further.
Insurance Hound can do all the searching for you
They specialise in the medical aid industry by focusing purely on finding their clients the medical aid company that meets all your requirements. Insurance hound offers a service to clients to make their lives easier. They know in today's busy schedules; you really don't have the time or often the resources to scout through thousands of medical aid firms over the internet or phone book.
A perfect platform to find the Medical aid you need
With technology and experienced technical developers working with them, they have perfected the platform. This will allow you to register online through Insurance Hound, and source the medical aid partner that suits your needs specifically.
Free to all South Africans
Insurance Hound medical aid quote services are absolutely free to South African clients, you have nothing to lose, not even time. Because they only work with medical aid and insurance products, their clients know that they are accessing a specialised comparative site.
With their capabilities to sift through thousands of medical aid and insurance providers that are in line with your specific scope of requirements, you can enter into the online search platform, and find exactly what you need.
Insurance Hound fulfils clients' needs
With their satisfaction ratio, they have exceeded the search platform industry. Because they refer large amounts of clients to specific medical aid and insurance firms, they are often able to source better deals through their services, than what clients can source on their own.
Save money while finding your perfect Medical aid provider
The benefits that their clients get out of their search engine, is the ability to save hundreds of Rands, by getting the most cost-effective online medical aid quote from medical aid companies throughout the country.
You can compare medical aid companies in minutes. The medical aid companies they make contact with will each compete to get your business, often offering rates that are lower than the norm.
Don't stress about the time it takes to find the right medical aid that will cover your medical bills. Sign up with Insurance Hound today, and get the best medical aid quotes from top medical aid schemes in South Africa.
Customer Reviews & Testimonials
"
September 2021
This site helped me get the best medical aid quotes from a variety of company's and saved me a lot of time.
Andrea. T
— Johannesburg —
August 2021
Thank you for helping me with my medical aid. Received the best medical aid that covers what I need.
Thando. K
— Pretoria —
September 2021
I thought it would take me months to get medical aid in place, and got my medical aid activated in just two days.
Henry. C
— Johannesburg —
Insurance Hound Contact
Contact Number
E-Mail
Website
Physical Address
2, 35 Doloriet Ave, Zwartkop,Centurion

Johannesburg

Gauteng

0051

South Africa