Medical aid for anyone
Emergency assistance
Free quotes call now
In-page navigation
---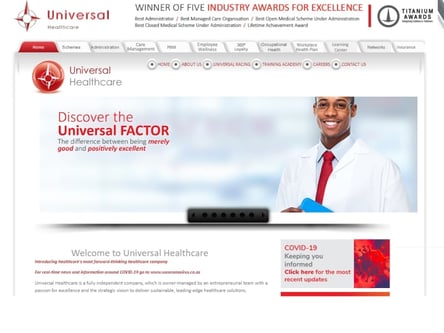 Author Universal Healthcare. Screenshot of Universal Healthcare website.


[Accessed February 6, 2023]
About Universal Healthcare
Universal health is dedicated to giving the best affordable medical healthcare to its clients.
They have gone the extra mile in ensuring that there is not just variety but all its partners strive to give the best to their clients. Universal Healthcare was founded in 2007, this was the beginning of what we see now as an amalgamated healthcare organization. They have since then enlightened many on what it is to have quality and affordable healthcare, resulting in their large growth in client base.
Their webpage provides direct links to each of their healthcare partner's sites where you receive more detailed information on each. Should you have any concerns you can contact Universal via calling them by mobile phone or email (they have provided contact numbers for each branch). You may also visit a branch.
Universal health shares a deep concern for their clientele which is why they've partnered with the best healthcare scheme organizations. They have also ensured that every employee is extensively trained in efficiently helping current and potential partners.
Partners in Universal Medical schemes
AECI Medical Aid Society
BCIMA Medical Aid
CompCare Wellness Medical Scheme
Gems/ Government Employees Medical Scheme
Makoti Medical Scheme
Mass Mart Health Plan
Old Mutual Staff Medical Aid Fund
SAAB Grintek Electronics Medical Aid Scheme
Tiger Brands Medical Scheme
Transmed Medical Fund
UMVUZO Health
Universal Healthcare Services
Each medical aid scheme is subject to its terms and conditions.
Criteria for each will not be the same nor will the application process, visit the specified site of the scheme you wish to join to find out more information.
Universal health services
Universal Medical aid
As a potential client not only do you have a wide range of medical aid partners to choose from but within each, you will find that they have different plans for you to choose from that are suitable for all pockets.
Each plan will differ in terms of price and benefits, with all the finer details at your disposal you can make a well-informed decision about the plan you would like. Just like Universal, their partners are dedicated to providing quick and accurate assistance so you may contact them via their telephonic channels, email, or visit a branch.
By looking at one for their partners like GEMS, for example, one important point in their criteria is that you are a government employee. They have six plans available to suit all financial brackets.
The plans begin from as little as R882 on the cheapest plan up to R3733 per month on the Onyx plan. The site has also made it possible to receive a quotation without any additional costs. Another example of how Universal puts its clients first.
Universal Healthcare – Medical Aid
Product

Medical Aid
Employers

Universal Health has been helping employers offer medical insurance to their employees for decades

Universal Health Cares

With their 360 degree wellness program they encourage you to live a healthy life style.
Benefits of Universal Healthcare
Occupational Health - Universal Health has concentrated on helping employers to offer health benefits to their employees. To this end, they offer mobile clinics that can be arranged to visit your workplace and provide health screenings. Maybe employees feel that they are ill but do not have the time to visit their local clinic. These mobile clinics offer screenings for HIV, diabetes and TB. Protect your workforce.
Workplace Health plan - Help your employees with addiction or get help to cut the abuse of sick days.
---
Apply for medical aid with Universal healthcare
Due to there being more than one scheme not all will request the same documentation. This however is a list of what they most likely will request along with other specified documents.
ID, for the main member and dependents on the plan, birth certificate to be used for minors.
Your payslip with proof of income and a breakdown of your finances.
Proof of address
All your contact details
Universals employee wellness program
This is a program that Universal has in which they partner with organizations that look to improve or maintain the good health of employees. It ensures that the employees are aware of their physical and mental health status.
This promotes self-care for employees, when an employee is in good spirits and healthy they will work more efficiently resulting in organizational growth. Universal is aware of this and looks to constantly improve this.
Choosing Universal Health is beneficial
They are quick with assisting anyone who may have trouble selecting a scheme or any other issues.
Each plan on the different schemes caters to people from different backgrounds, guaranteeing that you will find the perfect plan that suits your bank and daily needs
Their plans are much more affordable and you get more for your money
Steps to follow in your application process
Step 1
Access the different schemes on Universal's website and browse their plans until you have found one that suits you or contact their team to assist you. You need to check things like if you meet their criteria.
Step 2
Once you have selected a scheme and plan you may receive an insurance quote for free if the feature is made available after filling in your details. Once you are happy you can fill in the application form and attach all the required documentation as per their specifications.
Step 3
They will provide you with feedback if there were any issues with the application so that you may rectify them. Once you have been accepted they send you the agreement to sign which you may send back electronically, or by post-box.
Customer Reviews & Testimonials
"
March 2021
I am currently a member of Gems and I was assisted by a consultant of Universal health in navigating my way through the process.
Smith N.
— Kimberly —
June 2021
I am an employee at Spar, the medical aid scheme Universal healthcare has plans that are suited to me.
Naiker K.
— Durban —
September 2021
Universal Healthcare has a very user-friendly webpage, I had no issue browsing the different schemes and selecting the one that's perfect for me.
Matthews L.
— Durban —
Universal Healthcare Contact
Contact Number
E-Mail
Website
Physical Address
Universal House 15 Tambach Road Sunninghill Park Sandton

Johannesburg

Gauteng

2191

South Africa
Opening Hours
Monday

08:00 – 17:00

Tuesday

08:00 – 17:00

Wednesday

08:00 – 17:00

Thursday

08:00 – 17:00

Friday

08:00 – 17:00

Saturday

– Closed

Sunday

– Closed